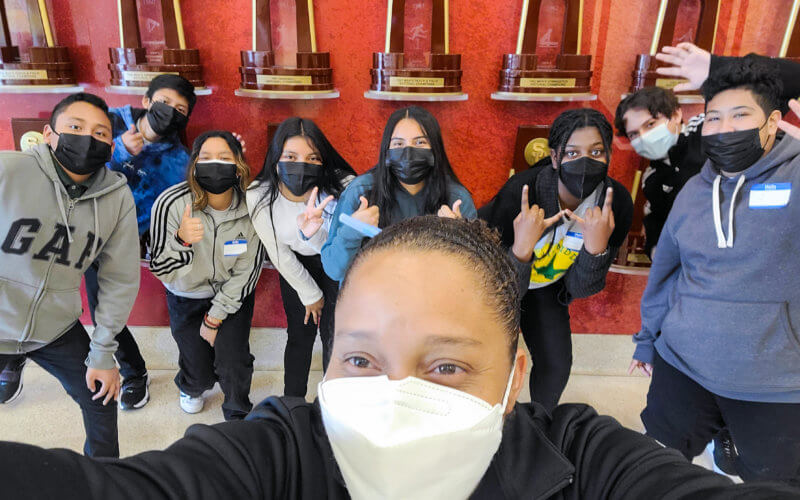 At the height of the pandemic in spring 2020, Compton middle school teacher Amber Holloway stepped up to coordinate the College of Education's free virtual tutoring program to help K-12 students transition to distance learning.
The program supported more than 3,000 students within the local school community as children — and their parents — struggled to adapt to an online teaching and learning environment.
When the tutoring program was launched, emotions were high for everyone since schools had scrambled to virtual classrooms.
"Parents needed help, students needed help, educators needed help," Holloway added. "To be able to provide help to so many people, and in so many different aspects, was important to me. To be the person who arranged all that makes me super proud."
The Cal State Fullerton alumna also mentored and trained more than 200 undergraduate and credential students to tutor math, science, language arts, social studies, as well as high school Spanish and French. The CSUF students gained fieldwork hours so they could earn their teaching credential in a unique year, or finish prerequisites to enter the educator preparation program.
For her outstanding work with the virtual tutoring program, the college recognized Holloway with its 2022 Distinguished Alumni of the Year Award at the fall Honor an Educator event.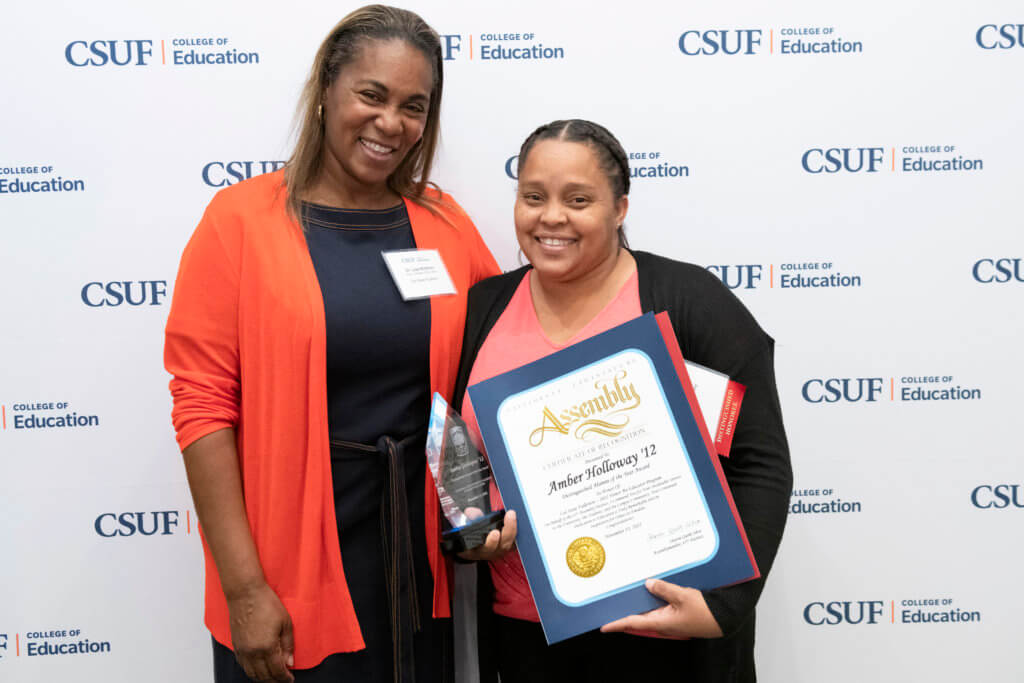 "Not only did this virtual tutoring program provide an opportunity for our future teachers to find ways to practice and adapt to the current environment, but it also helped students in need within our community," said College of Education Dean Lisa Kirtman.
Holloway provided hours of technical, professional and emotional support to CSUF students to ensure they were fully prepared to work with elementary- to high school-age youth during this trying time, noted Aimee Nelson, director of SchoolsFirst Federal Credit Union Center for Careers in Teaching, who nominated Holloway.
"This tutoring program supported the college's strategic goals, especially in regard to community engagement and utilizing technology in schools, and it would not have happened without Holloway's direction," Nelson said.
Holloway, a seventh-grade math and science teacher at Davis Middle School in Compton Unified School District, earned a master's degree in education-educational technology in 2012 from CSUF. In developing the tutoring program, which ended in December 2021, she integrated technology processes and resources she learned in her classes to deliver educational material. She also helped to create a webpage for teachers and parents with resources for virtual teaching and learning.
"Behind the scenes, it was countless hours of research, scheduling apps, calendars, online learning platforms and more," she said. "Connecting students to teachers and parents to the scheduling system in a streamlined process — without a blueprint — was quite the task. There was so much trial and error, which helped me grow as an educator as well."
Holloway shared that, in her opinion, students' learning was affected during the pandemic as schools moved to online classrooms.
"As we are starting to now return to a more normal life, it is quite clear that in the classroom and on tests, we're seeing a larger gap in students' learning in math," she said. "However, students who were able to get tutoring in math stayed ahead of the curve."
Becoming a Teacher
In the third grade, Holloway knew she wanted to become a teacher. She would pretend to be a teacher and assign her neighborhood friends homework.
"I had sticker and stamp collections, and I would grade their work accordingly," said Holloway, a mother of two children, ages 11 and 14, who lives in Long Beach.
"I always knew I would be a teacher. To me, every moment is a teachable moment, and I will never miss the opportunity to educate. Whether it's about instilling character or intellectual growth, I will always teach."
Holloway graduated with a B.A. in liberal studies and completed the credential program from Cal State Long Beach. She started her career teaching second grade in the Compton Unified School District, where she now is celebrating her 18th year.
"I felt Compton was my calling; I wanted to give back to my community," said Holloway, whose relatives and husband are from Compton.
"I work day in and day out to educate children. I give my all no matter what. I spend every moment of every day thinking and executing ways to make a better tomorrow for today's youth. It is 100% my passion to educate and to work with youth. It's just who I am."