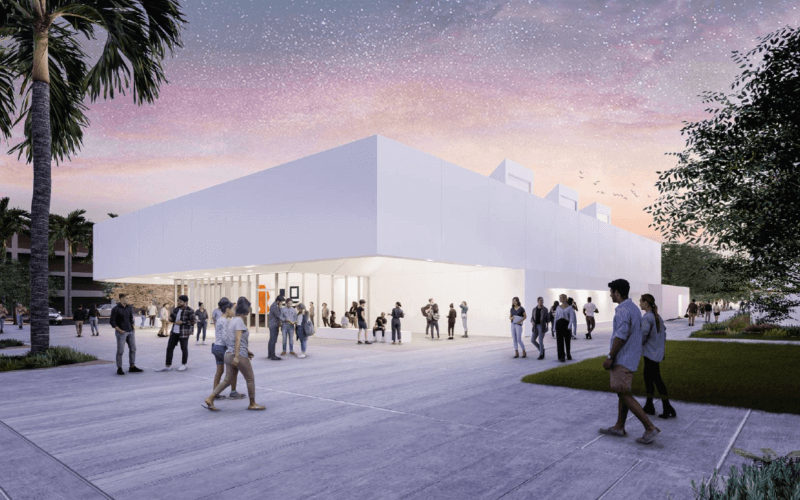 Almost six decades after its introduction to campus, the visual arts complex will be redesigned and reimagined, ushering in a new chapter of creativity at Cal State Fullerton.
"We've managed to do some amazing things with some 1960s buildings, but as the arts change, it's important that we change with them and create spaces that serve our students and their work for years to come," said Arnold Holland, dean of the College of the Arts.
Planning for the visual arts modernization project began about six years ago, but construction started in August 2022 and will continue through the project's completion in September 2024.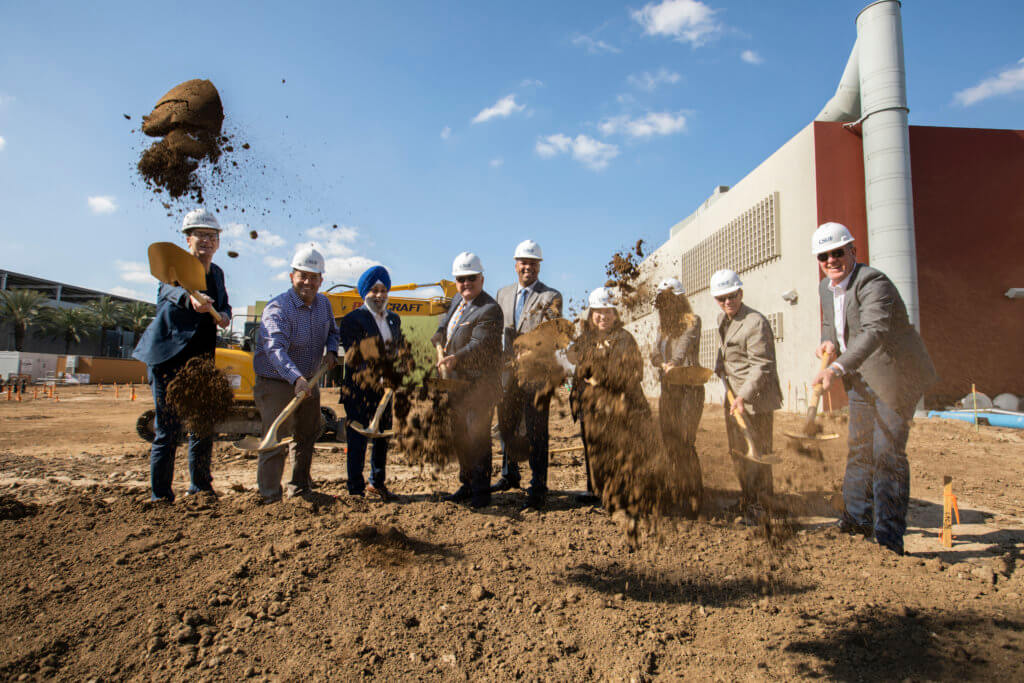 Construction of the new buildings is funded by a $65 million grant from the state, but the college will continue fundraising an additional $10 million to purchase furnishings, technology and special equipment to fill these spaces. The new buildings will add more than 122,000 square feet for offices, classrooms and creative spaces.
New additions to the visual arts complex will include gallery spaces, renovated classrooms for digital art concentrations, graduate art studios, upgraded lecture halls, and indoor and outdoor seating.
"This new facility is not only going to rightsize our space so we can serve the students we have and serve more students in the future, but it's also going to support them by giving them dreams of tomorrow, and the ability to follow their creativity into the workforce and make a difference in the community," said President Fram Virjee at the visual arts modernization preview event on Jan. 28.
New Buildings: Building G and H
Building G will be a 15,000 square foot, one-story addition that will house the Nicholas and Lee Begovich Gallery as well as three student galleries, an arts research library and a room for artists to unpack, prepare and store exhibit pieces.
In the past, student galleries have been hosted in separate buildings with minimal supervision, meaning that students could only open their galleries during their free time, either in between classes or late at night.
The new setup will allow the galleries to stay open throughout the day as they'll be managed by the gallery programs team, said Jade Jewett, a professor of art who has been working on the project since its early stages. This will give more people the opportunity to visit, increasing community engagement and networking opportunities for young artists.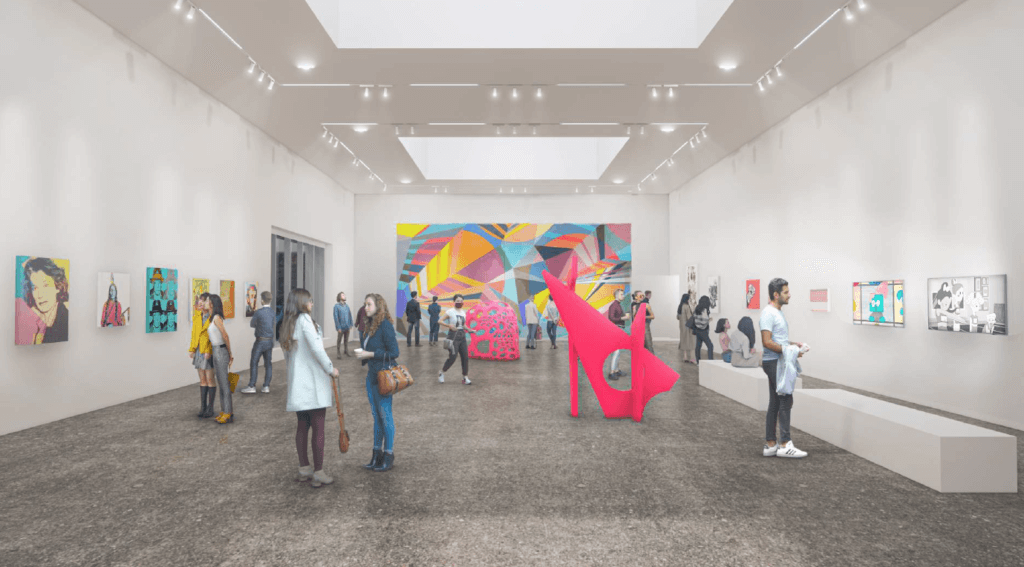 The updated design will also be more accessible to the public with large windows making it easier for community members, alumni and donors to locate and explore different galleries during their visits.
"The current design is inward-facing, so it can be hard to find what you're looking for even after you're on campus," said Jewett. "This new design will showcase students' art and provide glimpses into the incredible classes we offer."
Building H is a two-story addition that will run parallel to State College Boulevard. To make room for the 37,000 square foot addition, building F was demolished in fall 2022.
The first floor of Building H will house the new dean's suite as well as a computer lab, computer commons room, and illustration and animation studios. The second level will house a variety of instructional spaces, such as a green screen room, a film screening area and multiple computer labs.
Renovations: Building A and Building E
Building A, which previously hosted the Nicholas and Lee Begovich Gallery, will undergo light renovations to create more space for graduate students, including a studio space, painting and drawing areas, and a maker's space for graduate projects. The visual arts department offices will remain located in Building A as well.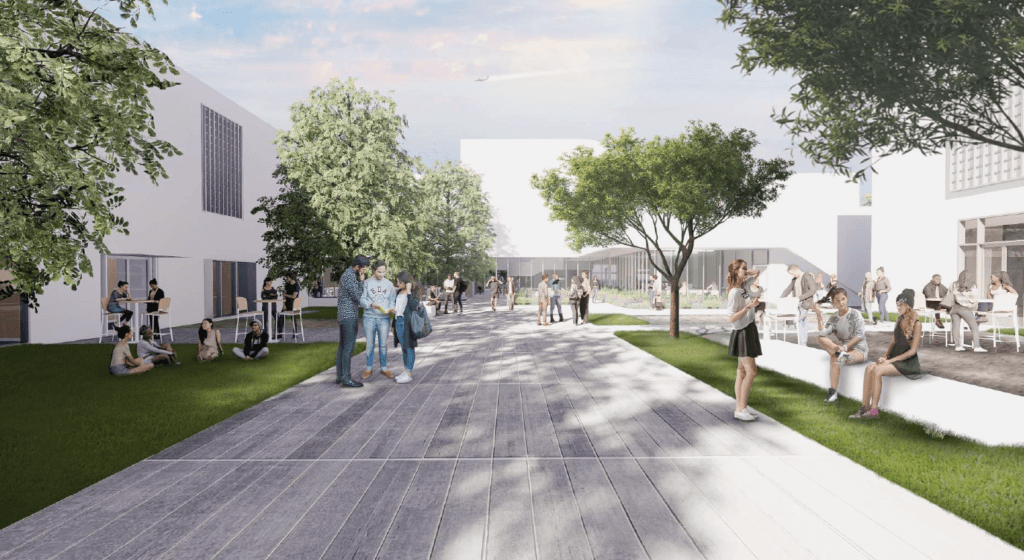 Building E will be renovated to include additional faculty offices and instructional spaces for photography students.
The first floor of Building E will contain faculty offices, drawing and painting rooms, a 2D foundations classroom and an instructional space for art education. The second floor will host the photography department with two studios, a room for large-scale printing, a darkroom and a photo computer lab.
"For decades to come, this incredible complex will provide our students with the tools, technology and innovation they need to inspire their academic and creative ambitions, transforming how we teach, share, engage and experience art," said Holland.
Imagining the Future of the Arts
When the visual arts complex was constructed, the college anticipated a maximum of 1,100 students using the spaces.
Today, the College of the Arts' enrollment nears 2,100 students, meaning that faculty and staff have had to reimagine existing spaces to meet students' educational and artistic needs.
"We have amazing students who have been able to do incredible artwork in less than ideal settings," said Jewett. "Our artists and faculty have gotten really creative at repurposing the spaces we have, whether they're closets or storage spaces."
One of the goals for the new spaces is to promote unity between visual and performing arts and create more opportunities for the departments to work together in shared spaces, increasing the amount of collaboration and cross-disciplinary learning.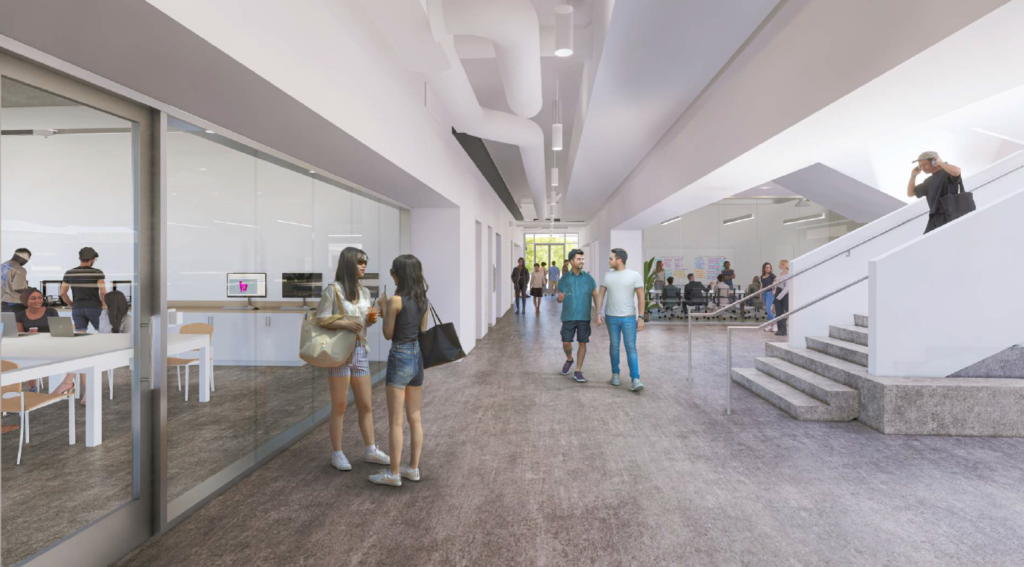 "With the current buildings, the programs are siloed. Graphic design is on one floor, and illustration is on another. The new buildings will bridge those gaps, and the design will allow multiple disciplines to be taught and observed in one space," said Jewett.
The new classrooms and creative work spaces will also include upgraded technology. Students will have access to resources such as 3D printers, green screens, filming labs and renovated darkrooms. Two new computer labs, plus a student-use only lab, will also be added to the existing eight.
"Visual arts has evolved dramatically since the first visual arts complex was built almost 60 years ago," said Virjee. "We love our complex, but it has not kept up, and we have achieved, grown and aspired despite that. Can you imagine what it's going to be like when we unleash the potential of this new facility?"