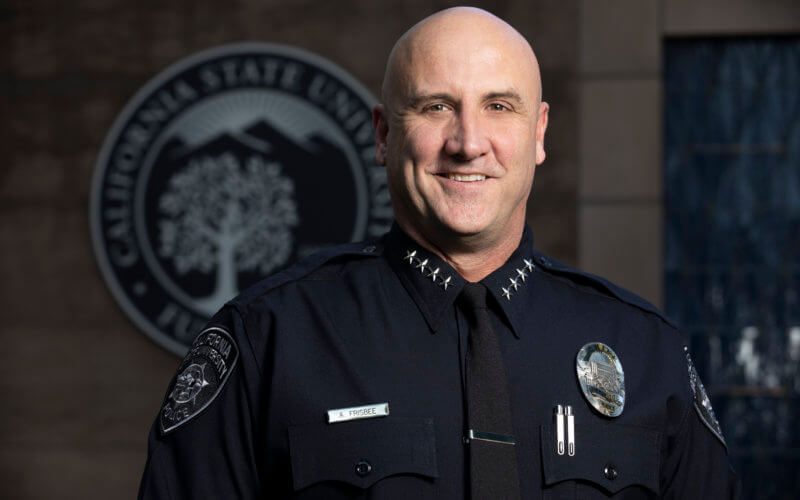 Following a nationwide search, Anthony Frisbee has been appointed chief of police at Cal State Fullerton, starting March 1.
"The sense I get from being on campus is that this is a diverse, tight-knit family," Frisbee said. "I kept hearing about the 'Titan family' and I really felt it. I was considering a few options but because of that feeling, I really wanted to be here. I am extremely honored to join and serve the Titan community."
Frisbee most recently served as interim director of Campus Safety Services (chief of police) at UC Riverside. Prior to that, he spent 17 years in the UC Irvine police department, most recently as a lieutenant managing UC Irvine's police and public safety professionals on the medical campus in Orange. He has a master's degree in criminology, law and society from UCI and an undergraduate degree in organizational leadership from Chapman University.
"What appealed to those who participated in the interview process was Anthony Frisbee's experience in developing community-based policing approaches that are effective in a university setting," said Alexander Porter, vice president for administration and finance and CFO. "His emphasis is on increasing equity, inclusion and mental health support for our diverse campus population."
During the open candidate interviews earlier this year, Frisbee said it is crucial for police officers to participate in implicit bias and de-escalation training, treat the whole campus community with dignity and respect, and maintain transparency.
"Transparency is key," he said. "There are laws that prevent some information from being shared but, to the extent possible, we need to remain transparent and forthcoming. Transparency and accountability are the way you earn and maintain trust. I'm looking forward to building relationships throughout the diverse campus community — with faculty, staff and students."
"The Academic Senate Executive Committee interviewed the police chief candidates and was extremely impressed and delighted with the strong candidate pool," said Eileen Walsh, professor of sociology and chair of the Academic Senate. "Chief Anthony Frisbee is a transformational leader in police reform. He understands the need for mental health professionals on the response team and has a track record at UCI and as acting UCR chief for his vision of policing that embraces our social justice values and practices. It will be a new day for campus policing under Chief Frisbee's command."
There's a reason that Frisbee decided to serve in higher education on college campuses and medical centers.
"On college campuses, you have the opportunity to be transformative and redirect," he said. "Universities have resources and alternatives that municipalities often can't access. If a student is in crisis or commits a non-violent offense, there are a variety of campus resources available. In a university setting, we can refer them to student conduct, student wellness, counseling center or other campus resources. The goal is accountability for non-violent violations, not to criminalize it."
An example of this is the Safe on to Sober program Frisbee helped launch at UCI. If a student was drunk in public and unable to take care of themselves, they would be referred to student conduct and student wellness for education and support, rather than proceed through the criminal justice system. Restorative justice and other alternative approaches for non-violent incidents on campus can ultimately help students successfully achieve their academic and future dreams.
"The ideal is a tiered safety response," he explained. In some cases, that might mean redirecting resources.
As Frisbee noted, not all incidents require the response of armed campus police officers. "The dedicated campus police professionals are here to deter, prevent and respond to violence in support of a safe campus." Many non-violent incidents on campus can be handled by unarmed safety professionals or by counselors, particularly for incidents involving someone experiencing a mental health crisis.
"The safety of all our students and campus communities is a critical priority for ASI and CSUF," said Chris Mikaelian, vice president of Associated Students Inc. "As one of the members of the search committee, I was pleased to have an opportunity with the campus to ensure that the police chief search/interview process was done equitably, and through numerous open forums, we were able to open up a dialogue for our students to give feedback on all the candidates. We are pleased to hear about the hiring of our new CSUF chief of police."
Frisbee's priority is to lead the highly dedicated team of campus police officers and safety professionals to support safety for the whole community through transformative policies, protocols, training, accountability and transparency.
"My goal is to build authentic relationships with campus partners, work collaboratively with other resource providers and support a safe, inclusive and welcoming campus environment for our Titan community to thrive."
A swearing-in ceremony will be held Friday, March 10, at 11 a.m. Please contact Mary Weuve at mweuve@fullerton.edu for more details.