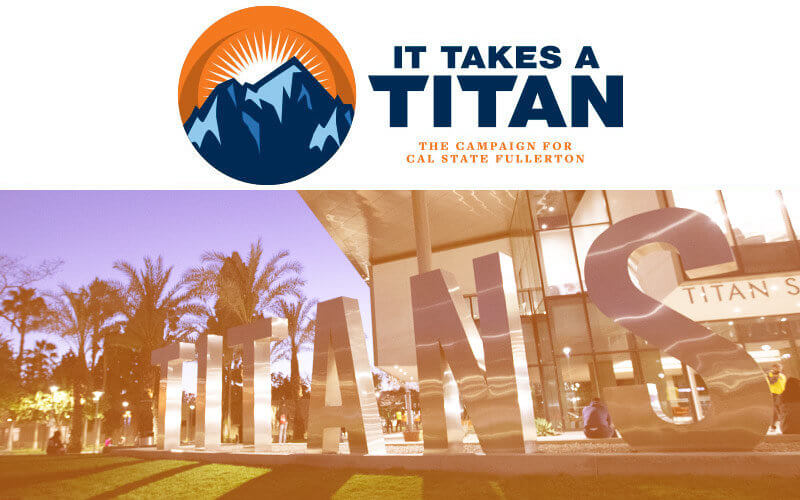 What does raising more than $270 million for Cal State Fullerton take? It takes a Titan.
Mark your calendars to learn more about this achievement at a webinar highlighting the "It Takes a Titan: The Campaign for Cal State Fullerton" scheduled to be broadcast on Fri., March 10.
Greg Saks, vice president for university advancement, will lead the Zoom conference detailing the success of the third-largest comprehensive campaign in CSU history.
Cal State Fullerton publicly launched its first-ever comprehensive philanthropic campaign in March 2020. The response was incredible, with thousands of donors, alumni, faculty, staff, students, foundations and corporations coming together to help the university raise more than $270 million.
"It has been nothing short of amazing to see our community's response," said Saks. "It demonstrates the respect and admiration that the university has built throughout the years. We are so grateful for this outpouring of support."
During the webinar, Saks will explain the strategies, priorities, results of the campaign and future plans.
The campaign invests in projects that enhance academic innovation, empower students, transform campus structures and enrich the greater community.
The number of gifts received during the campaign was 145,704 and included a $40 million gift from philanthropist MacKenzie Scott, $87 million in planned giving commitments and $20.7 million awarded in scholarships.
"The community's appreciation for Cal State Fullerton was on full display during the campaign," Saks noted. "The university's efforts to provide the highest levels of education, serve first-generation students and prepare our students for the future workforce was clearly awarded."