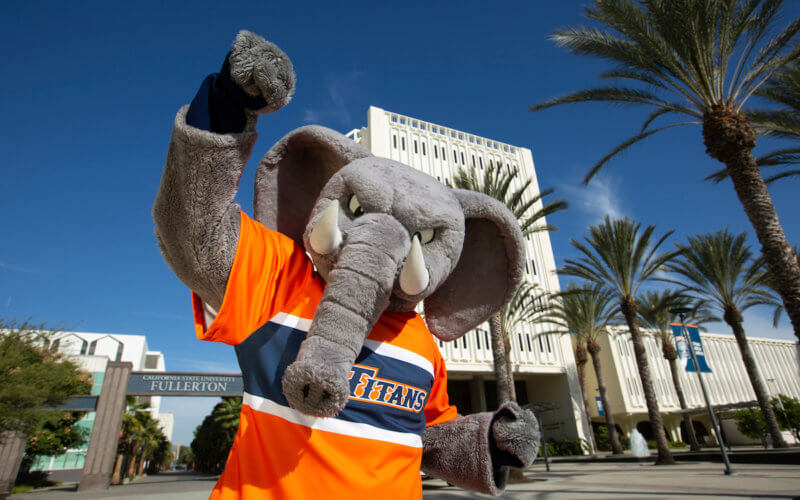 Because Cal State Fullerton is committed to providing an inclusive, transformational, just and equitable educational experience for all Titans, the first steps are to identify opportunities for improvement, learn about individual experiences, and make a positive impact on equity-mindedness.
The university's campus climate survey will be open to Titans from March 1-31. All campus members will receive an email (from UCLA Higher Education Research Institute — the outside vendor conducting the survey) with information on how to complete the survey. It will take 20-40 minutes to complete. All questions are optional, aside from consent prior to the survey.
Cecil Chik, assistant vice president for diversity, equity and inclusion at CSUF, answered some of the most frequently asked questions about the survey.
What, exactly, is a campus climate survey?
A campus climate survey is an exploratory instrument designed to capture data and information that can inform practice and decision making. The goal of our campus climate survey is to determine the "sense of belonging" for members of our Titan family. What it's not is a customer satisfaction survey. Our hope is that the survey provides information that can be used by the university's leadership to drive change and identify areas on campus that require greater attention or resources as it relates to diversity, inclusion and equity. It also helps us measure progress on identified issues.
Hasn't the campus done this before?
Yes, we did our first campus climate assessment in 2014 and then another in 2016. In 2021, we did a DEI mapping to understand the scope and scale of our efforts. As a university, we conduct frequent surveys but not all of them are focused on DEI or are open to all campus constituents composed of our student body, faculty and staff.
If CSUF has done it before, why do it again?
Our campus community has changed since the last iteration of the campus climate survey. Circumstances change. We use it to identify areas where we can improve as well as track changes, gains and achievements. We will use the information we receive in our strategic planning and DEI plans. With the new campus climate survey results, we want to ensure that our outcomes are relevant and impactful to our current campus community.
How and when should I take the survey?
The survey will be available from March 1-31 and will take about 20-40 minutes to complete. Members of our campus community will receive an email from UCLA Higher Education Research Institute…so please don't delete it! Questions will take a variety of forms: agree/disagree, yes/no, open-ended.
How do I know that my answers will be kept confidential? If I'm in a small department, won't my identity be obvious?
We are contracting with an outside vendor, UCLA's HERI, that has conducted large-scale surveys for more than 50 years. All questions are optional so if respondents don't feel comfortable answering certain questions, they can skip and bypass to the next set of questions. All responses will be managed and maintained by HERI to ensure confidentiality. If departments are small, they may be combined with other departments to further ensure confidentiality.
We will only see data — no names attached. In fact, if folks ask me what percentage of their department or division are participating, I have no way of knowing — only the overall response rate of the campus as a whole.
What will you do with the information that's collected?
The 2023 campus climate survey results will be used to develop our campus' first DEI strategic plan. This plan will serve as a roadmap to how Cal State Fullerton can intentionally align our DEI efforts to positively impact equity-mindedness. Aside from the DEI strategic plan, the results will also be used to inform the 2024-2029 CSUF Strategic Plan. We will review it to see how we're doing, measure progress and address areas where we need more focus. The information will be shared with the campus community.
For more information, visit the Cal State Fullerton Campus Climate Survey website.