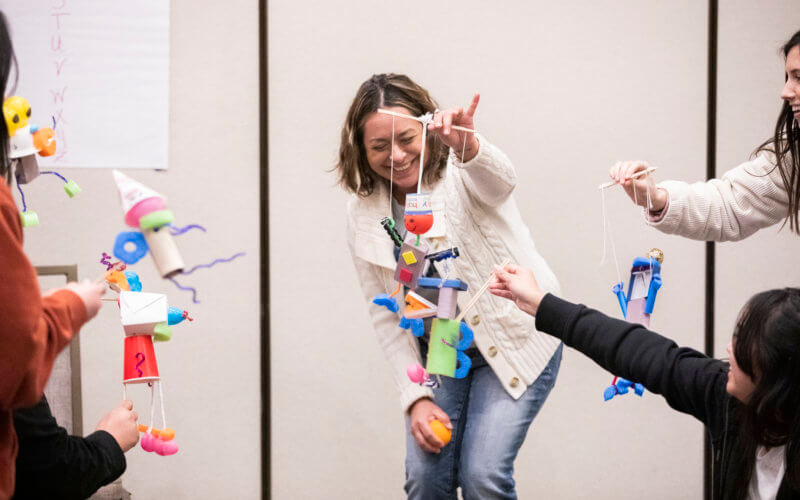 With everyday materials like paper cups and foam, Cal State Fullerton teacher candidates used their creativity and imaginations to make string puppets for lessons in STEAM — science, technology, engineering, arts and mathematics.
The teaching credential students also learned how to relate movement and dance skills to a geology lesson about rocks and reenacted the children's book "Charlotte's Web" as stand-up comedy.
Infusing the arts — visual arts, dance, music and theater skills — in core elementary subject areas was the focus of the March 7 "Arts: Avenues to Learning," a partnership between the College of Education and Segerstrom Center for the Arts since 2012.
About 75 students in elementary and special education teacher credential programs had the opportunity to participate in the daylong program.
In the program, students gain knowledge on how to model best practices in arts instruction and classroom management of arts experiences; connect the arts across subjects; build positive teacher candidate dispositions and agency for arts for children; and get ideas for lesson integration for the classroom.
"I was excited to participate in the program because I am always striving to be the best teacher I can be. I knew that this program would introduce me to new and exciting ideas for arts integration in my classroom," said teacher candidate William Couling.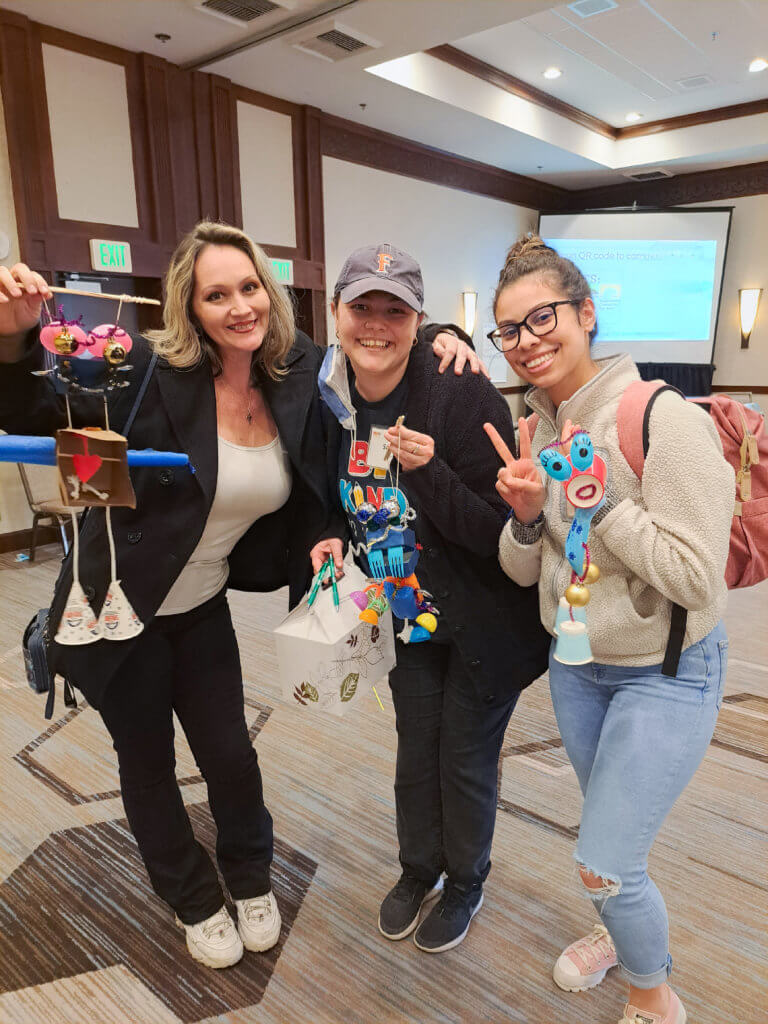 Teacher candidate and alumna Rebecca Buenrostro Sapien wanted to learn strategies to invoke innovation, creativity and expression in her future students.
"Students need a well-rounded education and part of that education includes the arts. Art is educational and therapeutic," Sapien said. "This program demonstrates how there is always time for art in the classroom."
The program, a requirement for teacher credential coursework, was presented by teaching artists from Segerstrom Center for the Arts. CSUF partners are Kristine Quinn and Rohanna Ylagan-Nicanor, both lecturers in elementary and bilingual education, and Calli Lewis Chiu, chair and associate professor of special education.
"The arts are a core curriculum and that means they are part of the required curriculum having a state framework and state standards," said Quinn, director of the program.
"The arts provide a well-balanced education — an outlet for creativity that is needed for developing critical thinking skills and an appreciation for the aesthetic world that surrounds them. The arts are a place for inclusion for all."
Future Teachers Prepare for the Classroom
A decade ago, Couling first experienced teaching as a summer camp aide at the Ocean Institute in Dana Point.
"I explained to a student how a boat stayed afloat and I saw a spark of understanding. It clicked with me that I was a teacher," said Couling, who has since wanted to become an elementary school teacher.
He shared that using arts integration strategies can help students who may be struggling with learning English or verbalizing their thoughts.
"These students may have a much easier time drawing their understanding of a concept, or performing a silent play to share how they connect with their reading," said Couling, who earned a bachelor's degree in liberal studies from CSU Monterey Bay in 2017.
"The arts were one of humankind's first means of record keeping and storytelling, and to cut that from our education schema is akin to removing written language from books."
Sapien, married with three children, is a first-generation college graduate who persisted in her education despite personal and family issues. After spending 15 years pursuing higher education, she earned an associate degree and in 2017, graduated from CSUF with a bachelor's degree in liberal studies.
After a five-year break to raise her family, she enrolled in the credential program to realize her goal of becoming a sixth-grade teacher.
"I'm excited to create lessons that get the students out of their chairs. I want to create a classroom environment full of engagement and life. I can't wait to be that smile at the door who greets them with a 'Good morning! I'm so glad that you are here,''' Sapien said. "Making students feel seen and valued is what I look forward to the most in teaching."