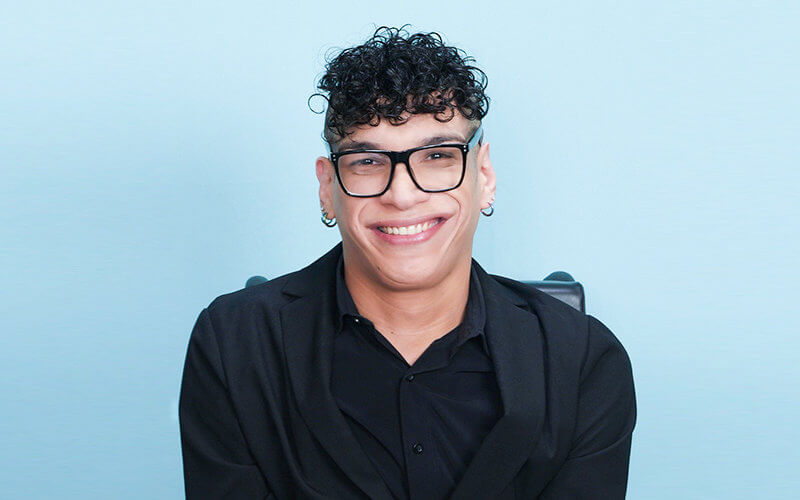 Isaiah Piche is used to challenges…and rising above them. That includes graduating from Cal State Fullerton earlier this year, a goal he set for himself in 2010. Piche, however, had to overcome some significant challenges on his way to earning that sociology degree.
The Class of 2023 graduate has cerebral palsy, a group of disorders that affect one's ability to move and maintain balance and posture, often causing exaggerated reflexes, involuntary movements and unsteady walking. It is a lifelong disorder with no cure. As a result, he has had to make adjustments that most able-bodied people don't even consider. 
Following his graduation from high school, during a time when Piche was coming out as gay, he took a two-year sabbatical before starting at a community college.
"It was a rough time," he recalled. "My grandfather had died from cancer, my father was deported to El Salvador, and in 2016, I became aware that my special needs trust was being manipulated by a fraudulent trustee."
Piche took the trustee to court but ended up losing all his savings in the process of seeking justice.
"The experience certainly took a toll on me but with help, I managed to get back on track and transfer to Cal State Fullerton in 2019. I've wanted to be an attorney since high school and my guidance counselor told me the best way to get into law school was to join the moot court team."
Piche met with Pam Fiber-Ostrow, professor of political science and the moot court adviser, to discuss his options.
"I have never wanted anything more than to be part of that team," he said. "I was so nervous; I almost threw up before the interview."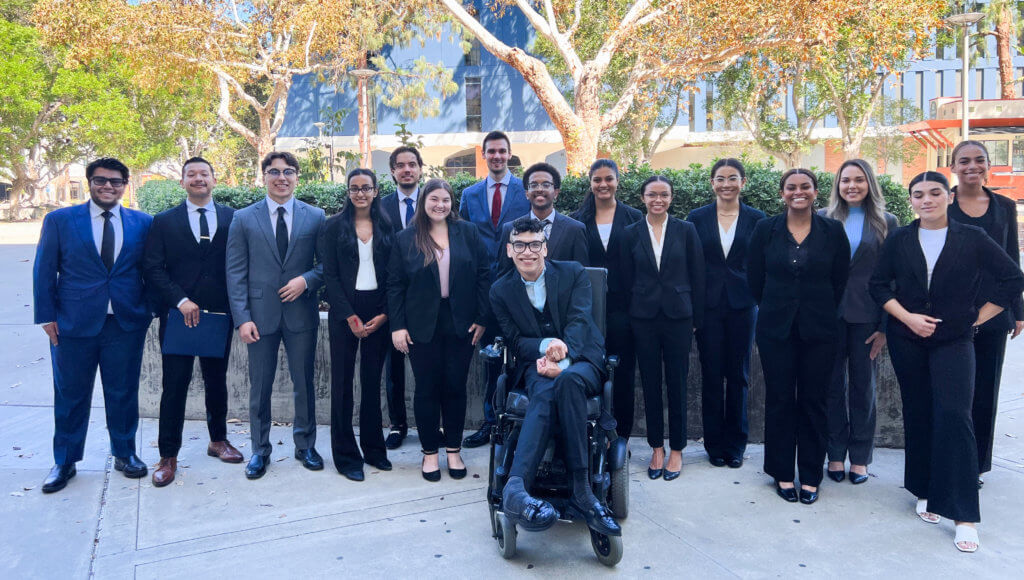 Fortunately, Piche aced the interview. But he had challenges that went beyond preparing for competitions with the award-winning moot court team.
"Having cerebral palsy is quite expensive and sometimes heartbreaking, but not for the reasons most people believe," he said. "I love every part of myself, and I am proud of who I am and who I'm becoming. Yet, we still live in a society that is built for able-bodied people and the rights of people with disabilities are trampled every day. It seems to me that society needs to overcome my disability, not me."
In fact, Piche and Fiber-Ostrow had to argue with an attorney and leaders of the American Moot Court Association for proper accommodations for the tournaments…and they succeeded.
Because he never knows how his body may react, Piche does what very few moot court participants do — memorize his arguments. Because of sometimes erratic movements of which he has no control, Piche can't count on being able to shuffle through notes or hit the right spot on an iPad.
"They call me the team encyclopedia," he laughed. "I don't really have a choice. The hardest part was working up the courage and controlling my nerves before going in front of the judges. Dr. Fiber-Ostrow literally trains future attorneys, so I am truly grateful to her and the team."
"Isaiah is a natural in front of the judges and I know he will be equally successful in front of actual judges as an attorney," said Fiber-Ostrow.
Piche participated in the third annual TEDxCSUF conference and admits that without the confidence he gained through moot court, he wouldn't have considered entering. Still, he wishes people better understood what it's like to live with a disability.
"I wish people understood that we are human, too," he said. "There are a number of ways that disabled people, in general, are dehumanized on a daily basis. We also come in a variety of sexualities. I would say yes, I am being judged every day."
Today, Piche recently launched a modeling career and is studying for the LSAT. He hopes to be admitted to UCLA next year.
"I want to see if I can break through representing disabled people in the media, particularly queer, disabled people of color," he said.