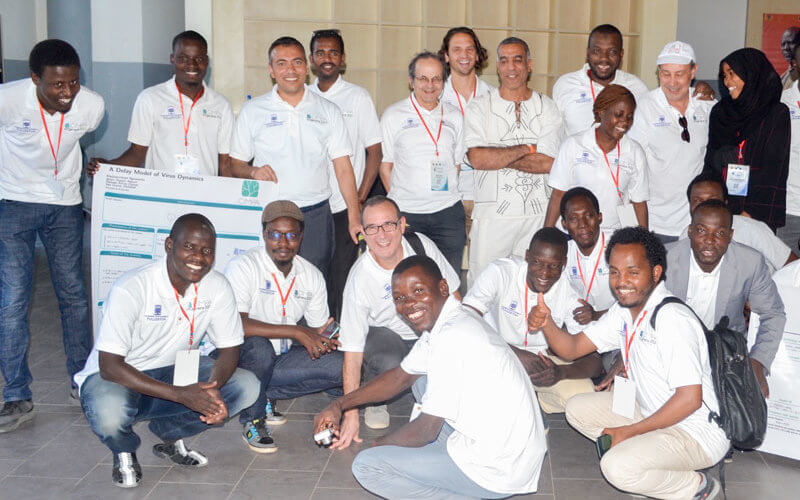 To give back to his homeland, Cal State Fullerton mathematician Derdei Bichara organized a winter research conference for graduate students from economically disadvantaged countries in Africa.
Bichara and colleague Nicholas Brubaker, both associate professors of mathematics, traveled to N'Djamena, the capital and largest city of the Republic of Chad, to present the "Mathematical and Statistical Modeling of Complex Systems" conference and mentor future mathematicians. Brubaker also taught courses on "Calculus of Variations" and "Stochastic Differential Equations."
"The goal was to provide opportunities for master's students and early mathematicians to acquire high-level training in mathematical and statistical modeling of complex systems," Bichara said.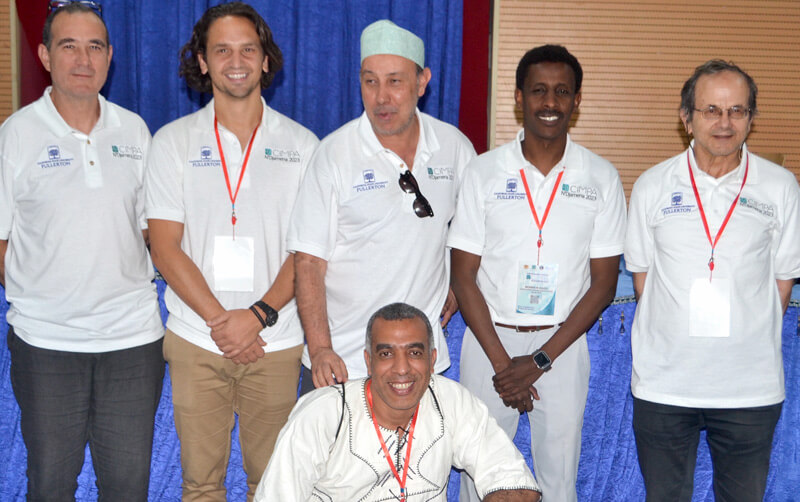 A total of 46 mathematics students attended the conference, including 35 students from Chad and 11 others from developing countries.
The conference was spearheaded by CIMPA — the International Center for Pure and Applied Mathematics — and hosted by the Université Virtuelle du Tchad in Chad, located in north-central Africa. CIMPA supports mathematical research in developing countries, Bichara said.
CSUF's College of Natural Sciences and Mathematics and Department of Mathematics helped to support the two-week conference.
Why was it important to you to give back to your Chad community?
I was born and raised in Chad and my family and childhood friends still live there. The primary reason for organizing the conference is because many bright students in mathematics live in Chad, and they are bogged down by a lack of exposure to world-class scientific research and activities.
What are some of the benefits of doing this kind of work?
The conference brought together a community of young mathematicians from Chad and other African countries with top-notch scientists from the United States, Canada, France and Morocco.
What were the key takeaways from the conference?
During the conference, we provided educational activities to students and young mathematicians from the region's universities. These activities included interdisciplinary and transdisciplinary training and research that combine rigorous theories with modeling and algorithms design; an intellectual forum to develop novel applications and methods; and the opportunity to develop mathematical and computational methods and tools for modeling complex systems.
What was empowering for the future mathematicians?
The conference provided an intellectually stimulating environment, where participants and faculty exchanged new research ideas and directions and shared their experiences. In the process, potential lifelong friendships and mentor-mentee relationships were built. My hope is that this conference contributed positively to their scientific careers.
What was most rewarding for you?
The challenges to organize the conference helped me grow as a person and to better understand how smaller efforts could have a bigger impact. The conference was a way to connect people and form a like-minded community around science to positively impact people's perspectives for the rest of their lives. If one participant out of 46 can fulfill his or her dream thanks to the seeds planted, it is all worth it. The support of the university in organizing this conference is a testament to what CSUF, the college and the Department of Mathematics stand for. They went the extra mile to enrich the lives of students in far-flung places and inspire them to thrive in a global environment. I could not be any prouder to be a Titan.