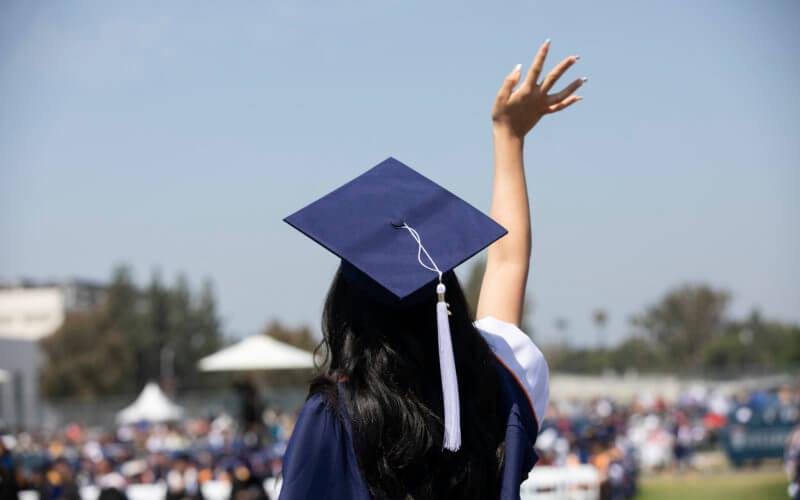 Cal State Fullerton's Class of 2023 demonstrated that they have what it takes to succeed and achieve a long-sought goal: a college degree. This year, 13,095 students are eligible to participate in commencement, including 11,268 undergraduate and 1,827 graduate students.
About 10,000 students will participate at 12 in-person ceremonies on campus throughout the week of May 22-25. Combined with family members, friends, faculty and staff, the expected total number of attendees will be about 100,000 over the four days of commencement ceremonies.
The complete ceremony schedule is available on the 2023 Commencement website:
Monday, May 22
College of Communications, 5 p.m.
College of Education, 5 p.m.
Tuesday, May 23
College of Health and Human Development, 8 a.m. and 5 p.m.
College of Natural Sciences and Mathematics, 8 a.m.
College of Humanities and Social Sciences, 5 p.m.
Wednesday, May 24
College of Business and Economics, 8 a.m. and 5 p.m.
College of Humanities and Social Sciences, 8 a.m. and 5 p.m.
Thursday, May 25
College of the Arts, 8 a.m.
College of Engineering and Computer Science, 8 a.m.
Additionally, cultural recognition celebrations will be held May 14-21 for students who are undocumented, LGBTQ+, Asian Pacific Islander South Asian American, Pan-Afrikan and Latinx.
This year, an honorary Doctor of Humane Letters will be presented to Charlie Zhang for his contributions to Cal State Fullerton, as well as his generous and steadfast commitment to education and the arts in Orange County and beyond.
Like many alumni and current students, Zhang is an immigrant who came to the United States seeking an education and an opportunity for a better life. Though he was never able to complete his educational journey, Zhang became a remarkably successful entrepreneur. He is the founder of Pick Up Stix, Aseptic Solutions and Zion Enterprises. One of his goals is to ensure others have the opportunity to gain higher education and have all the tools needed for success.
For more information about Commencement 2023, including individual college schedules, parking, livestreaming and more, visit fullerton.edu/commencement.