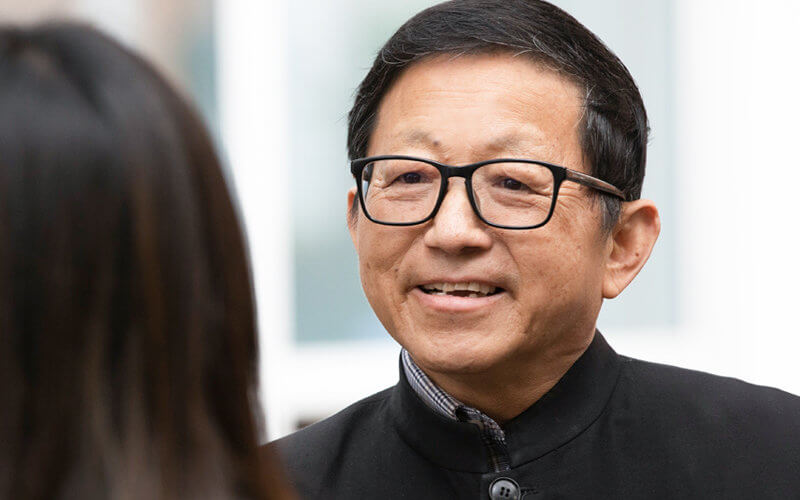 At Cal State Fullerton's commencement ceremonies on May 24, Charlie Zhang will receive an honorary Doctor of Humane Letters for his contributions to the university as well as his commitment to education and the arts in Orange County and beyond.
"Like many of the alumni and current students across the California State University system, Charlie Zhang is an immigrant who came to the United States seeking an education and an opportunity for a better life," said CSUF President Fram Virjee. "Though he was never able to complete his educational journey, Charlie was able to become a remarkably successful entrepreneur and make sure others have the opportunity to gain higher education and have all the tools needed for success."
Early Life and Moving to America
Xianghua "Charlie" Zhang was born in 1955 in Shanghai, China, one of nine siblings. When Zhang was 2, his father, a successful business owner in Shanghai, was imprisoned for 20 years for not fully cooperating with the communist system. Zhang's mother and older siblings had to work multiple jobs to survive.
At 17, Zhang was sent to work as one of 17 million urban youth who served a mandatory five-year service in the countryside during China's Cultural Revolution in the 1960s and 1970s. The communist government promoted the journeys of the "sent-down youths" as ones of adventure and education, missions that would bind them to rural peasants and sharpen their skills. Yet, the work amounted to nothing more than forced hard labor that still impacts Zhang's daily life.
Following this service, Zhang applied for and received a music scholarship to Pasadena City College. He arrived in the United States, not speaking English with only $20 in his pocket. His intention was to study clarinet, but he soon realized that with no money, he needed to find a job.
He began work as a busboy at a Chinese restaurant during the day and as a gas station attendant at night. Working in the kitchen of a Chinese restaurant, he injured his hand, which affected his ability to play the clarinet.
Living in a cramped apartment with three others, Zhang saved for 27 months and founded Shanghai Charlie's restaurant in 1984. He also met and married his wife, Ling, and the couple had two sons, Ben and Joshua.
Zhang's love for music continued through his advocacy and philanthropic support of different arts organizations.
Building Businesses and Giving Back
Zhang would go on to found the popular restaurant chain, Pick Up Stix, which he sold in 2001 for $50 million. He would then build two more successful enterprises: a beverage bottling company that he sold in 2021 for $60 million and Zion Enterprises, a real estate development company.
Over the years, Zhang has received numerous national and regional awards, including the prestigious Ellis Island Medal of Honor. He was also named Distinguished Leader Honoree by Segerstrom Center for the Arts and OC Arts Patrons. As a philanthropist, he founded the nonprofit community performing arts school, OC Music and Dance, and serves on the board of directors for Pacific Symphony.
"They say that necessity is the mother of invention and in my case, that was certainly true. I dreamed of going to school and becoming a musician. Because I never got that opportunity, I am passionate about education and mentorship for our youth," Zhang said.
When asked about Zhang's commitment to society, Sridhar Sundaram, dean of the College of Business and Economics, said, "In my conversations with Charlie, I quickly realized how much he feels indebted to this country for the opportunities it has provided him. This sense of gratitude has inspired him to give so much to the community where he lives and support various causes that makes this a better home for all of us. You can see it through his involvement and generosity with Cal State Fullerton. It is the Charlie Zhangs of this world that inspires us all to be better people by giving back."
Robert Istad, professor of music and director of Cal State Fullerton's choral studies program, said, "Charlie and Ling Zhang have shared the incredible resources of their success to give flight to the artistic dreams of Orange County. They understand the impact the arts can have on the lives of children and support access to and equity in arts education with all their hearts. Most importantly, Charlie and Ling comprehend the beautiful way artistic expression connects diverse communities in harmony."
In 2018, Zhang received the Philanthropist of the Year Award at the Orange County National Philanthropy Day. While he has received many honors, he is mostly interested in humbly serving others. "My current focus is participating in community work, not making money for myself."
A Generous Supporter of Cal State Fullerton
Zhang's involvement at Cal State Fullerton includes serving on the board of the Center for Leadership within the College of Business and Economics, where he has repeatedly funded different initiatives with the vision to have a world-class leadership studies program. He also serves as a mentor through the college's Executive in Residence program.
He has often shared how touched he is by the incredible number of first-generation students that receive a first-class education at CSUF.
In recognition of his generous support to CSUF and serving as an inspiration to so many in Orange County, the CSUF Center for Leadership and the College of Business and Economics recognized Zhang with its Lifetime Achievement Award in 2019.
"What has impressed me most about Charlie is his genuine care for our students," said Sundaram. "His work as a mentor and board member for the Center for Leadership is driven by his passion to have a positive impact on these students. He has given his time, treasure and talent to achieve our goal to build a new home for the Center for Leadership and elevate the College of Business and Economics and the university. For his ongoing efforts, I am truly grateful."