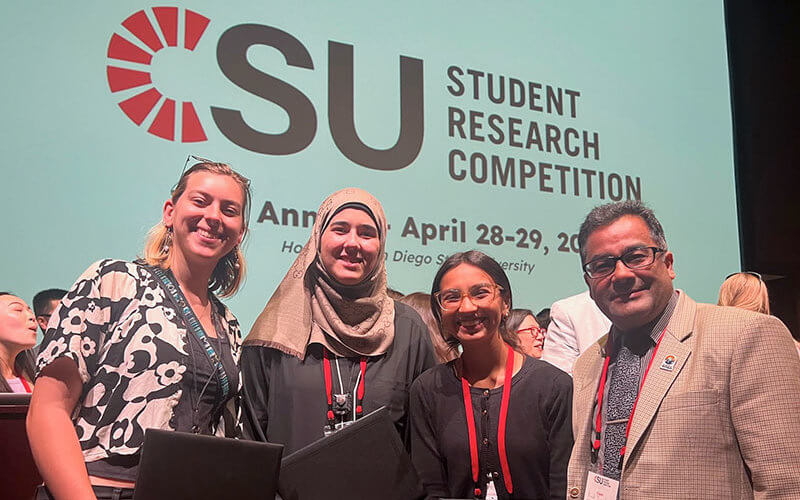 Titan researchers won top awards at the California State University Student Research Competition for their projects focusing on Latina mothers' understanding of Common Core learning and the threats of human-caused debris to marine life in the rocky intertidal zone.
CSUF undergraduates Alondra Cervantes, a junior studying child and adolescent studies, and graduating senior Trina Miller, a biological science major, each won first-place awards.
Biology graduate student Katie Kern, who is studying "ghost sharks," and graduating senior Dema Ramlaoui, a biological science major investigating multidrug-resistant pathogens, each received second-place awards.
A total of 11 CSUF undergraduate and graduate students were selected from the spring campus competition to present their projects at the April 28-29 in-person competition at San Diego State University.
The 37th annual competition featured the best research and creative activities across the CSU's 23 campuses. Undergraduate and graduate student participants from all disciplines were judged by experts for their oral presentations and written abstracts.
Strengthening Latino Parents' Attitudes Toward School
Cervantes' study, "Latina Mother's Understanding of Common Core State Standards," is investigating Latina mothers' understanding of these learning standards and how their attitudes toward education align with CCSS values.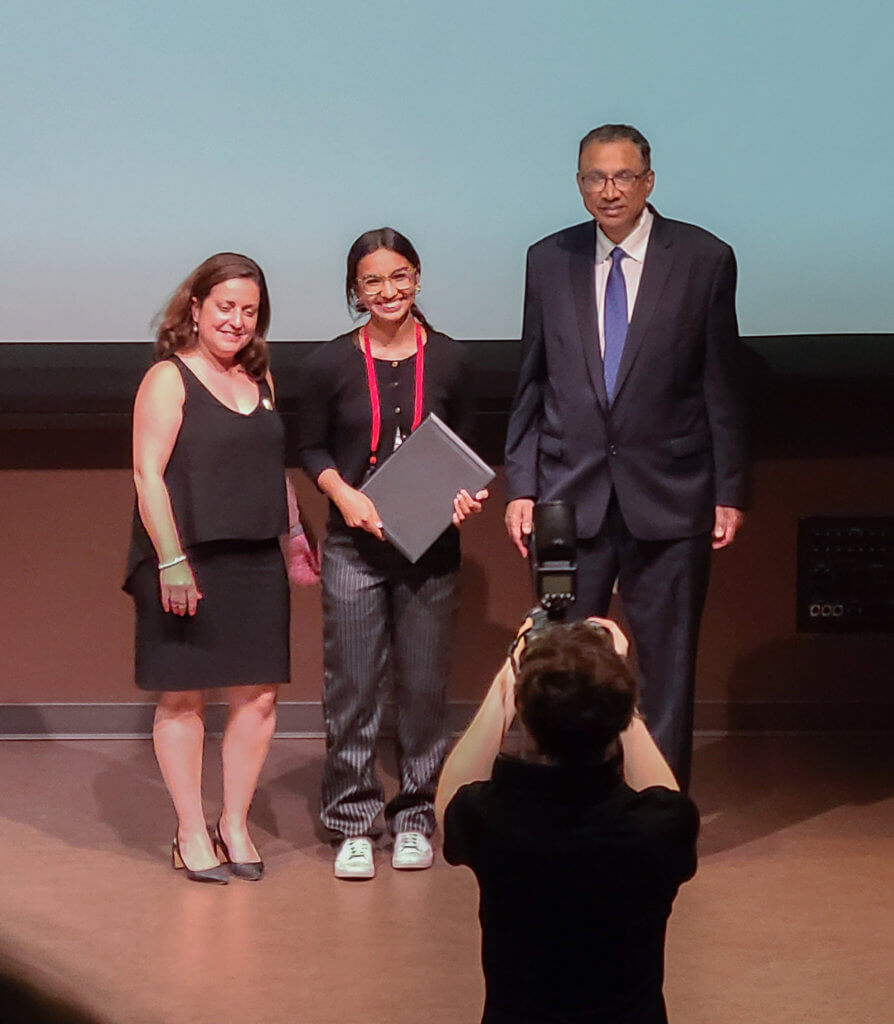 "Recognizing parents' attitudes toward school can help guide schools and educators in providing resources for parents to better support their children's academic development from home," said Cervantes, who aspires to become an elementary school teacher.
Her findings show that Latina mothers have limited understanding of CCSS due to language barriers, lack of communication from teachers and inadequate access to resources. The study also found that parents' values align with core values of CCSS, including the importance of routines, higher education and family collaborations.
"Latino parents have motivations for helping their children succeed academically and are repeatedly making efforts. However, schools are doing a lackluster job providing parents accessible resources to properly do so," Cervantes said.
Her faculty mentor, Guadalupe Díaz Lara, assistant professor of child and adolescent studies, added: "I was immediately impressed by her interest in not only learning about research, but also connecting our research to policy and practice to make a positive and meaningful impact in the community."
Talking Trash on Rocky Ocean Shores
Miller's research project, "Talking Trash — Categorizing and Quantifying Marine Debris on the Rocky Shores of San Pedro, California," focuses on developing methods for monitoring trash, or debris, on rocky shores and classifying and quantifying trash in the rocky intertidal zone at three sites in San Pedro.
"Understanding the differences between sandy and rocky shores will help guide effective policy decisions to legislate the use of products that contribute most strongly to trash profiles in both habitats," she said.
At all three sites, Miller counted a total of 4,226 pieces of trash. Overall, 2,883 glass pieces made up the highest proportion of items, followed by 276 metal pieces and 208 golf balls. Most of the trash items were found close to the cliff. Some of the strangest objects found at all sites over time include a car tire, electric scooter, cellphones and a car axle.
Miller added that her findings are different from trash and debris that has been found on sandy beaches.
"While my research is based in Southern California, it can be applied to rocky shores in other areas," said Miller, who has landed a position as an exotic wildlife technician and educator at STAR Eco Station in Culver City, where she teaches children about conservation and confiscated exotic wildlife.
Her faculty mentor Jennifer Burnaford, professor of biological science, noted: "Trina has developed and pioneered methodology for categorizing and quantifying marine debris in the rocky intertidal zone."
Studying the Novel Ghost Shark
Kern's research project, "A Morphological Investigation of the Holocephalan Tenaculum Through Ecology," centers around the reproduction of chimaeras, which have a skeleton made of cartilage and exclusively use internal fertilization to reproduce.
Males have a forehead appendage (called the cephalic tenaculum) to assist in reproduction by grabbing onto a female during mating. Kern is investigating this special structure found only in chimaera, also known as the ghost shark. She is studying the differences in the structure and how ecology influences those differences.
Her study so far has found correlations between the environment and morphology of the tenaculum. For instance, in deep-water chimaeras, the length of the denticles increases, while the width of the denticles decreases.
"Through the lens of ecology, I can begin to explain morphological differences across the three families of chimaeras that share a similar body plan, while the cephalic tenaculum looks vastly different across families," she said.
Her faculty mentor, Misty Paig-Tran, associate professor of biological science, noted: "Katie has provided insight into how these organisms interact with their environment, even though they are rarely, if ever, seen in their natural habitat. She has mastered functional morphology techniques and has worked with two museums to incorporate rare specimens."
Combating Multidrug-Resistant Pathogens
Ramlaoui's project, titled "Lactic Acid Bacteria Lacticaseibacillus Rhamnosus 'R3' Inhibitory Activity Against ESKAPE," is examining new strategies to combat multidrug-resistant pathogens.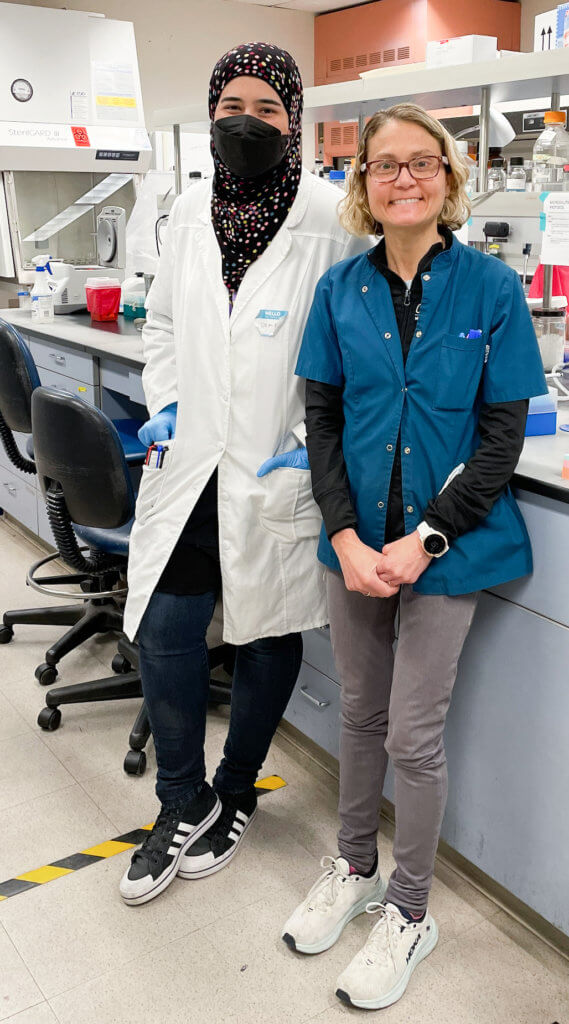 There has been a marked increase in infections caused by multidrug-resistant bacteria with high antibiotic-resistance. Research like Ramlaoui's provides hope for developing new antibiotic therapies to save millions of lives lost worldwide due to antibiotic-resistant infections.
"My research is about probiotic bacteria named Lacticaseibacillus rhamnosus R3, which produces a substance that can kill harmful bacteria," said Ramlaoui, who plans to apply to medical school after graduation to become a physician.
"Our lab discovered that these probiotic bacteria are a new strain of the Lactobacillus rhamnosus species. We are the first to investigate how this bacteria functions and interacts with human pathogens."
Previous experiments from Ramlaoui's faculty mentor, Maria Soledad Ramirez, associate professor of biological science, have tested the inhibitory activity of multidrug-resistant pathogens and show promising results.
Ramirez added: "Dema's dedication to study the potential use of probiotic bacteria as a novel therapeutic approach is exemplary."