From an early age, Anthony Kyle Olson questioned the world around him and developed an aptitude for science and engineering.
Now, as a Cal State Fullerton student and future engineer, he wants to be a problem-solver for issues like environmental concerns, the cost of living, and supply and demand imbalances.
"I would love to help design and discover new technology and improve current processes," said Olson, who will be the first in his family to graduate from college.
A mechanical engineering major, Olson temporarily put his college dream on hold while he served in the U.S. Air Force. After high school, he joined the military in 2011 and trained in logistics. Once discharged, he realized he needed to pursue higher education to achieve his goals.
Like many veterans, Olson faced financial challenges following his military-to-civilian career transition. He depends on his Veterans Affairs benefits and financial aid for his college education.
To help support his goal of earning a bachelor's degree, Olson has been selected as a 2023 recipient of the California State University Trustees' Award for Outstanding Achievement. As the William Randolph Hearst Scholar, he will receive a $7,000 scholarship.
"It's a blessing, given my financial circumstances," said Olson, who has a 3.55 GPA and plans to graduate in spring 2025.
The CSU scholarship is awarded to students who demonstrate superior academic performance, personal accomplishments, community service and financial need. One scholar from each of the 23 campuses is selected for the award, the CSU's highest recognition of student achievement. Each award provides a donor-funded scholarship.
"Anthony's experience as a veteran is an asset to our country and our university," said CSUF President Sylvia Alva. "He has overcome obstacles and persevered and is well deserving of this honor. He embodies what it means to be a Titan." 
Olson and the other award winners will be honored at the Sept. 12 CSU Board of Trustees meeting.
From Service Member to Scholar
While in the military, Olson's senior master sergeant praised him for his leadership skills, dependability, professionalism and being a self-starter.
He was part of the Humanitarian Relief of Hurricane Sandy of 2012, where his team assisted in restoring power to families affected by the destructive storm. He worked long hours, including 12-hour overnight shifts for a month. His team was awarded the Air Force Commendation Medal for their sacrifice and call to duty.
"The biggest benefit from my time in the Air Force was the incredible people I met and the special connections I built," Olson said. "I also learned a lot about myself and matured quickly. I joined to support my goals and build a starting point for a long-term career afterward."
After leaving the military in 2017, Olson did not have a solid plan for his future.
Olson decided to enroll at Mt. San Jacinto College and study mathematics and computer science. During the coronavirus pandemic, he left college because of the limitations of remote learning in a rigorous STEM (science, technology, engineering and mathematics) major.
"It was critical to physically attend courses for hands-on learning, interact with the professors, build connections and collaborate with like-minded peers," Olson said.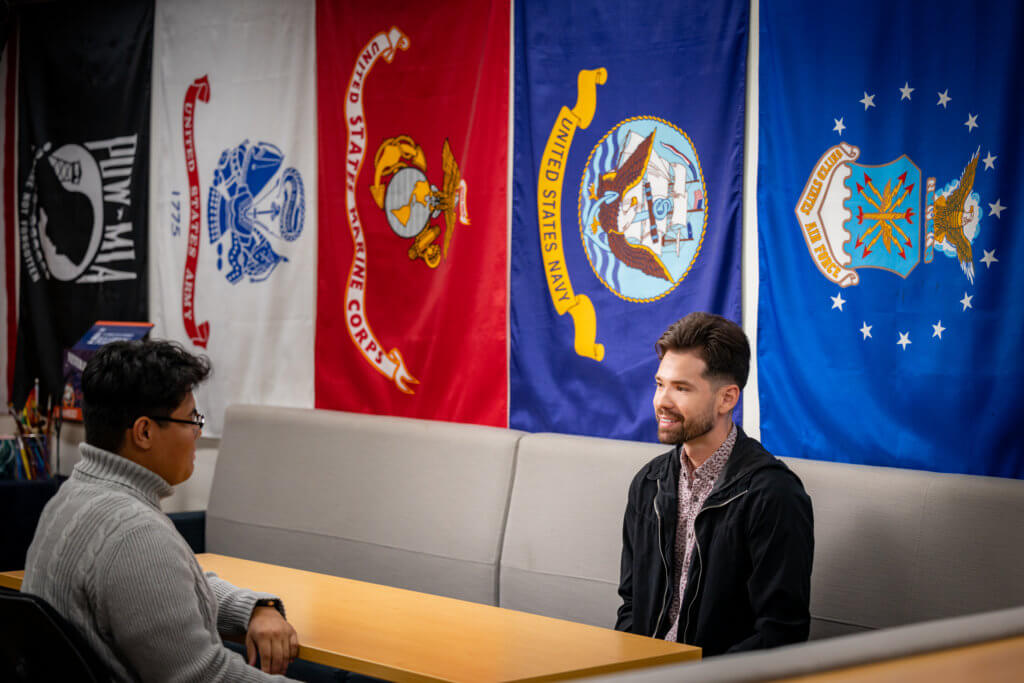 He delayed transferring to Cal State Fullerton in fall 2021 due to the pandemic. While he had six years of logistics management experience in the Air Force, he couldn't land a job in the field.
"I concluded that my best option was to resume my education. Unfortunately, my experience alone in logistics, even if it's from the Air Force, was not enough leverage in today's job market," said Olson, who started at Cal State Fullerton in spring 2023.
"I chose CSUF based on the experiences of my Air Force colleagues who praised the university's programs for veterans, and my fellow high school graduates who spoke volumes about the resources on campus."
Olson said studying engineering provides him the best opportunity to explore his passion for solving problems and designing the next big idea.
"Being back in school is a humbling experience. Now that I am here, I know higher education will accelerate my life to greater heights," he said.
This academic year, Olson plans to get involved with campus organizations, including the Veterans Resource Center, which supports military-connected students. Olson, who played baseball in high school, is passionate about the sport and wants to join Cal State Fullerton Club Baseball.
In the future, Olson looks forward to using his engineering know-how for the greater good, including inspiring, mentoring and leading the next generation of STEM leaders.
"I would love to design and build products and start a company. Financial freedom will allow me to do great things for the world and give back to my community."