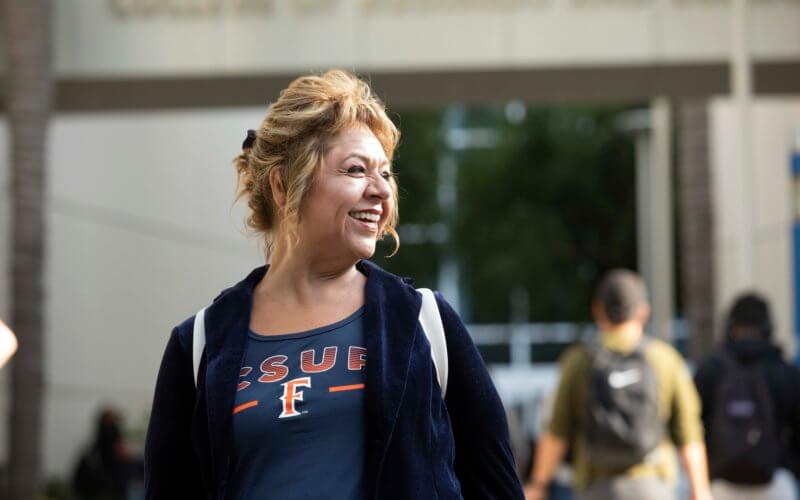 Sebrina Valdez's days on Cal State Fullerton's campus are always a little different.
She can be found attending classes in the College of Business and Economics, mentoring students or getting involved in student programs.
With an associate's degree from Cerritos College, Valdez spent nearly two decades in the accounting industry before the pandemic led to her losing her job.
"I looked for other positions, but everything that I felt I could do required a bachelor's degree. I decided to go back to school," said Valdez, a business administration-accounting student.
Accepted to multiple universities, Valdez debated which school would be the right fit. One friend's advice stood out.
"I told him about my choices, and he said immediately, 'That's not even a choice. If you want to go for business administration, CSUF is the way to go,'" recalled Valdez.
Known for its hands-on experiences, faculty prestige and network of more than 77,000 alumni, Valdez said she was impressed by the reputation of the College of Business and Economics. Coupled with the beauty of the campus and the university's outreach programs, Valdez made the decision to become a Titan.
"I made my choice and told my kids, 'Mommy is going to CSUF!'"
Joining a Community in TAPP
Constantly on the move, there's one place on campus where Valdez always feels at home — the Transfer Adult Re-entry Parenting and Pregnant Student Center.
Returning to school as a single mom of two at the age of 53, Valdez is proud to be paving the way for her children and working toward her educational goals.
"She is proof that parenting students can be very successful in the classroom and as a professional, working mom," said Laura Hooks, senior program coordinator for the TAPP Center, which supports students with academic resources, mentorship and community.
Although she was excited to embark on a new adventure in academia, Valdez said she still felt a touch out of place because of her age.
Feeling overwhelmed and debating if it was better to return to the workforce without a degree, Valdez received an email from the TAPP center, promoting a family bowling night in the Titan Student Union.
"Being a single mom, that sounded amazing for me on a Friday night because now my kids and I could get together and do something as a family — and it was free on campus," said Valdez.
She started taking her kids to multiple TAPP events, enjoying the company of other students who are also parents. Valdez visited the center every week before she was hired as a student assistant who mentors and provides campus resources for transfer students in Gordon Hall 205.
Valdez has also served as treasurer for the student organization, Adults Who are Returning to Education (AWARE), which creates a welcoming environment for non-traditional students, whether they are returning, transferring, married, part of the military or work full time.
"We truly need this on campus because it's easy for us to feel lost, and knowing that there's more people out there like me and knowing that I have someone else to talk to about it makes me feel so much better," said Valdez.
Finding Purpose as a Leader
She has also set her sights on professional development and networking opportunities through the Women's Leadership Program in the College of Business and Economics. The program aims to address the barriers that women from underrepresented communities face in the business industry and prepare them for top leadership positions.
Students receive leadership training, participate in workshops, attend guest lectures from industry professionals and find support through mentorship. Valdez said the program has helped her expand her network and gain insight into what the industry could look like once she has a bachelor's degree.
"I won't have to start at the lowest level again. I'll have the experience and education I need to connect with people and pursue better opportunities," said Valdez. "I want to walk into an interview with the mindset, 'Is this company a good fit for me?' I'm building that confidence here."
Although her background is in business and accounting, Valdez said she's found purpose in mentoring others and would also consider pursuing a career in higher education or working in a school district, where she can continue to support students.
However, her biggest goal extends beyond establishing a career. She wants to make her kids proud and inspire them to pursue their dreams through a college education.
"It's been an amazing journey, educationally, personally, mentally and emotionally," said Valdez. "I hope that my kids are watching me and say to themselves, 'Just like mom, I'm going to do it too.'"