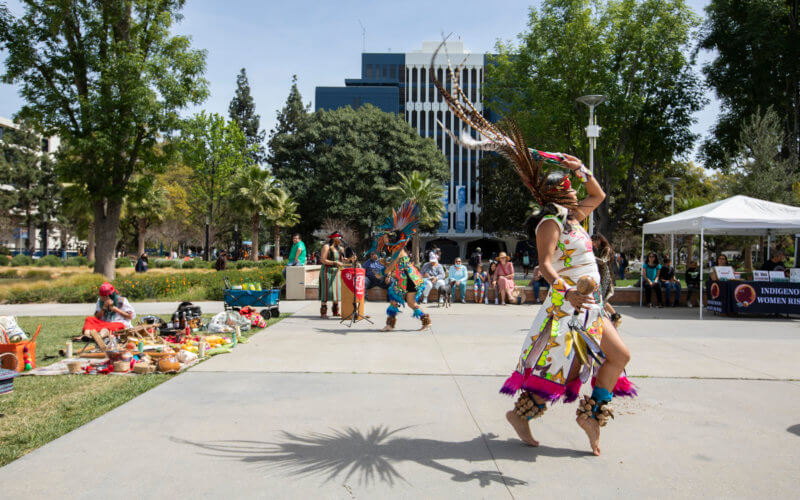 Supporting Cal State Fullerton's Native American and Indigenous student population begins with understanding the diverse culture, histories, traditions and stories of the Native nations in Orange County and beyond.
"I believe knowing the true history of our community is important for the modern community, so we can really give credit where it is due, make decisions based on understanding what is ethical to our community and understand the resilience some of our ancestors have gone through," said Jorge Contreras, an outreach counselor in the Division of Student Affairs.
Tonantzin Oseguera, vice president for student affairs, said that the university has invested time and resources into "making a path toward Native American student success," and while there is still progress to be made, she's encouraged by the changes that have been accomplished since 2019.
One of those changes included collaborating with a Native student success work group and local tribal leaders to craft a land acknowledgment that recognizes that Cal State Fullerton is located on traditional, ancestral and contemporary lands of Indigenous people, specifically the Tongva and Acjachemen peoples.
Read before several campus events, including Commencement and Convocation, Contreras said the acknowledgement is the "first step any campus can take to acknowledge their Native students and the Native Americans in their community and correctly give them credit for their history on this land."
That first step in the right direction was made even more powerful when the university followed through with more support and resources for the Native American student population, added Contreras.
Oseguera said that in addition to increasing financial aid opportunities, the Division of Student Affairs also focused on growing the amount of Native American and Indigenous programming available for students. This dedication led to the university's first stand-alone Native American Indigenous cultural graduation ceremony last year, said Oseguera. 
The ceremony featured Native speakers and performances, and graduates celebrated with their friends and families as they received traditional blankets to honor their accomplishments and heritage. Oseguera said another ceremony will be held next year for the Class of 2024 graduates. 
The Division of Student Affairs also hired Contreras '21 (B.A. communications-entertainment studies) as a full-time outreach counselor who focuses on outreach for Native American and Indigenous students. As an undergraduate, Conteras served as an event coordinator for the Inter-Tribal Student Council, a student organization that has been championing Native American and Indigenous students' success since the 1970s. Contreras said that the student-run organization coordinates events and programs for native students and the community. This year, the group hosted Indigenous People's Day and created its own set of programs to help the campus community celebrate Native American history and culture.
Inspired by the council's work in hosting these events, Contreras has partnered with the Inter-Tribal Student Council at times to create even more programs and events that center on education, community engagement and cultural celebrations. This collaboration led to the first-ever Native American and Indigenous student and alumni mixer that was hosted in the spring. 
"Around the same time they were putting together the land acknowledgment, Student Affairs was also trying to do more for the Native American community, and we're seeing those changes happen as we build more resources and support systems for our campus community," said Contreras.
In addition to the Inter-Tribal Student Council, the CSUF chapter of Society for the Advancement of Chicanos/Hispanics and Native Americans in Science (SACNAS) seeks to expand academic and career opportunities for students in the STEM field. Movimiento Estudiantil Chicanx de Aztlan (M.E.Ch.A.) is another student organization that promotes culture and history and champions political involvement and education as avenues for change.
"All of our students deserve to feel recognized and appreciated, especially those who come from underserved populations," said Oseguera. "We have a lot more we want to accomplish for our students, but I think we have a really good start and we're seeing forward progress."
Visit the Native American Heritage Month website for more information on upcoming programs and events.