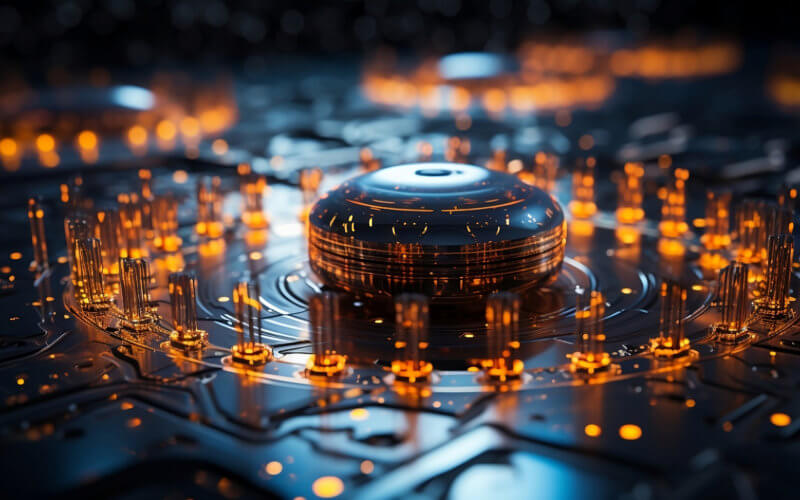 Quantum computing is the next quantum leap in technology to solve complex problems faster than today's powerful supercomputers.
To introduce Cal State Fullerton students from all majors to this emerging technology, the university will offer the new "Quantum Computing for Everyone" course starting in spring 2024.
"Quantum information science is a rapidly growing area of research that can revolutionize many aspects of our lives," said Gina Passante, associate professor of physics, who developed and will teach the course.
The course is open to any student — with no prerequisites required — who wants to learn more about quantum technologies and better understand this relatively new field of quantum computing.
"I'm working hard to make the course accessible to everyone, regardless of their math background," Passante said.
The general education science course offered in the Department of Physics centers around equity and access to quantum computing, which is expected to be a large part of the technology industry in the future.
"This new course really is for everyone. A student studying history, engineering or music can take the class and learn the basics of how quantum computing works — and what you can do with it," added Ionel Tifrea, chair and professor of physics.
The multidisciplinary field consists of physics, computer science and mathematics and uses the principles of quantum theory to solve complex problems, said Passante, director of the university's Catalyst Center for the Advancement of Research in Teaching and Learning Math and Science.
"Quantum computing uses the unique behaviors of quantum physics to perform computations and solve problems that are too complex for classical computing — and can solve some problems much faster than even the most powerful supercomputer," she said.
The most common application for quantum computers is that they can be used to factor large numbers quickly, Passante added.
"This is something that supercomputers are very bad at, and almost all encryption schemes rely on the fact that computers can't factor large numbers. Instead, quantum computers could break current encryption schemes."
Another anticipated application is in "simulating quantum systems." While this would have research applications, it could be used to simulate how different pharmaceutical drugs under development would interact with diseases, potentially aiding in creating new medicines.
In 2020, Passante was awarded a $347,901 four-year grant from the National Science Foundation to research student learning in quantum computing courses in partnership with researchers at the University of Colorado Boulder. 
Her research was published earlier this year in the American Journal of Physics on using active learning techniques in teaching quantum mechanics.
"It's important not just to train Ph.D.-level quantum information scientists, but to have a quantum literate workforce to staff jobs that come along with an emerging technology," said Passante, whose research interests include physics education and student understanding of quantum mechanics.
"In the United States, there has been a recent push to advance the research, technology and education around this topic since there is an anticipated need for a quantum-smart workforce in the coming years."
Careers anticipated in the field include research and engineering, as well the need for staff in technical support, sales and business development.
Tifrea added that, eventually, plans include offering a minor in quantum computing and an upper-division course in quantum information science and engineering. This effort would give STEM (science, technology, engineering and mathematics) graduates the content knowledge and skills to succeed in quantum technology and research careers.
"Quantum computing is the future," Tifrea agreed. "STEM students need to learn quantum technologies to find a job in the next five to 10 years."
Passante and her research colleagues have been working to identify the education needs of two different student populations to broaden the reach of quantum computing: Students in an introductory quantum computing course, often at the senior level and with different educational backgrounds, and students in physics courses who may not have specialized quantum computing courses.
"We have found a disparity in where quantum computing courses will likely be offered," she said. "Courses are most likely to be found at research-intensive institutions, with students at those institutions more likely to have access to a course."
Her research aims to support students without prior quantum mechanics instruction and to introduce as many students to this new field as possible. She also wants to increase the number of students learning the field by developing curriculum materials instructors can use in their traditional quantum mechanics courses.
"We are designing the instructional materials so that faculty without expertise in this area can teach it," Passante said. "Ultimately, our goal is to broaden the reach of quantum computing."