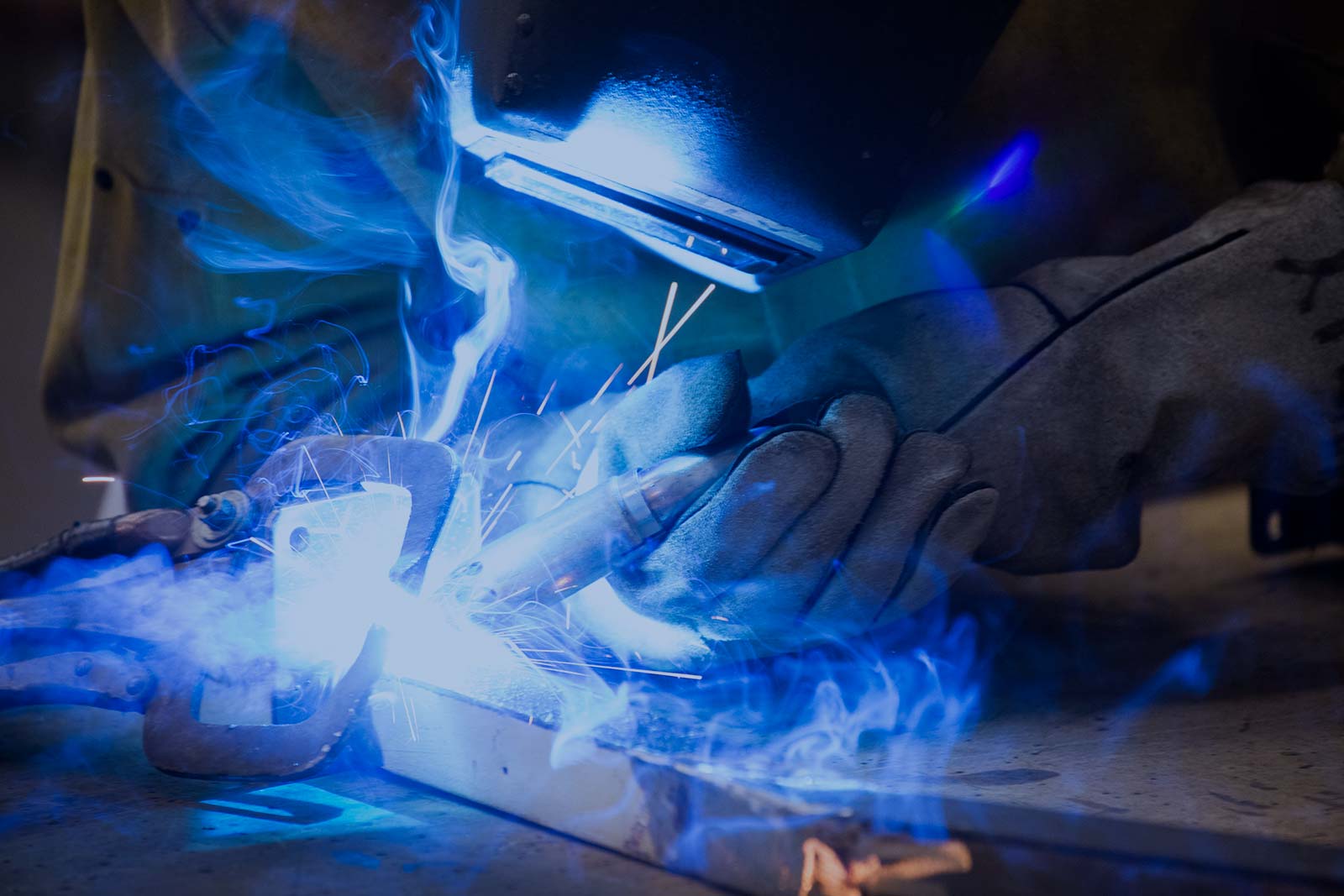 Stagecraft
The Creators

Scroll to read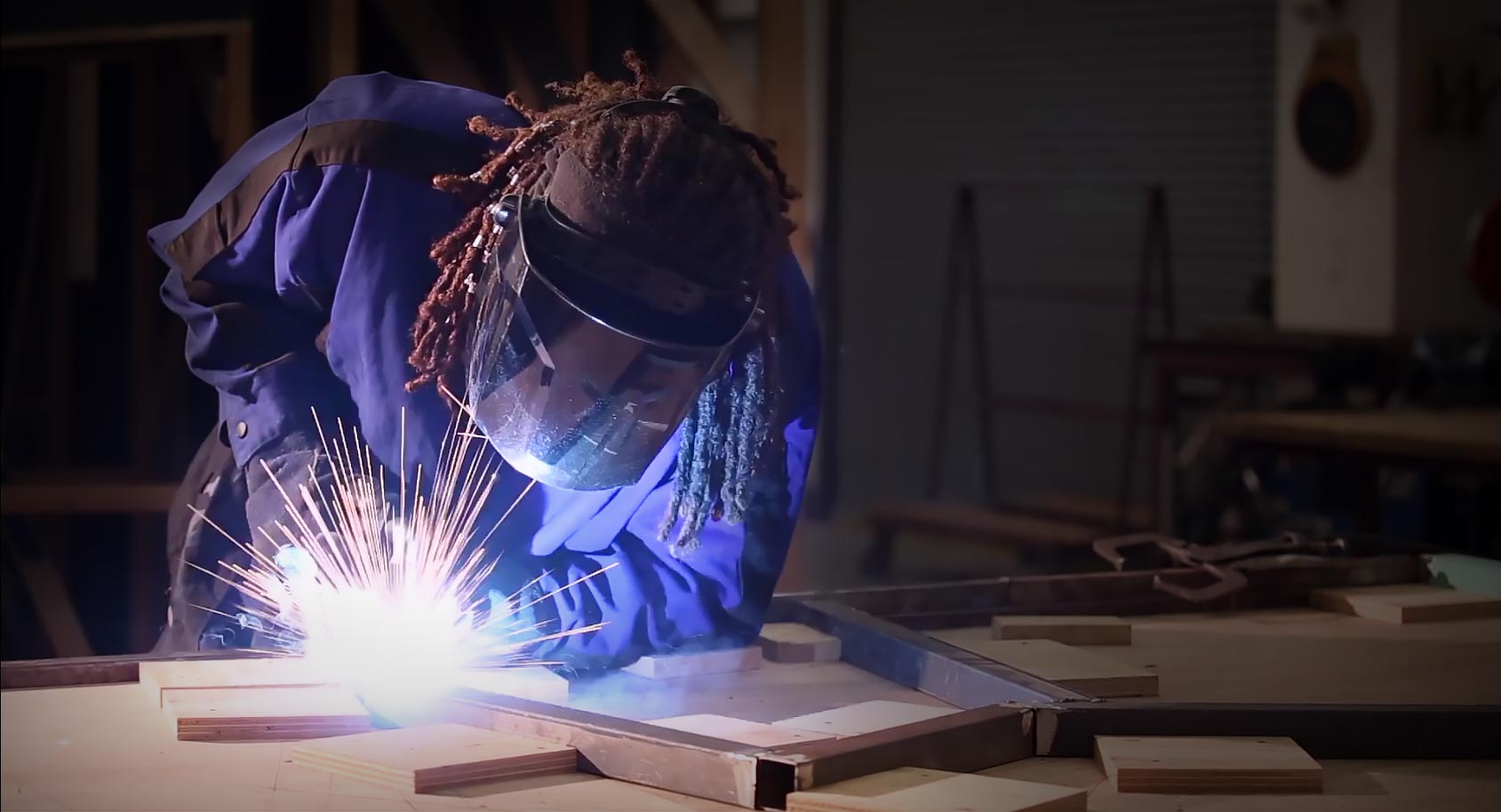 The "iceberg" — a multi tiered, multi use platform that straddles scenes and timelines — is the main event at Cal State Fullerton's scenic lab for a couple of months. Third-year theatre arts major Jalen Morgan, technical director for "Frankenstein," is welding together support railing for the structure. Sparks are flying. Ideas are coming to life.
Morgan makes sure the construction and implementation of the "Frankenstein" scenery are done safely, swiftly and within budget. He also completes construction drawings so he and his colleagues can create the set.
"Some projects require me to be completely in the trenches, and some do not require any guidance from me at all," he says. In the process, he's seen he can get the job done effectively.
"I am able to take a show from paper to real life. … My perception of what makes a 'good' technical director will continue to evolve as I gain more experience."
Fellow theatre arts majors Maggie Williams and Kaylee Gieser, the show's co-projections designers, have been working together for months. Williams also is charged with sound design, while Gieser serves as the scenic designer.
Together, they put together a cohesive piece of digital art on stage. Williams, for example, designed the way the projector is set up to project onto the entire set. She also is charged with managing Qlab — the software where they keep video content and cues from throughout the show.
"Kaylee is great with Photoshop so, for example, she will send me an image of pipes and I will make steam come out of the pipes. I am also in charge of creating the big 'fire' moment of the show."
This is the first time anyone has tried to project onto the entire set at the Young Theatre.
"... When you are starting from scratch and no one has come before you to tell you it is possible, it makes the task feel unattainable — but at the same time, it pushes me so much harder to show everyone how much we can do," says Williams.
Next door, in the paint lab, alumni Ana Martinez '17 (B.A. theatre arts-design/technical production) and Alex Giron '15 (B.A. theatre arts-specialized studies) are furiously painting "the drop" — the backdrop — with 18 colors blended together. They are back to help scenic artist Gaye Berger paint the set and the stage for Cal State Fullerton's 2017-18 season opener.
"The secret is in the brushes," says Berger.
After the drop is done, they'll paint trees on the other side of the canvas that will only be visible when it's backlit. The lighting design comes courtesy of theatre arts senior Haley Guaderrama.
"There's always more to learn," says Giron, who has been designing scenery and costumes for productions throughout Southern California. She came back for "Frankenstein" to continue honing her scenic painting skills and to help out Berger, who gave her much guidance while she was a student. Following 29 years on campus, Berger retired after her work with "Frankenstein" was done.
Martínez recently began working as a scenic painter for Artistic Entertainment Services.
"I came back to help because Cal State Fullerton always gives me a new challenge," she says. Martinez credits her alma mater — "especially my dear professor Ann Sheffield's perfectionism and persistence" — with giving her the hands-on experience to tackle tough projects, including one painting characters for Tokyo Disney's "It's a Small World" ride.
"When the designers came in to give notes, I was not scared or nervous — it's literally a team of Disney people watching you paint, and then telling you to change the line or color," she adds. "When they came back to review the characters, they gave more 'touch up' notes, but this time the designer specifically chose me to work on all the pieces.
"Me … the new girl.
"I have an amazing job creating what people can only imagine, and it's all thanks to Cal State Fullerton."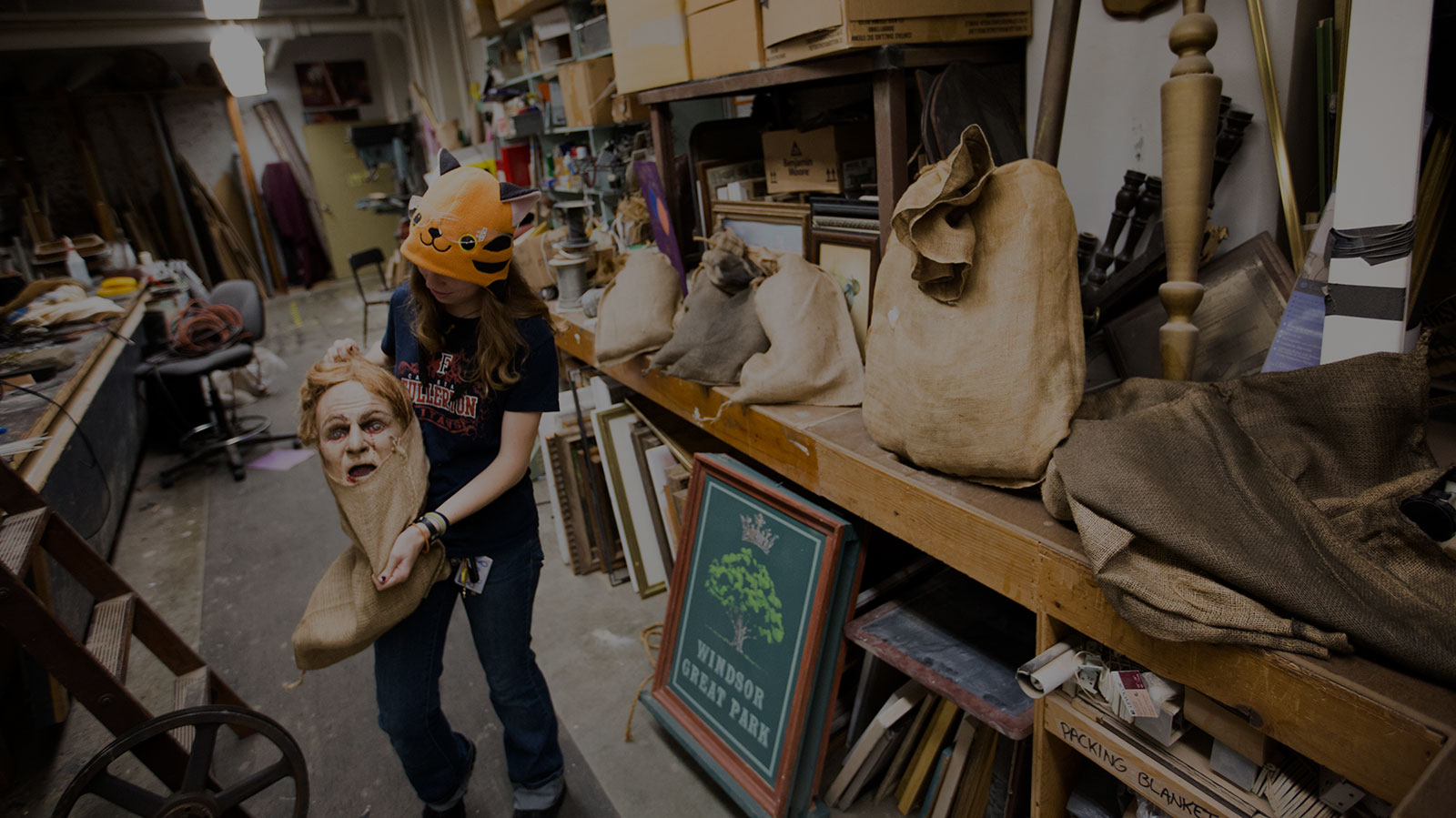 "Decades and Decades of Stuff"

The prop shop, located under the paint lab, is where Natalie Silva is hunting for body parts, gathering wax deviled eggs and digging around for a stuffed rabbit while trying to find a suitable knife for a pivotal scene.
"There are decades and decades of stuff collected here," she says as she navigates around plywood coffins and a lady's leg with fishnet stocking (with accompanying stiletto). Silva works with the rest of the team — costume, scenic, lighting, makeup designers — to determine what they need.
"Frankenstein is a fairly prop-heavy show but it's a lot of picking props — not a huge build," says the sophomore. "My two largest builds are my dead body bags and the hanging lab unit, which will be automated."
Most of the bags of body parts from which the Creature is put together will not be opened, but they need to be soiled with fake blood and dirt to appear as if they've been dragged through a graveyard.
"We have a lot of visual cues to help show just how insane the idea of making life is," says Silva.
The lab, she explains, is not meant to be functional, but there was a wish for "electrical" elements — at a time where there wasn't electricity. "So I have to get creative to get it that 'gaslamp-beginning' electric feel because gas on stage is not a good thing."
The lab will be installed on stage soon, and Silva also will learn from this process. "I'm in the automation rigging class right now with professor Bill Meyer," she explains. "I'm still learning a million different things, which is a great reminder that we are always learning, we are always working together, and that a solid production and design team can really make such an ambitious project truly amazing."
Silva, like so many others, is getting class credit for her work on the show. "Prop master is my 478B, which is my production credit."
No Monsters Allowed

Casey Bowen was never going to be green. That much everyone agreed on.
The Creature's makeup, says "Frankenstein" director Maria Cominis, is quite complex. "The direction I gave Alejandro Rodriguez, the student who is in charge of makeup design for this production, is that this is a man-made man. He has been put together with pieces of other humans. Nothing will be reminiscent of the Boris Karloff movie.
"He will use Casey's own structure and help create the illusion that he was put together by a scientist," she adds. "The way people react to the Creature might be in horror but in no way will he be in green makeup and a big black wig."
In the costume shop, Whitney Claytor, an M.F.A. theater arts student, is sketching attire for the characters. Like everyone else involved in "Frankenstein," she had to immerse herself in the Regency era.
"Mary Shelley has a lot of portraits in masculine clothes," she shares. "What a fantastic woman. I've been doing research on her for days."
Working with a "living script" — one that evolved throughout production — proves tricky for many, including Claytor. The fact that some actors will actually play multiple roles — a process called doubling — poses an additional challenge for Claytor, as she needs to give each character a different look with very quick changes. But because it's such a big show, she says, being organized is key.
Her "Frankenstein" sketches, along with photos of the costumes, will become part of Clayton's portfolio for future opportunities. "I'll be able to say: 'This is what I drew, and this is what it looks like on stage.'"
"Whether they're designers or actors, it's about helping the students tell the story in the role that they've taken on," explains Cominis. "To collaborate with them."