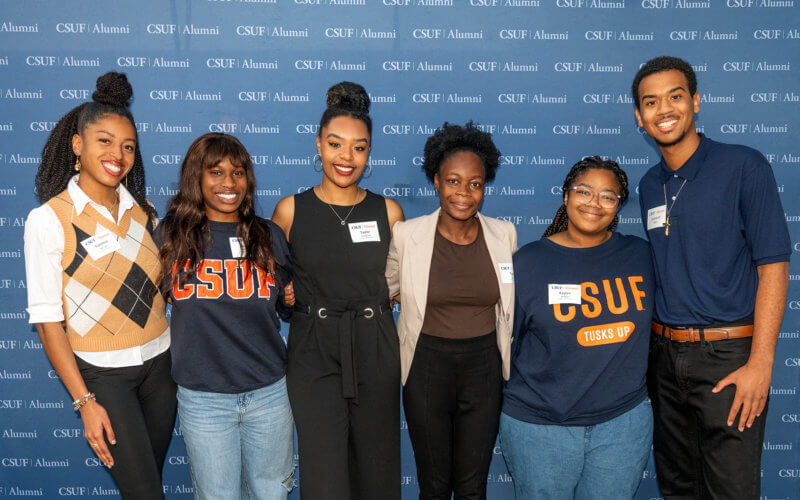 The Titan community celebrated the inaugural recipients of CSUF Black Student Scholarship Fund during the Black Alumni Network Scholarship Reception this month at the Golleher Alumni House.
The event featured remarks from Cal State Fullerton President Framroze Virjee and Orange County Community Foundation executive vice president and chief operating officer Tammy Tumbling. Spectrum Reach Advertising executive and alumnus Greg Bunch '79 (B.A. criminal justice) was the event's master of ceremonies.
Cal State Fullerton approached the Orange County Community Foundation about supporting the CSUF Black Student Scholarship Fund, which provides $1,500 in scholarship awards to each student recipient based on objective criteria through the support of diverse donors, funders and the broader community.
"We are thrilled to support the educational success of underrepresented students," said Shelley Hoss, president and CEO of the Orange County Community Foundation. "At OCCF, we celebrate the power and potential of Orange County's diverse communities, and remain committed to fueling the success of future generations by enabling them to pursue their educational goals and create a path to long-term success."
The reception was meant to acknowledge and honor the accomplishments of the student scholars and the contributions of the alumni and community members who helped make this program possible.
One of the scholarship fund's 16 awardees, Tami John, is a junior double majoring in English and cinema and television arts and minoring in creative writing. 
John, who aspires to become a published author or screenwriter, said the scholarship has allowed her to focus on her studies and educational opportunities rather than financial difficulties.
"This award has been a tremendous blessing to my family in our pursuit to have me graduate college debt-free," John said.
John said OCCF's support along with other scholarships have covered her tuition thus far.
"As I continue my final years at CSUF, I hope to give back to communities that have given me so much and pay it forward to those coming after me."
The application period for the fund will be open in December to select awardees for the 2023-24 academic year.