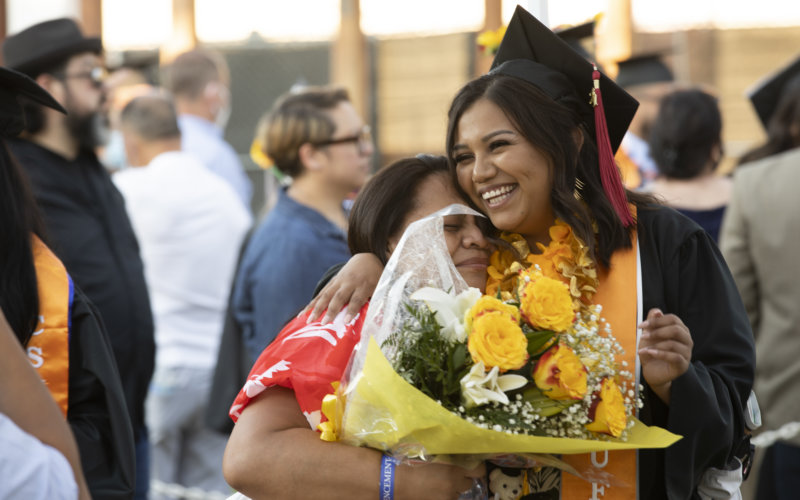 Hispanic Outlook on Education ranks Cal State Fullerton No. 3 in the nation, up one spot from 2020, for awarding bachelor's degrees to Hispanic students. The rankings in Hispanic Outlook, which focuses on Hispanic education in institutions of higher learning, appeared in the October issue listing of the "Top 100 Colleges for Hispanics."
CSUF — a U.S. Department of Education-designated Hispanic-Serving Institution — ranks at No. 19 in the nation for Hispanic enrollment in four-year schools. In addition, the university is No. 27 nationally for awarding master's degrees to Hispanics students.
Five of Cal State Fullerton's eight colleges rank among the top 10 in the following areas of degrees awarded by major:
No. 2 in communications, journalism and media studies
No. 3 in parks, recreation, leisure and kinesiology studies
No. 6 in teacher education
No. 7 in business administration management and operations
No. 8 in visual and performing arts
Hispanic Outlook on Education magazine generates its annual "Top 100" list using data from the U.S. Department of Education.
About Cal State Fullerton
The largest university in the CSU and the only campus in Orange County, Cal State Fullerton offers 110 degree programs and Division 1 athletics. Recognized as a national model for supporting student success, CSUF excels with innovative, high-impact educational practices, including faculty-student collaborative research, study abroad and competitive internships. Our vibrant and diverse campus is a primary driver of workforce and economic development in the region. CSUF is a top public university known for its success in supporting first-generation and underrepresented students, and preparing all students to become leaders in the global marketplace. Our It Takes a Titan campaign, a $250 million comprehensive fundraising initiative, prioritizes investments in academic innovation, student empowerment, campus transformation and community enrichment. Visit fullerton.edu.