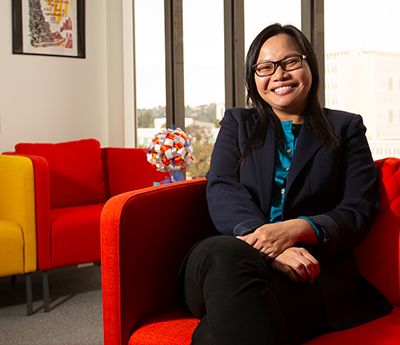 Celebration and festivities brings beauty and richness to both American and global communities.
Over 1.5 billion people worldwide will celebrate the Lunar New Year on February 1st. Unlike the western New Year that lasts one night or day, in China, the celebration lasts 15 days. In Vietnam, the New Year celebration (also known as TET) is one week long and in South Korea, festivities last for three days.
Natalie A. Tran, Ph.D., chair of the department of secondary education at Cal State Fullerton and the director of the National Resource Center for Asian Languages reflects on the Lunar New Year especially the celebration of TET in the Vietnamese culture.
From Tran:
"TET, also known as Lunar New Year celebration, is a big holiday in the Vietnamese culture. It's the time for large gatherings of family, friends, and loved ones while honoring our ancestors. Most importantly, it signifies a beginning anew — a chance for all of us to reflect on what the previous year has brought us and how can we transform those experiences to cultivate joy, harmony, and peace in our lives and the lives of those we touch."
"TET in an extended celebration, from the preparations, offerings to our ancestors, visiting families (first day of new year), friends (second day of the new year), teachers (third day of the new year), and the celebration continue days after that. It is a wonderful time to reflect and being fully present to welcome in the new year."
"Like many other cultural holidays and celebrations, TET adds beauty and richness not only to the American culture but to our global community. Asian Americans have experienced and continue to experience Asian-Hate during this pandemic. I encourage all of us to take this opportunity to learn from one another — to understand the uniqueness of the various cultures, histories, and lived experiences."
Learn more about Dr. Natalie Tran here.