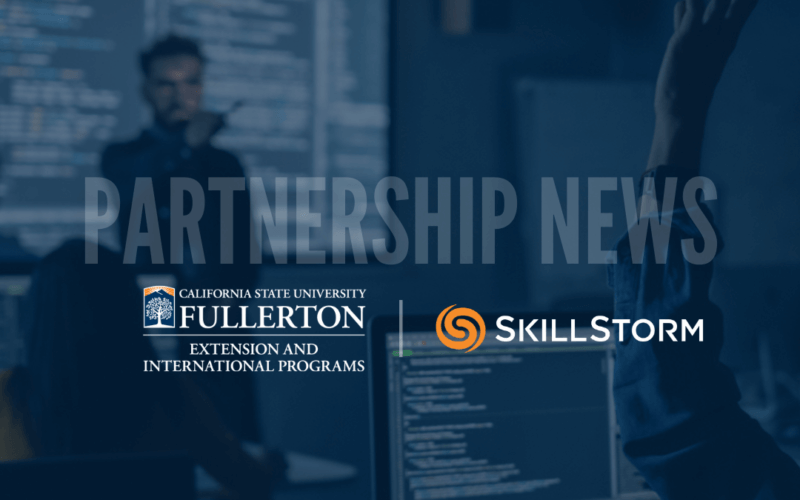 California State University, Fullerton (CSUF), recently ranked #3 most innovative regional university in the west by U.S. News & World Report, today announced a partnership with SkillStorm that will provide students with access to certification courses in high-demand enterprise technologies, including Amazon Web Services (AWS), Salesforce, and CompTIA (cybersecurity). As a designated Hispanic-Serving Institution, CSUF is launching this initiative to both meet employers' talent needs and help close persistent equity gaps in California's tech workforce.
"As demand for technological skills continues to rise throughout the region, state and across the country, it becomes increasingly imperative that higher education institutions remain cognizant and keep pace with labor demand needs," said Dr. Debra Leahy, Dean for Extension and Associate Vice President for International Programs. "To help meet these needs, we are proud to partner with Skillstorm. The partnership allows students to access the skills and credentials that today's labor market demands while building a tech workforce that is more diverse, more inclusive, and more prepared to respond to an ever-changing economy."
A recent analysis indicates that Cal State Fullerton is a major driver of economic activity statewide, powering $2.26 billion in economic activity, supporting more than 15,000 jobs and generating $126 million in local and state tax revenue. In addition, CSUF returns $13.40 to California's economy for every dollar invested by the state.
"Higher education institutions have both the mission and opportunity to help to meet the growing need for technology talent — which often requires new approaches and partnerships that are designed for the fast-changing priorities of employers," said Joe Mitchell, COO of SkillStorm. "By committing to expand access to in-demand skills and certifications, CSUF is rising to the challenge to build a stronger and more proficient tech workforce, both within California and nationwide."
The partnership consists of two tracks, the Accelerator Program and the Emerging Tech Program. SkillStorm's Accelerator Program provides online, asynchronous and instructor-led training courses to help students gain certification in AWS, Salesforce, Pega and other enterprise technologies The Emerging Tech Program hires, trains and certifies entry-level tech talent over the course of 10-12 weeks, before deploying them at Fortune 500 companies and federal contractors.
The certifications provided through these partnership tracks are designed for students and professionals at any stage of their educational career journey. Many certification courses offer students the flexibility to attend when convenient while providing access to one-on-one mentoring and training from industry-certified instructors. In addition, all courses are discounted 10% through Oct. 31, 2022.
For more information, visit csuf-catalog.skillstorm.com.