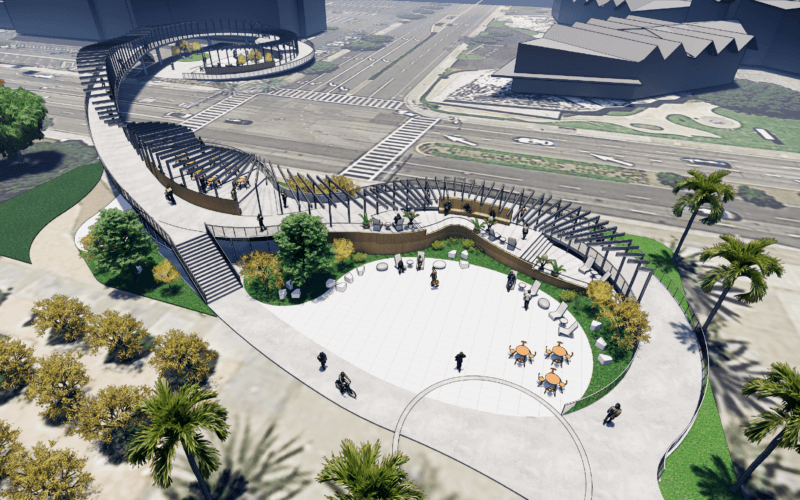 Cal State Fullerton, on Sept. 17, will honor state and local officials who supported the recent state budget allocation of $2 million in funding for the university's Fullerton Arboretum and a proposed pedestrian gateway over Nutwood Avenue.
Assemblyman Phillip Chen will commemorate the state allocation with a presentation of a $1 million check to CSUF President Fram Virjee at 9:40 a.m. in front of the university's Langsdorf Hall, near the proposed site of a future Titan Gateway Pedestrian Bridge. Virjee will join Congressional delegates at the arboretum at 10 a.m. for a celebration of the $1 million funding in support of the 26-acre botanical garden and several rehabilitation, signage and repair projects.
"Critical to the funding for the pedestrian bridge was State Assembly Member Phillip Chen (55th district), and State Senator Josh Newman who requested and advocated on the behalf of the university," Virjee said. Speaker of the Assembly Anthony Rendon also was critical to securing the funding, Virjee added..
Environmental studies graduate students Amy Heil and Mitsue Escobar will speak about the university's U-ACRE program at the arboretum which involves students in research focused on food insecurity, nutritional sufficiency, environmental justice, and sustainable agriculture. President Virjee will introduce elected officials before Fullerton Arboretum Director Greg Dyment comments, and the president will present each elected official with a small sycamore tree in appreciation. Assemblywoman Sharon Quirk-Silva, Supervisor Doug Chaffee and Fullerton Mayor Bruce Whitaker are scheduled to attend. 
About Fullerton Arboretum: Fullerton Arboretum is a 26-acre, Level IV ARBNet accredited botanical garden located on the California State University, Fullerton campus. The arboretum preserves and promotes stewardship of worldwide plant diversity and regional agricultural heritage, and serves faculty, students and the broader community through education and scholarly activities. Fullerton Arboretum is a self-support unit within CSUF Extension and International Programs.
About California State University, Fullerton
The largest university in the CSU and the only campus in Orange County, Cal State Fullerton offers 110 degree programs, and Division 1 athletics. Recognized as a national model for supporting student success, CSUF excels with innovative, high-impact educational practices, including faculty-student collaborative research, study abroad, and competitive internships. Our vibrant and diverse campus is a primary driver of workforce and economic development in the region. CSUF is a top public university known for its success in supporting first-generation and underrepresented students and preparing all students to become leaders in the global marketplace. Our It Takes a Titan campaign, a five-year $200 million comprehensive fundraising initiative, prioritizes investments in academic innovation, student empowerment, campus transformation, and community enrichment. Visit fullerton.edu.