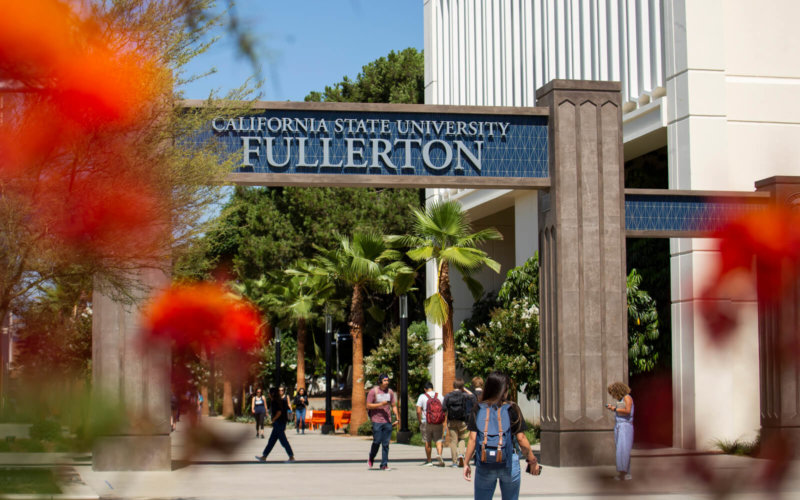 Titans return to Cal State Fullerton this week to begin the new academic year after nearly 18 months of on-line learning.
"Today, as we return to our beloved campus, I do not pretend that the pain we have endured or the challenges we still face have magically disappeared," President Fram Virjee wrote in an Aug. 23 email to campus. "But, I dare say, if you allow yourself to feel the elixir that pours forth from the in-person Titan experience, it can and will wash some of that stress away and leave a few of those troubles behind." Virjee praised the herculean efforts and incredible resilience of all Titans — faculty, staff, students and administrators — the past year and a half, highlighting the fact that the university conferred nearly 25,000 Titans degrees during the pandemic. 
"We recognize that because of the pandemic, this fall will be the first time many of our students will be on our beautiful campus," said Carolyn Thomas, provost and vice president for academic affairs. "Faculty are doing all they can to ensure that our Titans are welcomed and supported in our classrooms."
The majority of CSUF classes will be in person, however, some classes will be offered in virtual or hybrid modes, said Mark Filowitz, associate vice president for academic programs and enrollment.
In preparation for the return of students and employees, the campus Reentry Leadership Team focused on creating a safe and healthy environment. There will be onsite vaccination clinics and COVID-19 testing. There is extensive cleaning and sanitizing of spaces throughout the campus and upgraded high-capacity air filtration.
In July, the CSU Office of the Chancellor announced that all CSU faculty, staff, and students must either be fully immunized or receive an approved exemption before returning to any campus facility at any university location. For the most updated information, visit the Titans Return website.
Changes on campus
The Eastside Parking Structure project was completed and opened in September 2020.
A new six-story, 182,000-square-foot housing complex now under construction will house 600 students when it is complete.
Renovations are underway on McCarthy Hall's second floor and construction is scheduled to be complete during the fall 2021 semester.
The fourth, fifth, and sixth floors of the south side of Pollak Library are being renovated and enhanced.