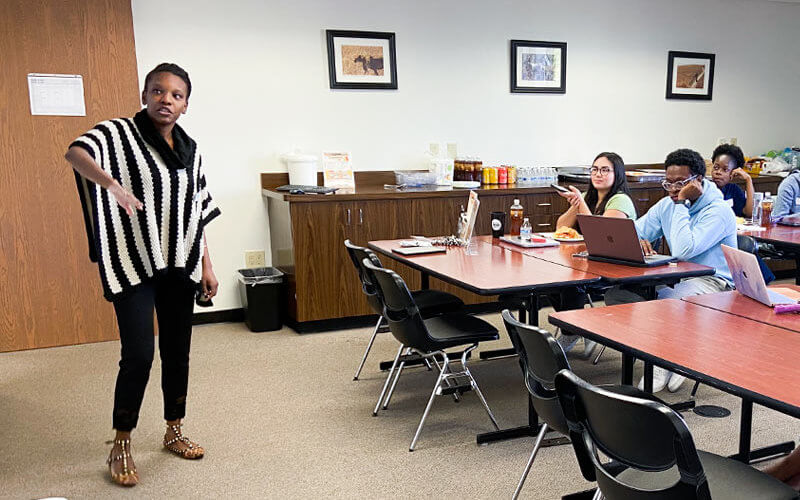 A new Cal State Fullerton program, Black CommUnity, aims to create an affirming space for Black communications students to access career mentoring, build professional networks and find communications internships and jobs.
The program, which launched in fall 2022, received $98,000 in first-year funding from the Scott-Jewett Fund for Student Success and Innovation. This funding will help CSUF students complete such opportunities as communications internships and travel to conferences like the 2023 International Communication Association conference this May in Toronto.
Jasmine Phillips Meertins, assistant professor of communications at Cal State Fullerton, is one of three faculty mentors leading the Black CommUnity program. Other faculty mentors include Miya Williams Fayne, assistant professor of communications, and Amber Chitty Wilson, lecturer in communications and internship coordinator.
Phillips Meertins said: "We provide the backdrop, the space and the chance for the community to come together. But the people are what make the program happen. These events have been so successful with getting students to come out, meet people that they ordinarily wouldn't and make those connections.
"I was the faculty director for the Latino Communications Institute, and I could see the amazing network it created for the Latino students in the College of Communications. I felt confident that we could serve Black students in the same way.
"To look around and see other students who look like you who also want to be journalists, advertisers or work in media, that is something that is priceless."Learn more about Black CommUnity through CSUF News and the College of Communications.