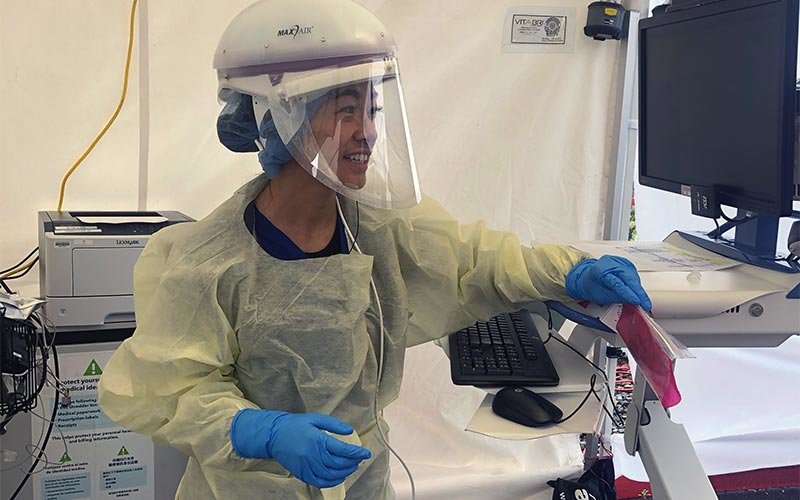 Hundreds of businesses, schools and churches across Orange County are expected to participate in a one-day giveaway of personal protective equipment (PPE) for thousands of employees June 2 at Cal State Fullerton.
"As our county begins to re-open, safety is top of mind for us all. With more than 12,000 graduates entering the workforce annually and many Titan alums living and working within a 50-mile radius, we are pleased to host this event for the small businesses in our community," said Elva Rubalcava, associate vice president of government and community relations for Cal State Fullerton.
The event is organized by PPE Unite, a Compton-based partnership of state, local and private groups to distribute PPE to workplaces for economic recovery while promoting general public health and safety. All businesses, churches, schools, and organizations are eligible to participate.
What: PPE Pickup – for Orange County small businesses
When: June 2, 11 a.m. – 4 p.m.
Where: Cal State Fullerton, 1500 N. State College Blvd, Fullerton 92831 (Enter pickup parking lot from Yorba Linda Boulevard onto Stadium Way and exit from Children's Way onto State College Boulevard.)
Register your business, church, school or organization to participate: PPEUnite.org/sign-up. A map and details are posted on the site.
About Cal State Fullerton: The largest university in the CSU and the only campus in Orange County, Cal State Fullerton offers 110 degree programs, and Division 1 athletics. Recognized as a national model for supporting student success, CSUF excels with innovative, high-impact educational practices, including faculty-student collaborative research, study abroad and competitive internships. Our vibrant and diverse campus is a primary driver of workforce and economic development in the region. CSUF is a top public university known for its success in supporting first-generation and underrepresented students, and preparing all students to become leaders in the global marketplace. Our It Takes a Titan campaign, a five-year $200 million comprehensive fundraising initiative, prioritizes investments in academic innovation, student empowerment, campus transformation and community enrichment. Visit fullerton.edu.
# # #
Photo Caption:
Orange County-based small businesses are encouraged to register for the June 2 PPE giveaway at Cal State Fullerton. For more information, go to PPEUnite.org/sign-up .