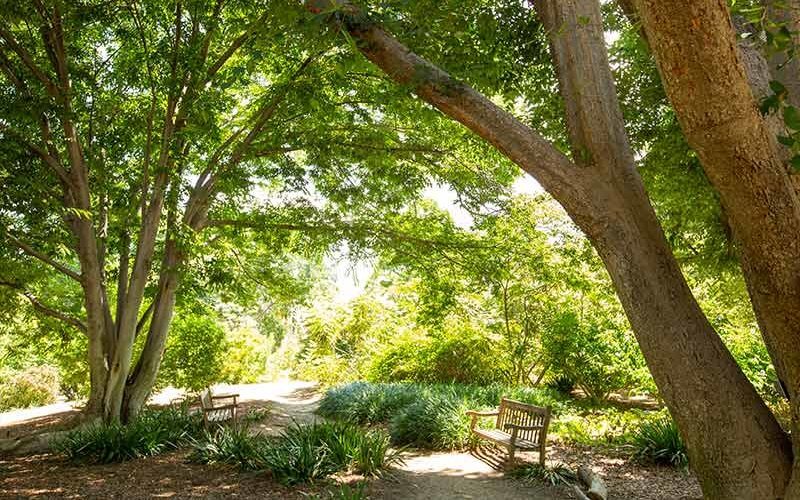 The Fullerton Arboretum, a 26-acre Level IV ARBNet-accredited botanical garden located on the California State University, Fullerton campus, received $1 million in budget appropriations from the State of California.
The funding comes at the perfect time, as the self-supporting arboretum grapples with a monetary loss of more than $848,240 and closure since March 2020 due to the COVID-19 pandemic. The arboretum's July reopening provides opportunities to create new, sustainable ways of preserving the gardens and raising funds for the future.
"There is a significant backlog of special projects throughout the gardens as funds were used to cover garden operations during the closure," says Arboretum Director Greg Dyment. "Until revenue streams can be rebuilt, we'll require additional funds to cover daily expenses and improvements to our facilities and living collections."
The funding will help the team within the CSUF Extension and International Programs do just that, providing a way for the arboretum team to continue operations while focusing on projects including:
Rehabilitating the aging lake and stream system: The arboretum will work with faculty and students from the College of Engineering and Computer Science and the College of Natural Sciences and Mathematics to demonstrate cutting-edge technology for water conservation, irrigation and ecosystem sustainability.
Completing the "Friends Outdoor Terrace" at the Bacon Pavilion: The terrace built of sustainable materials will provide future financial support for the arboretum by way of future facility rentals.
Updating educational interpretive signage: Current interpretive signage is more than 30 years old. The new signs will include information regarding academic research on rare and endangered plants and highlight conservation efforts underway for living collections.
Repairing the historical Heritage House roof and chimney: For decades the Heritage House has provided students with a peek into the past of Fullerton. Repairs will help maintain this piece of Californian history.
While these efforts will cost far more than $1 million to complete, the state of California budget appropriation will be leveraged to raise additional funds to see these projects come to fruition.
About Cal State Fullerton: The largest university in the CSU and the only campus in Orange County, Cal State Fullerton offers 110 degree programs, and Division 1 athletics. Recognized as a national model for supporting student success, CSUF excels with innovative, high-impact educational practices, including faculty-student collaborative research, study abroad and competitive internships. Our vibrant and diverse campus is a primary driver of workforce and economic development in the region. CSUF is a top public university known for its success in supporting first-generation and underrepresented students, and preparing all students to become leaders in the global marketplace. Our It Takes a Titan campaign, a five-year $200 million comprehensive fundraising initiative, prioritizes investments in academic innovation, student empowerment, campus transformation and community enrichment. Visit fullerton.edu.
# # #