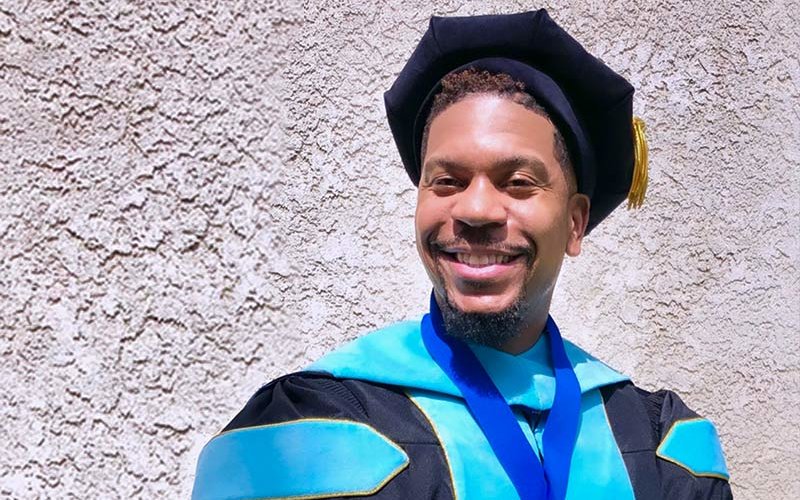 Finishing his doctorate in education amid the COVID-19 pandemic proved a herculean effort for Cal State Fullerton student Brandon D. Harris, who feared unemployment as a part-time community college instructor. Bills stacked up for his young family, and he questioned his career path.
But staying true to his passion for higher education and his dream of becoming a community college president, Harris doubled down on his efforts by completing additional online trainings and volunteering for various campus programs to strengthen his resume.
Harris joins the Class of 2021 this spring, graduating with a doctorate in educational leadership and a community college concentration. For his scholarly and community service achievements, Harris was named the Alumni Association's Outstanding Graduate Student.
"It took a village of support to pull me up from the hopelessness and remind me of my resilience during difficult times," he shared. "I would like to thank that village and remind others to never give up."
Harris's dissertation focused on underrepresented populations — to inform education leaders and programs like the university's Male Success Initiative-Fullerton, which empowers students of color to reach their full potential. To further deepen his understanding of such groups, Harris involved himself with the African American Resource Center and Phi Beta Sigma Fraternity Inc. Off campus, he served as a volunteer adviser for the Gay-Straight Alliance at College of the Canyons.
His advice to future Titans is: "Let your efforts be guided by a just, equitable and inclusive foundation of values. It is not about you or me, but the collective 'we.' Lastly, remember to make the decisions today that your future self will thank you for."
To learn more about the in-person ceremonies for 2020 graduates on June 12 and the 2021 graduates of CSUF's eight academic colleges June 13-15, visit the commencement site.
Meet dozens of the more than 12,000 Titans eligible to graduate in 2021 and read their stories of resilience on the Titans of Tassel website.
About Cal State Fullerton: The largest university in the CSU and the only campus in Orange County, Cal State Fullerton offers 110 degree programs, and Division 1 athletics. Recognized as a national model for supporting student success, CSUF excels with innovative, high-impact educational practices, including faculty-student collaborative research, study abroad and competitive internships. Our vibrant and diverse campus is a primary driver of workforce and economic development in the region. CSUF is a top public university known for its success in supporting first-generation and underrepresented students, and preparing all students to become leaders in the global marketplace. Our It Takes a Titan campaign, a five-year $200 million comprehensive fundraising initiative, prioritizes investments in academic innovation, student empowerment, campus transformation and community enrichment. Visit fullerton.edu.