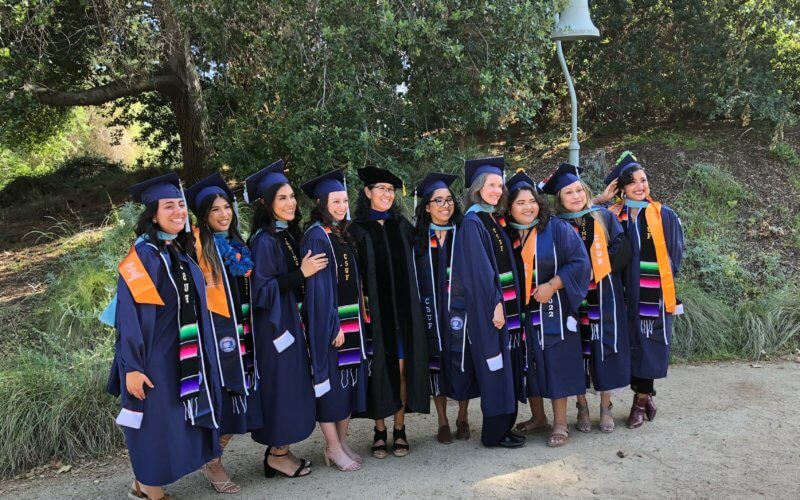 Excelencia in Education, a national nonprofit focused on boosting Latinx student success, recently recognized two Cal State Fullerton programs that have positively impacted and accelerated Latinx student success in higher education.
Project upGRADS (Utilizing and Promoting Graduate Resources and Access for Disadvantaged Students), a five-year, $3 million federal grant that supports the academic achievement of Latinx and other underrepresented graduate students, was selected as one of 20 Examples of Excelencia finalists in the nation for 2022.
According to Excelencia in Education, these 20 programs go beyond merely enrolling students by addressing the strengths and needs of their students, especially their Latinx students. They also provide personalized, timely and holistic support for students' educational journeys.
"I am humbled and honored that Project upGRADS is being recognized as a finalist," said project director Luis Molina. "I am extremely grateful that we are able to support Latinx students achieving their dream of a graduate education. I am thankful for the funding from the U.S. Department of Education which allows us to do this work, our grant faculty and staff, and everyone else that has collaborated with us. We owe our success to the relationships we have been able to foster around campus."
Four of the 20 finalists will be selected as the 2022 Examples of Excelencia and recognized at the nonprofit's Celebración de Excelencia event on September 29 in Washington, D.C.
"These 20 programs are evidence-based exemplars led by practitioners working directly with students and community that go beyond enrollment to intentionally serve students on their journey to degree completion," said Deborah Santiago, co-founder and CEO of Excelencia in Education.
Excelencia in Education also named Cal State Fullerton's Ánimo: Latinx Counseling Emphasis as one of 10 Programs to Watch in 2022. These are up-and-coming programs that have identified specific needs of Latinx populations and are designing practices to address them.
Launched in 2018, the counseling emphasis is one of two public master's programs in the U.S. accredited by the Council for the Accreditation of Counseling and Related Educational Programs. Fewer than 10 master's, doctoral, public and private programs in the country provide bilingual or bicultural counselor training.
Led by Olga Mejía, associate professor of counseling at Cal State Fullerton, the program consists of five master's-level counseling courses that prepare graduates to provide bilingual and bicultural counseling for Latinx clients and families. Courses in Ánimo are offered in both English and Spanish to meet students' needs.
Programs to Watch honorees leverage shared culture and language to build a sense of belonging and improve academic success; use targeted programs and peer support to strengthen educational transitions; and build strong employment partnerships to support a more diverse workforce, Excelencia in Education said.
"Ánimo is significantly improving Latinx graduate students' sense of belonging in the classroom, research experiences, mentoring/advising, and advocacy," said the CSUF Ánimo Latinx Counseling Emphasis' 2022 Examples of Excelencia application.