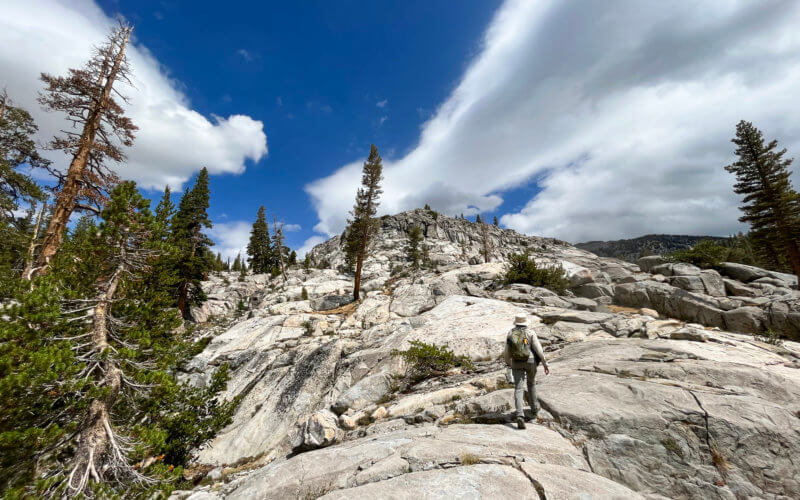 Six of Cal State Fullertons' future geologists hiked 9,500 feet to investigate an inactive volcanic magma chamber during summer field research in the Sierra National Forest.
Researchers were interested in a magma chamber that fed ancient volcanic eruptions roughly 98 to 97 million years ago, at the same time when dinosaurs lived.
Supported by a nearly $60,000 U.S. Geological Survey EDMAP grant, the researchers hiked five to 12 miles a day in the wilderness between the months of mid-July to mid-August.
The group learned how to adjust long days of mapping the pluton and collecting rock samples according to weather conditions, which included extreme heat, heavy monsoon rains, thunder and lightning.
Valbone "Vali" Memeti, associate professor of geological sciences, discussed the importance of organizing this field research trip.
Memeti said: "A lot of this type of information has not been unlocked yet, so it is a very exciting time to be studying these kinds of systems."
"We hope that this study gives us insight into how magmatic systems at depth grow and mature over time, the specific styles of eruption they feed, and how many eruptions might have taken place."
"Graduates with geologic mapping and field skills are sought-after by employers hiring geologists."
Samantha Dunn, first year graduate student, was among two graduate and four undergraduate students that participated in the summer research project
Dunn said: "Our study can help scientists and people prepare for future volcanic eruptions."Learn more at CSUF News