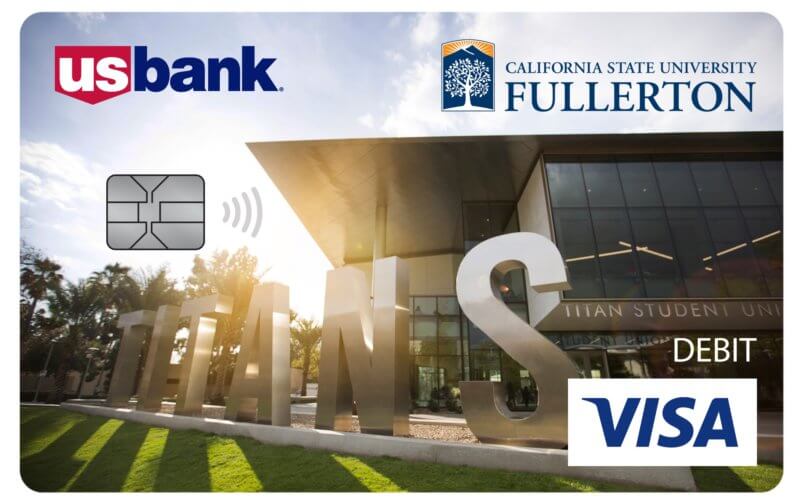 U.S. Bank customers can now proudly show off their CSUF Titan pride with U.S. Bank's new college Visa® debit card design.
The school's card launches in August just in time for the fall semester and features an image of the Titan Student Union (TSU), the student center at Cal State Fullerton and home to CSUF's woolly mammoth fossil, an iconic spot where students socialize, relax, eat, attend events, and create community. An on-campus U.S. Bank branch and ATM are located in the Titan Shops Bookstore. U.S. Bank also assists with the pin-debit program.
"CSUF is excited to expand our partnership with U.S. Bank and to provide our students, employees, and alumni with another way to show off their school pride," said Ellen Treanor who oversees strategic communications and brand management at CSUF. "The campus community is very fortunate to have a branch on campus, U.S. Bank makes banking easy, and with our new debit cards it is also more fun."
"U.S. Bank has a longstanding relationship with CSUF, having worked together to teach students and faculty about financial wellness. Additionally, the bank has provided grants and sponsorships in support of a myriad of CSUF affiliated efforts including the CSUF Center for Economic Education, CSUF Philanthropic Foundation, and the CSUF Institute for Black Intellectual Innovation," noted Chris Venhoff, U.S. Bank consumer and business banking Orange County market leader. "This card design is a perfect fit for all CSUF employees, students, and alumni who want to share that they stand Titan tough."
U.S. Bank has recently unveiled all-new industry-leading ways to bank, that combine digital technology with a human presence. Accounts can now be opened and managed from anywhere, at most anytime. Bankers are accessible in-person, by phone, virtual appointments, or through a special capability called cobrowsing, which is a banker and customer looking at an account together, and the award-winning U.S. Bank mobile app is available in English and Spanish. Many of these advancements became necessary during the pandemic, and customers have responded well to the convenience.
The CSUF Visa Debit card design is the second California State University U.S. Bank college affinity debit card, with the San Diego State University card launched in February 2021, and the third release within the overall program following the University of Wisconsin-Stevens Point card release in August 2020. More schools will be added to the program as it rolls out across the country. The new cards can be ordered through www.usbank.com or by using the U.S. Bank Mobile App.
About California State University, Fullerton
The largest university in the CSU and the only campus in Orange County, Cal State Fullerton offers 110 degree programs, and Division 1 athletics. Recognized as a national model for supporting student success, CSUF excels with innovative, high-impact educational practices, including faculty-student collaborative research, study abroad, and competitive internships. Our vibrant and diverse campus is a primary driver of workforce and economic development in the region. CSUF is a top public university known for its success in supporting first-generation and underrepresented students and preparing all students to become leaders in the global marketplace. Our It Takes a Titan campaign, a five-year $200 million comprehensive fundraising initiative, prioritizes investments in academic innovation, student empowerment, campus transformation, and community enrichment. Visit fullerton.edu.
About U.S. Bank
U.S. Bancorp, with nearly 70,000 employees and $559 billion in assets as of June 30, 2021, is the parent company of U.S. Bank National Association. The Minneapolis-based company serves millions of customers locally, nationally, and globally through a diversified mix of businesses: Consumer and Business Banking; Payment Services; Corporate & Commercial Banking; and Wealth Management and Investment Services. The company has been recognized for its approach to digital innovation, social responsibility, and customer service, including being named one of the 2021 World's Most Ethical Companies and Fortune's most admired superregional bank. Learn more at usbank.com/about.
# # #