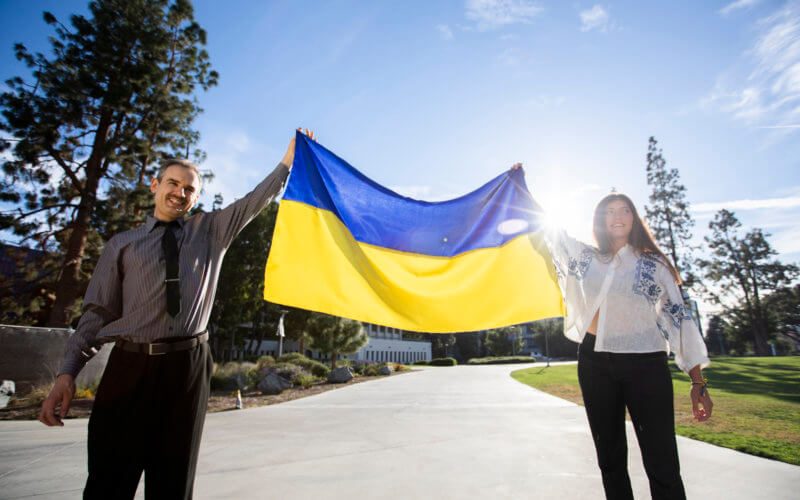 As if being an international student isn't hard enough alone, Mariia Nikitash has gone through the unimaginable since the crisis in Ukraine began. The international student from Ukraine is in her first year at Cal State Fullerton, where she received a scholarship to play tennis. But challenges on the court aren't the only adversity facing her.
As the world watches events unfold in Ukraine, Nikitash tries to manage the many emotions as she watches the ongoing destruction in her home country. Her family fled their home in Kyiv at the end of February and lived in a small village since.
"My mom is not safe because every day she hears the shots and explosions and descends to the basement when the priests of the local church ring the bell," Nikitash said.
Seeing and hearing the horrors that her friends and family are experiencing hasn't been easy for Nikitash.
"Most of all, I am oppressed by a feeling of helplessness and powerlessness because I can't help them. It kills me. This fear for my loved ones, relatives, friends, for all Ukrainians."
Amid all the uncertainty, Nikitash found a shoulder to lean on from CSUF's Associate Professor of Computer Science and the Director of the Center for Cybersecurity, Mikhail Gofman. Born in eastern Ukraine and raised in the city of Artemovsk, Gofman can empathize with the student-athlete and has been a steady friend, counselor, and mentor during the crisis.
Like Nikitash, Gofman has family in Ukraine and can relate to the student's hardships while she is thousands of miles away from home.
"He, perhaps like no one else, understands my pain. I understand his experiences and those of his family," Nikitash said.
The two have bonded, and Gofman has even guided her through the process of changing her major from Computer Animation and Game Art to Computer Science.
While away from her home, Nikitash has received an outpouring of support from her friends, teammates, staff, and faculty within the CSUF community.
"I want to say a huge thank you to the whole CSUF team, including all my professors, advisors, mentors, athletic department, and of course my coaches, for their support during these hard times," Nikitash exclaimed.
And though it hasn't been easy, Nikitash continues to persevere.
"I am an athlete! Overcome difficulties and go to victory at all costs – this is my work!"
About Cal State Fullerton: The largest university in the CSU and the only campus in Orange County, Cal State Fullerton offers 110 degree programs, and Division 1 athletics. Recognized as a national model for supporting student success, CSUF excels with innovative, high-impact educational practices, including faculty-student collaborative research, study abroad and competitive internships. Our vibrant and diverse campus is a primary driver of workforce and economic development in the region. CSUF is a top public university known for its success in supporting first-generation and underrepresented students, and preparing all students to become leaders in the global marketplace. Our It Takes a Titan campaign, a five-year $250 million comprehensive fundraising initiative, prioritizes investments in academic innovation, student empowerment, campus transformation and community enrichment. Visit fullerton.edu.
# # #