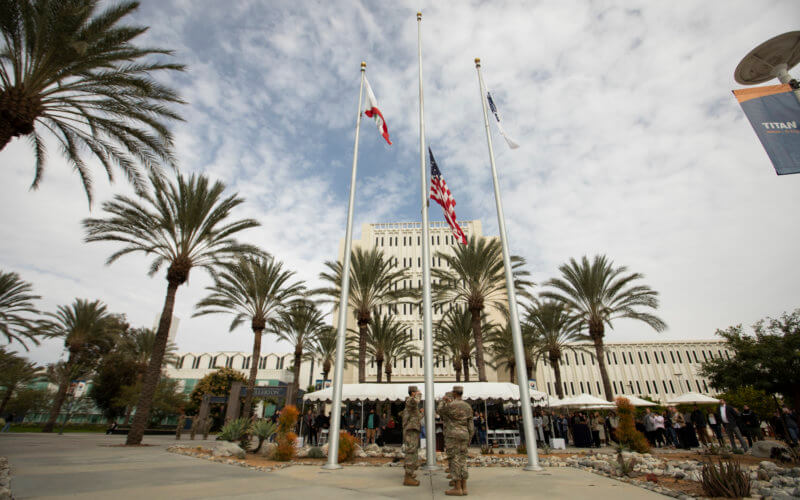 With approximately 450 student veterans on campus, Cal State Fullerton's Veterans Resource Center (VRC) works to supply the necessary tools to help our heroes succeed.
"The fundamental service that the VRC provides is processing and certifying federal and state education benefits, which many of veteran and military-connected students utilize to pay for school and cover their living expenses," said Cameron Cook, director of the Veterans Resource Center.
Cal State Fullerton's Veterans Resource Center has several programs to make life as a student veteran easier.
James-Anthony Burandt, student veteran and president of the Student Veterans Association, is one of many students who thrived with the comprehensive support offered at the Veterans Resource Center.
"Aside from the programs they have to offer, the VRC supported me as a student veteran by providing a space where I can be myself, while also guiding me in the right direction on how to be the best version of myself. When I felt like I didn't know where to go and no one understood me, the VRC staff knew exactly what to do and how to bring me back to an equilibrium. It's not something that can be learned, nor is it a service. They understand and can relate to me as a fellow veteran."
Programs like Peer Advisors for Veterans Education (PAVE) connect incoming veteran students with current veteran students that are trained to assist with challenges and to find resources on campus.
Throughout November, the Veterans Resource Center will host programs and events to celebrate veterans and military-connected students at CSUF. The events will encourage others to learn about the services that veterans can benefit from on campus.
Visit the Veterans Resource Center website for more information.