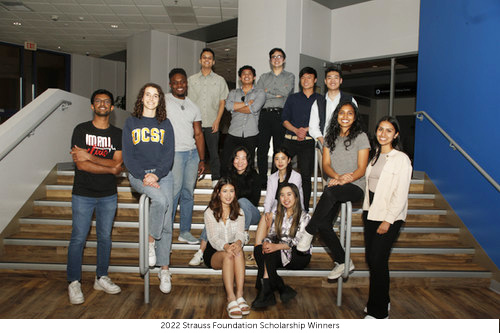 Titans with a passion for creating and leading public-service projects are invited to attend an information session on Oct. 4 for the Donald A. Strauss Foundation Public Service Scholarship, a $15,000 award designed to fund students' efforts to make significant change in the world.
For the first time, Cal State Fullerton students are eligible to receive the scholarship, which has funded more than 300 projects across the world since 1997. This year, the Strauss Foundation opened this opportunity to eight more California universities, in addition to its original 14, said Nancy Strauss Tietge, member of the Strauss Foundation board of directors and daughter of the foundation's creators.
"CSUF seemed like a good choice as it's a creative and innovative Cal State campus," Strauss Tietge said.
The goal of the foundation is to give college students the opportunity to lead a service project, a social change project or a social entrepreneur endeavor of their own design, and providing them with the money to make it happen.
The foundation awards up to 15 scholarships worth $15,000 each year to students across the state. Successful applicants propose projects that are innovative and timely; engage other students or local participants in public service; and are sustainable and continuous.
"My parents believed very strongly in the capabilities of young adults to be innovative leaders able to make significant and lasting positive change in the world," she said. "The foundation honors and carries forward their philosophy."
Past winners launched projects that focused on solving issues on campus, in surrounding communities, in students' hometowns, and internationally in countries like Mexico, Kenya, Nigeria, Nepal and India.
Elizabeth Boretz, assistant vice president for Student Success and director for the Academic Advising Center, worked with the Strauss Foundation at her former institution, the University of California, Merced. She said Titans have what it takes to be Strauss recipients.
"CSUF students have a strong sense of social justice and personal agency to make change in the world," Boretz said. "Our students know their talents and they merit this opportunity to apply their talents to address issues that will improve the lives of others. CSUF students are ambitious and they know what they want to do, so a chance to capture some funding and start now, rather than wait until after college, is probably a perfect way to honor these Titan qualities of caring about their communities and their world."
Students eligible for the scholarship:
Are full-time students with one or two years remaining until graduation.
Have demonstrated interest in public service.
Have developed and can demonstrate effective communications skills.
Have the desire to make a difference in local, regional, national or international communities.
Have a GPA in the upper-third of the class.
Titans applying for the scholarship must submit an innovative, original, public-service project proposal that includes a budget and letters of recommendations by Tuesday, Jan, 25, 2023. Students are strongly encouraged to attend an information session (read details below) to gain more insight.
Donald A. Strauss Scholarship Information Session
Tuesday, Oct. 4th
11 AM-Noon
MH-141
Sign up for the information session, or for future updates