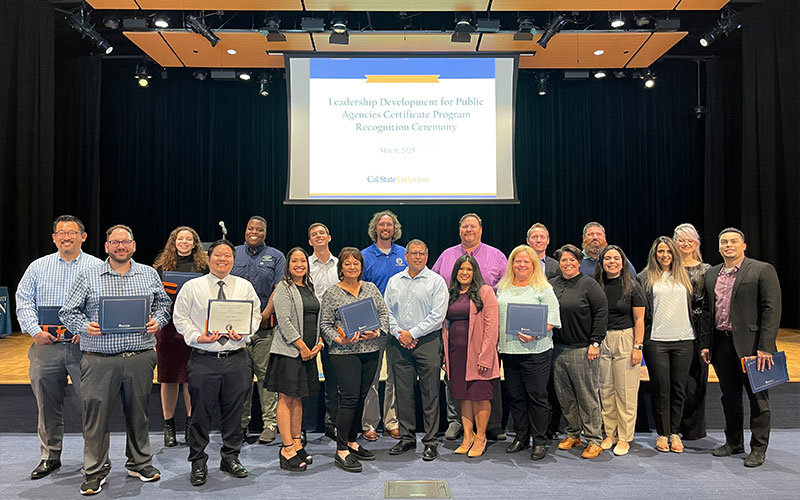 In May and June of 2023, recognition ceremonies were held to celebrate those who completed Cal State Fullerton's (CSUF) Leadership Development for Public Agencies certificate program. This program is offered through CSUF Extension & International Programs (EIP) and aims to help emerging public leaders further develop successful leadership skills and behaviors.
CSUF EIP works directly with Orange County agencies, which nominate and sponsor an employee to participate in this highly-coveted, semester-long training. Between the two ceremonies that were held, a total of 50 students from 16 different agencies completed the program!
The ceremony on May 8 was held in-person at the Lake Forest Performing Arts Center. Twenty-one professionals employed in the cities of Dana Point, Laguna Niguel, Lake Forest, and San Juan Capistrano were recognized for their hard work and dedication.
Distinguished guests included participants' supervisors, city human resources directors and city managers, Mike Killebrew (Dana Point), Tami Letourneau (Laguna Niguel), Debra Rose (Lake Forest), Ben Siegel (San Juan Capistrano), and Dave Doyle (Aliso Viejo) who is also the President of the Orange County City Manager's Association. Debra Leahy, Dean of Extension and Associate Vice President for International Programs at CSUF EIP, also spoke and presented certificates and souvenirs to participants and guests.
The June 1 ceremony was held virtually, and 29 staff members were recognized from the cities of Anaheim, Costa Mesa, Fullerton and Tustin as well as the County of Orange, Golden Empire Transit District, Irvine Ranch Water District, Lutheran Social Services Southern California, Mesa Water District, Moulton Niguel Water District, Orange County Sanitation District (OC San), and Orange County Transportation Authority (OCTA). Nearly 80 guests attended the online event, including agency leaders, participants' supervisors, colleagues, families, and CSUF instructors and staff.
Two speakers gave encouraging and inspirational speeches: Katie Savant (director of local government and community relations) and Julie Espy (manager, learning and development, Orange County Transportation Authority). Espy is also the lead instructor of the CSUF leadership development for public agencies certificate program and a proud Titan.
"Since 2007, over 600 public employees have successfully completed our Leadership Development Certificate program," says EIP Program Manager Winnie Kang-Abreu, who organized and facilitated the events. "It's wonderful to see the impact that this program has on so many students' educational and professional lives."
At both ceremonies, participants and city managers shared their positive feedback and how they look forward to their continuous collaboration with CSUF Extension and International Programs.
Interested in joining the next Leadership Development for Public Agencies certificate program? Talk to your agency's human resources department for nomination and sponsorship and visit extension.fullerton.edu/leadershipdevelopment.
Leadership for Public Agencies is a fully integrated part of CSUF Extension and International Programs (EIP). Learn more about EIP at extension.fullerton.edu.