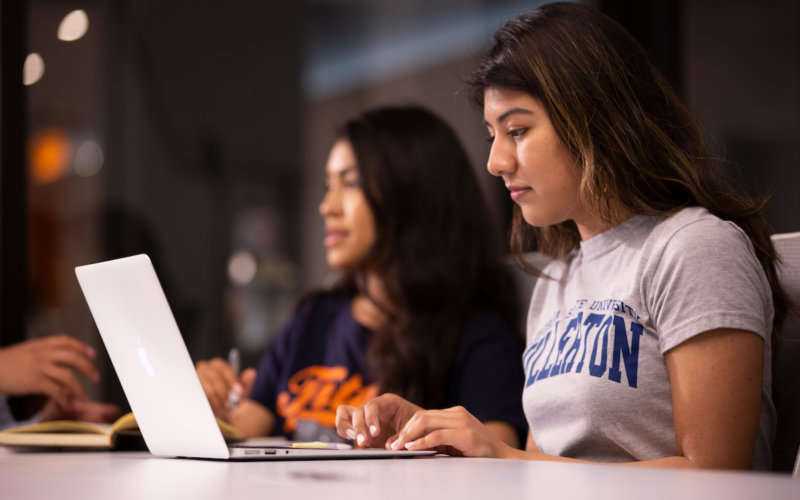 At Cal State Fullerton, we seek to empower students with everything they need to be successful. We recognize the need to provide high-quality technology that is accessible for all students. The need for specialized hardware and software is critical to students who use our Disability Support Services. As students' needs change and technology evolves we adjust to new environments.
During the pandemic, when our Pollak Library was closed, Information Technology partnered with the Office of Disability Support Services to provide accessible software directly to all students with disabilities through their laptops. Additionally, IT and the library collaborated to ensure that when the library re-opened, accessible software would be installed on all devices in the library and, in addition, there would be designated accessible tech stations. Based on these efforts, we understood there would no longer be a need for specialized assistive technologies in a designated room in the library, and the specific room where those technologies had been made available was repurposed.
We recently heard from some students and faculty who were concerned about the closure of this designated space with accessible technology. When this issue was brought to our attention, and we did a deeper assessment, we realized that while students currently have comprehensive laptops with assistive software, they may still, on occasion, need more specialized technology.
Thanks to a partnership across the library, Student Affairs, and Information Technology, a new Accessible Technology Room (ATR) has opened for this specific purpose as soon as possible – we expect it to be open next week in preparation of semester exams. Located in PLN 436, the ATR will have 8 accessible workstations with the latest accessible software and hardware, including scanning and CCTV and Dragon software. It will be supported and maintained by the Center for Equitable Digital Access (CEDA) in the Division of Information Technology.