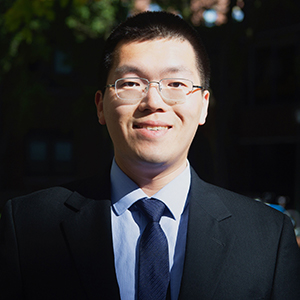 By Daniel Coats '15, '18
Real estate is front and center in the Orange County economy, and Cal State Fullerton's College of Business and Economics is at the cutting edge of real estate research as it prepares the next generation for careers in the industry.
In January, Desen Lin, assistant professor of finance, was one of three 2021 Homer Hoyt Doctoral Dissertation Award winners.
The dissertation award was mainly related to Lin's job market paper "Housing Search and Rental Market Intermediation," examining the role of rental brokers in the New York City. The paper documents how the agent size of a listing broker affects the listing rent and the listing days on the market. It develops a housing search model with intermediaries and evaluates the policy impact of the Housing Stability and Tenant Protection Act (HSTPA) in 2019 on the brokers' behaviors and the rental market incomes.
Lin was also recognized for his 2020 study, "Mortgage Risk Premiums during the Housing Bubble," published in the Journal of Real Estate Finance and Economics. The study identifies a decline in credit spreads, which are the difference between the quoted rates of return on two different investments, usually of different credit qualities but similar maturities. Lin's study was focused on mortgages conditioned on loan and borrower characteristics in the runup to the 2008 financial crisis.
Granted by the American Real Estate and Urban Economics Association with the support of the Homer Hoyt Institute, the honor is considered among the most prestigious in urban and real estate economics.
Lin, who earned his Ph.D. in economics from the University of Pennsylvania in 2021, studies real estate economics, household finance, urban economics and macroeconomics. He was formerly a research fellow at the Penn Wharton Geospatial Initiative Lab and Penn Institute of Urban Research before joining the CSUF business faculty in fall 2021.
Lin joins Michael LaCour-Little, a 1997 honoree, in receiving the dissertation award. LaCour-Little served as a CSUF finance professor and director of the CSUF Real Estate and Land Use Institute (now Center for Real Estate).
Read more articles about Cal State Fullerton's real estate education and research.