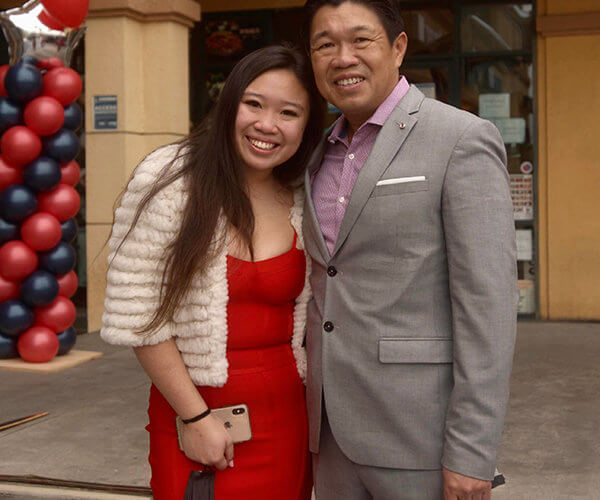 By Daniel Coats '15,'18
For CSUF operations and supply chain management alumna Vivian Yenson '22, the restaurant industry has been part of her lifeblood since childhood. The Little Saigon native has been in the Vietnamese food services industry since her earliest memory, when she would do her homework in restaurants owned by her parents and grandparents.
Today, Yenson is family business director of Tay Ho Restaurants, a chain of seven primarily to-go authentic Vietnamese eateries in Orange and Los Angeles counties and Northern California. The chain is named after the culinary rich Tay-Ho District in the Vietnamese capital Hanoi.
Recently, Yenson talked with us about her entrepreneurial background, how her business education has been invaluable to her preparedness and what others should know about starting their own food business.
What does your position entail? What are your responsibilities and what do you find rewarding?
My role as family business director is very broad, but I'm basically a business strategist, so I work on new ways to bring about the future of Tay Ho Restaurants. Right now, that's filling in the gaps because we are a very new company. It was created back in the 1980s, but back then, it was just a mom-and-pop shop in Little Saigon.
When we came back from COVID, we wanted to open up our stores again, but this time, we focused on takeout so no matter what situation the world is in, we'll still be open and running. We rebranded, and our food looks and tastes even better now.
I'm not a CEO yet, but I have my hands in every department, whether accounts payable or purchasing or marketing, to make sure the company runs as a whole. Right now, I'm mainly at our San Gabriel location, where I am the general manager. This allows me to be hands on with the team members and kitchen staff.
The most rewarding part of working in a family business is getting to carry on the legacy. Having customers come in and tell me how much they loved the family's restaurant throughout the years. Hearing how much people loved what my grandparents and parents did and now my work. They get to meet the third generation of the business and people love the product.
Your locations in the San Francisco Bay Area and Sacramento are hundreds of miles from Orange County. Is it challenging to run these locations from afar?
Our different locations started because my grandmother had siblings whom she trained as they opened their own restaurants. So, the people who run the locations in Northern California were taught by my grandmother, as were the people down here.
But people have their own unique styles, which creates differences. We have so-called legacy stores that have more freedom. These are mom-and-pop shops that often offer extensive dine-in. Where I work, it is more innovative and focused on bringing in new products.
At our corporate-owned restaurants in San Gabriel and Chino, we are focused on innovation and latest best practices.
The owners of the San Jose and Santa Clara restaurants work with us a lot, and we see them once or twice a month. My parents fly to Sacramento each month to connect with the owner there.
A commonality running through all our restaurants is our amazing staff. They care about what they do because they've worked with us for so long. Most of our employees have worked with us for dozens of years. They know how we are and who we are. They are like our family. Family business isn't just blood, it's every single person working together making this a successful restaurant.
Do you believe all takeout restaurant models are the future?
We've learned the convenience of takeout, especially with people working from home. Customers can order online and come and pick it up, and by the time they come back to work they have 20 minutes left to eat. It is useful for restaurants to focus on takeout.
At the same time, people still enjoy the dine-in experience. We have four or five seats in a bar setting for those who want to eat in-store.
From commencement speaker to ASI trustee to Business Honors, you were very active as a CSUF student. How has your Titan experience prepared you for entrepreneurship?
The most important skill I gained at CSUF was project management. I was an operations manager, so I took a project management class.
As a student, I was focusing on a lot of things. I wasn't just going to school. I was a leader in Delta Sigma Pi; I was in ASI for a little bit; I did a lot of things with the dean on the strategic planning committee and the associate dean search committee. I learned to prioritize my time. Sometimes you have to get to sleep early, and you don't get to go out with friends that night.
You need to be able to focus on priorities while juggling so many other things at the same time – family, school, work and all these positions – while still being able to survive and stay mentally healthy. I do the same thing now, when I'm working with my marketing team in person or at the restaurant or with my team in Chino or my accounting team. It's a lot to handle but doing so much at CSUF has helped me here.
I don't think I believe any student role was more important than any other, but I relish the fact that I worked with so many people from different positions. Networking and understanding others' values was the best experience of my college career.
And the connections have continued post-graduation. The Business Honors director came to my grand opening. One of my professors knew I was working in the restaurant industry, and he invited me back as a guest speaker in his master's class.
You consider working at your family's business your ultimate career goal. Why is that?
I think of my job is my dream job, being able to work in so many departments and industries. I have such a close bond with my family. It is an honor carrying on the legacy. My grandpa passed away in July. It was a good reminder of why I'm doing what I'm doing because my grandparents worked in the restaurant industry. I was the little kid doing homework in the restaurants all those years, and now it's my turn.
Our motto is to "share an honest taste of Vietnam," which I truly believe we do. I hope to expand the restaurant and share Vietnamese cuisine, so people will know and like it the same way they like Japanese, Italian or Thai food.
Tell us a little about the pros and cons of family business?
When your boss is your dad, as in my case, the positives are that it's very efficient, and I can go straight to the boss when I have an idea or think something needs to be changed or we can do something more efficiently. We can make change happen almost instantaneously.
The bad part is you go home to more work. Some people get to separate their work and their life. Others go home and have dinner with your family and watch sports or shows. A lot of time we talk about a bad Yelp review and what we can do to fix it.
I truly think it's more beneficial than negative. And it's how everyone works with it. Sometimes people don't like working at home. But my dad has always been such a hard worker. Working 24/7. Even when we're on vacation. He's still getting calls from the office. I've learned a lot from his work ethic.
What advice would you give to aspiring restaurant entrepreneurs?
You cannot expect to just work 40 hours a week and clock out. When people call out, people are sick, or other things happen, it's all on you. Even when it's your day off, you might have to come in. It's all about knowing and understanding what goals you are working toward.
There are some days when you hate everything and want to quit, but just having a clear goal and vision in mind of what you want to do will help you stay focused.
The work itself is not very difficult. You will have good days where your sales are incredible. And you will have hard days when it's rainy and cold and no one visits the restaurant. There are a lot of ups and downs, but as long as you stay stable and focused on what you're passionate about, you should be able to accomplish it.