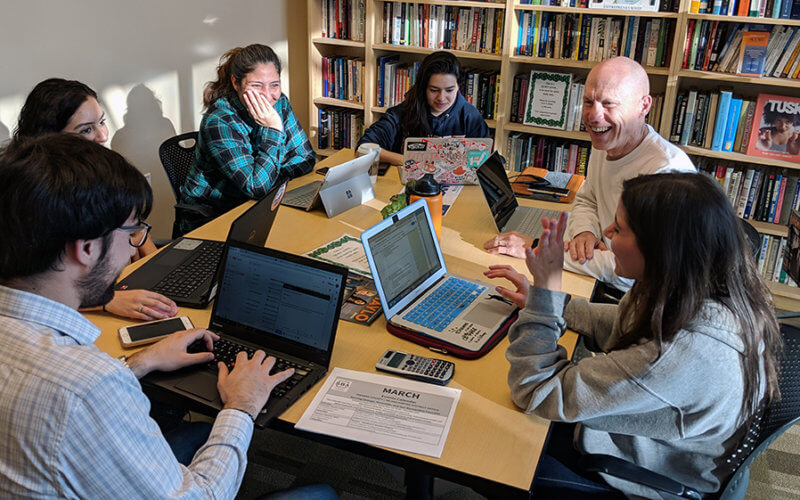 By Daniel Coats '15, '18
Cal State Fullerton's College of Business and Economics is committed to immersive out-of-classroom experiences for its students while building relationships and making an impact in the Orange County business community.
This commitment is visible in the CSUF Student Consulting Program, which gives its students the opportunity to apply the business skills they've learned in the classroom while benefiting Orange County businesses of all sizes in all industries. The initiative includes senior undergraduate students and MBA candidates, who solve problems for local firms in the areas of marketing, business strategy, management, sales and other topics.
"The program gives our students an opportunity to provide a fresh, independent look at today's digitally driven business challenges. Students benefit from working as consultants on difficult real-world projects that require teamwork along with the application of classroom knowledge," explains Charlesetta Medina '10, director of the program. "By the end of each project, our student teams have accumulated more than 400 consulting hours."
Consulting teams range from four to six students and are supervised by faculty and, in the case of undergraduate teams, by experienced business mentors as well.
Three Decades of Excellence Defines an Impactful Program
Since the early 1990s, Orange County businesses in manufacturing, construction, retail, technology and philanthropy have benefited from CSUF student consulting. On 15 occasions – or nearly half of all years since the initiative began – Business Titans have finished first in the annual Small Business Institute Project of the Year competition, held each March to recognize the nation's best student business consultants.
"No matter the industry, our students bring access to university research, tools and databases at no additional cost to the client and provide multi-disciplinary, unbiased research to develop creative solutions," says Medina. "When speaking with our clients, many have expressed their surprise at the depth of analysis our students have produced. Many business owners simply do not have the time or bandwidth to do significant research and deep analysis for new opportunities. This is where our student consulting teams come in. A win-win is created!"
Many senior undergrads consult for multiple clients – often four clients in different industries – further developing skills for their professional lives ahead. For MBA teams, consulting marks the capstone, or final course, of their degrees. The teams are carefully constructed to leverage multidisciplinary degree concentrations and work experience.
"Preparing our students to join the Orange County workforce is mission critical. Experiential learning projects, such as those completed as part of the Student Consulting Program, provide vital hands-on experiences, allowing students to be better prepared as they enter the workforce," explains Courtney Elmes, associate dean of graduate and nondegree programs.
"Students apply what they've learned in the classroom and translate theory into real-world solutions. Additionally, when students present their findings to business leadership and receive feedback, they are developing an important skill set that will serve them throughout their careers."
Over the years, highlights of the student consulting initiative have included developing digital marketing strategies to increase lead generation through pay-per-click, SEO and LinkedIn strategies; improving HR practices; and helping clients access new market, product and service opportunities.
How to Get Involved
If you own a business or oversee a department for a corporation in the Orange County area and are looking for fresh perspectives for your firm, consider the mutually beneficial solutions that the CSUF Student Consulting Program offers. For more information, reach out to Charlesetta Medina at cymedina@fullerton.edu. Or read more of our articles about small business consulting.