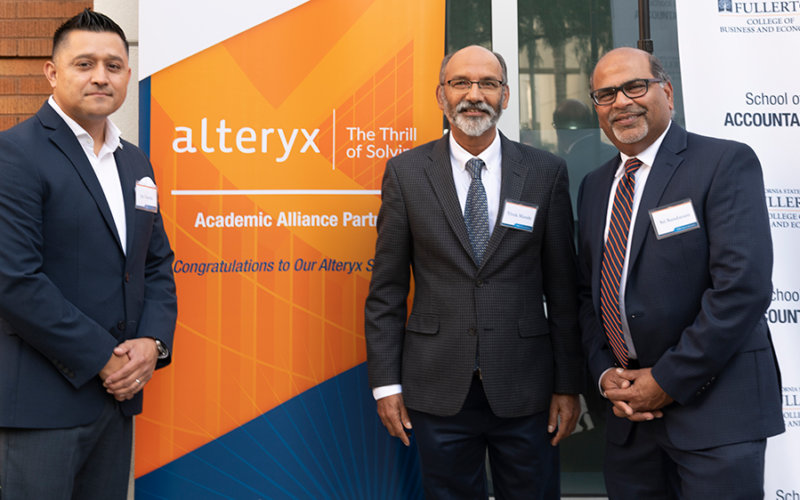 By Daniel Coats '15, '18
A year after the COVID-19 pandemic postponed the celebration of the establishment of the School of Accountancy at Cal State Fullerton's College of Business and Economics, alumni, students, donors and supporters of the school gathered at the college on Sept. 30 to mark the occasion, a milestone in the history of the business college. Nationwide, there are only 50 schools of accountancy.
"The establishment of a school was a win-win for students, faculty and the accounting industry in Southern California," says Vivek Mande, the director of the School of Accountancy. "The school status will help us attract better faculty and students and offer a tech-forward curriculum to prepare our students for the jobs of tomorrow."
Dean Sri Sundaram joined in the celebration of the school and its impact. "This elevation to School of Accountancy is a recognition of the innovative data- and tech-focused curriculum adopted by our faculty, the thought leadership provided by the school, and its engagement with accounting firms in Southern California," he says. "Our accounting graduates are sought after by national and regional firms and the program is nationally recognized. We will continue to build on this success in the future."
More than $2 million in donor-sourced funding, including a generous $1 million donation from CSUF accounting alumna Barbara Kelley '84, made possible the hiring of new world-class faculty.
From Department to School: A Look Back at the Milestones
Cal State Fullerton has maintained a robust and respected accounting education program for more than half a century. But it was not until 2019, under the leadership of Mande and then-Dean Morteza Rahmatian, that efforts toward school designation began in earnest, with efforts to focus the curriculum on the high-tech future of the accounting profession. Groundbreaking collaborations with process automation companies UiPath and Alteryx are just one powerful manifestation of this.
Meanwhile, retooled courses and increased student support programs have increased completion rates of former bottleneck courses, while new course offerings, such as ACCT 404 – Emerging Technologies in Accounting, have kept the program relevant and unique in the field.
Currently, the School of Accountancy is seeking a naming donor, which would enhance existing national branding efforts.
For More on Accounting
For more on the School of Accountancy, read our articles on accounting education and research. For more on how to get involved in the school as an alumna, alumnus or member of the Southern California accounting community, reach out to the school at schoolofaccountancy@fullerton.edu.