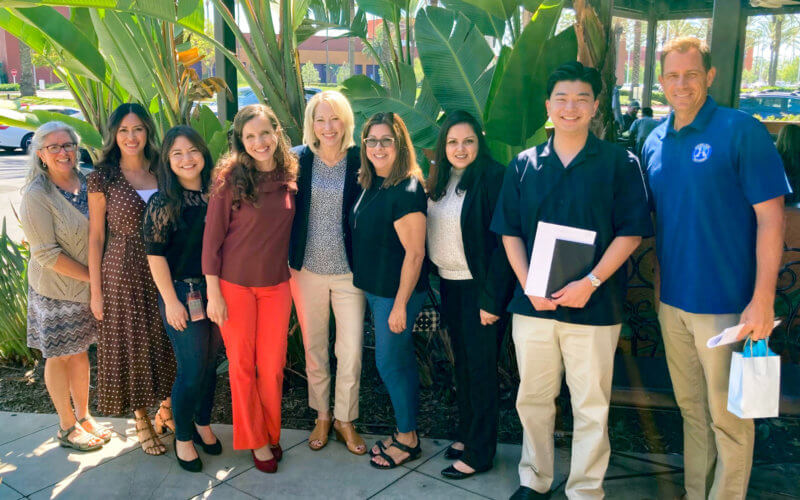 The City Management Fellowship Program (CMFP) in the College of Humanities and Social Sciences welcomed its new cohort this fall. Graduate students Liliana Esparza, Brain Kim, Ivette Menjivar, and Kate Polezhaev, are paired with a mentor in city management, awarded a $1,000 academic scholarship, participate in government management workshops, and attend local public management conferences. The CMFP provides an excellent opportunity for students to get a behind-the-scenes look at the work of Orange County's city managers that will encourage them to continue in the field.
Students apply after the spring semester, and the yearlong program begins in August. Fellows must be MPA students with strong grades, but more importantly, possess an evident passion for public service and interest in working in local government in some capacity. Admission into the program is through a competitive application process that begins after the spring semester. Prospective students must have completed at least 12 units in the MPA program and have a 3.5 GPA. It is a sought-after program that admits only four students per year and attracts students who specifically attend CSUF, hoping to be selected as a CMFP Fellow.
Liliana Esparza is in her second year in the MPA program. Esparza has a BA in English from Cal State Long Beach and works for the City of Tustin as a Senior Accounting Specialist. Brian Kim has a BA in Economics from Occidental College and is in his final year of the MPA program, and his concentration is in Public Policy. Kim works part-time in the City of Corona. Ivette Menjivar has a BA in Criminology, Law & Society from UC Irvine. Menjivar is in the final year of her MPA program, and her concentration area is Local Government and works as a staff specialist in Child Support Services for the County of Orange. Kate Polezhaev has her BA in Public Administration (PA) from CSUF, where she is the president of the campus PA Honor Society, Pi Alpha Alpha. It is her final year in the MPA program, and her concentration is local government. Polezhaev works part-time in the Dept of Public Works for the City of Santa Ana.
This year's group of mentors consists of four CSUF alumni: Aaron France '20, City Manager of Buena Park; Michelle Grettenberg '03, Assistant City Manager of Irvine; Maria Stipe '96; and Assistance City Manager of Garden Grove Debra Rose '97, City Manager of Lake Forest. Michelle Greenberg, Maria Stripe, and Debra Rose are alumnae of the college MPA program. Maria Stipe and Debra Rose have served in the CMFP program before and spoken at previous public administration program events.
MPA alumnus Ben Siegel brought the idea for the City Management Fellowship Program to MPA faculty in 2012. This innovative program empowers MPA students who wish to develop essential management skills and gain an invaluable understanding of city management. The California State University, Fullerton's Office of Government Relations, and a University Mission and Goals Initiative grant provided funding for the program in its first two years. Additional funding has come from the Orange County City Manager's Association, CJ Segerstrom & Sons, CARE Ambulance, Inc., and generous individual donors.
"We rely on the kindness of friends, alumni, and organizations interested in good government and public service to support us" says Dr. Shelly Arsneault, program coordinator. To learn more about how to give to this innovative program, please visit The CSUF Philanthropic Foundation website. You can also give to program during the CSUF's #TitansGive Day of Giving on March 8, 2023. Any student or mentors interested in getting involved can contact Dr. Shelly Arsneault at sarsneault@fullerton.edu.