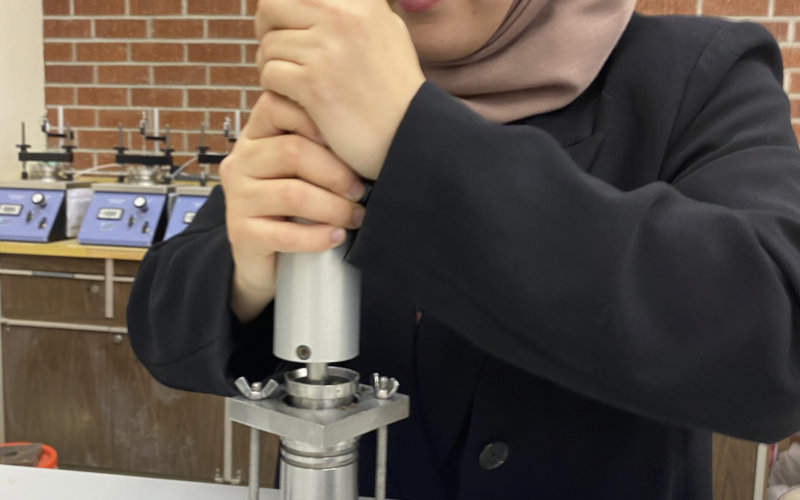 Ramzieh Kanaan, a Civil Engineering student, is selected to present at the upcoming 2022 Posters on the Hill event, sponsored by the Council of Undergraduate Research. She is among two students from CSUF who will be presenting at the event on April 26. Posters on the Hill is a highly selective event that gives college students the chance to share their research with federal legislators. Ramzieh is among 88 undergraduate researchers nationwide who will be giving poster presentations during the event. Ramzieh's talk is titled "Geotechnical Properties of Ashes and Soils Exposed to Wildfires." Ramzieh is working with faculty member Xenia Wirth, and her research is supported through the grant funded by National Science Foundation.
As wildfires become more and more common in California during hot, dry summer months, we need to make sure that communities are protected from landslides that can follow a wildfire. To see if communities that live near burned hillsides are at risk for landslides, there needs to be an understanding of the engineering behaviors of wildfire ashes and burned soils. The work presented on this poster is part a research project on the geotechnical properties of these ashes and soils.
Ramzieh ran tests on wildfire ash samples collected from California fires in 2020 and 2021 to study the physical and chemical characteristics of the wildfire ash. The study involved running multiple tests on the fire samples, including grain size distribution, specific surface area, thermogravimetry, X-
ray fluorescence and loss of ignition, to understand how wildfire ashes compare to
natural soils.
The second arm of this research, started in January 2022, was to measure the engineering properties of the wildfire ash. Ramzieh needed to characterize the ashes before measuring the engineering properties. This allowed the researchers to understand how these characteristics influence the engineering behavior of the ash. Ring shear, direct shear, consolidation, and triaxial tests will be conducted to identify the engineering properties of the fly ash. The major goal of the research project is to determine how weak the ash is and see if this makes it easier for landslides to occur after a wildfire.