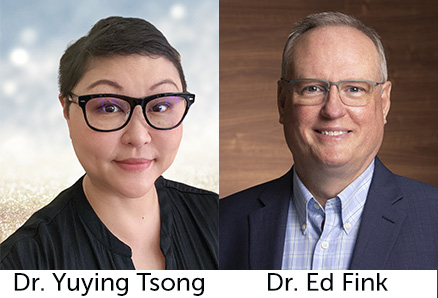 Two veteran Titan educators, Yuying Tsong and Ed Fink, joined the Academic Affairs team July 1 as associate vice presidents for student success and undergraduate academic programs, respectively.
Tsong and Fink will work with faculty and staff to ensure Cal State Fullerton is a campus where all students thrive.
"I'm thrilled to have such experienced Titan faculty in these positions," said Provost and Vice President for Academic Affairs Carolyn Thomas. "Dr. Fink and Dr. Tsong collectively have experience with department, college, and Academic Senate leadership, and this will help them support their colleagues in key offices across our division. And it matters too that they have reputations as strong scholars and dedicated mentors. I look forward to helping them — and their teams — support our students and faculty in the years to come."
As associate vice president for student success, Tsong will oversee key offices and initiatives for student success, including Graduation Initiative 2025, Academic Advising, and Registration and Records. They will also serve on committees and in collaborations, on and off campus, to ensure CSUF keeps learning and growing as a community in its efforts to ensure students graduate with meaningful educations and can facilitate positive social change.
Tsong, a psychologist and professor in Human Services, most recently served as director of the University Honors Program, as a member of the Academic Senate, and as a participant on several working groups addressing racial bias, equity and inclusion. They are nationally recognized in their professional field and serve on the American Psychological Association Board of Convention Affairs and is a past president and fellow of the Society for the Psychology of Women.
"My vision of student success is a holistic one that includes both the process and outcomes," Tsong said. "In addition to equitable retention and timely degree completion, student success also includes being a productive citizen of the world, having a sense of belonging, pride in our institution, both academic success and personal well-being, and that includes their mental health, basic needs and happiness."
Fink's portfolio in Undergraduate Academic Programs, formerly the Office of Academic Programs and Enrollment, includes: undergraduate and general education curriculum resources and Curriculog training and support; undergraduate academic policy; university catalog; Supplemental Instruction; University Honors Program; and University Learning Center.
Fink began his career at CSUF in 1990, ultimately becoming professor of Radio-TV-Film (now Cinema and Television Arts) and serving as its inaugural chair for 11 years. He has also served as both associate dean and dean of the College of Communications.
A recipient of a number of awards and recognition as an outstanding teacher, scholar and advisor, Fink's most recent appointment was as interim director of the School of Music. He said he looks forward to offering guidance and assistance to administrators, faculty and staff as they navigate any area of undergraduate programs.
"While the Office of Undergraduate Programs might be viewed as something of a bureaucracy, it plays a vital role in offering students a transformative educational experience," Fink said. "A transformative experience requires dynamic, engaging and purposeful curricular and co-curricular activities. I look forward to collaborating with my UAP team and our colleagues across campus to achieve this."