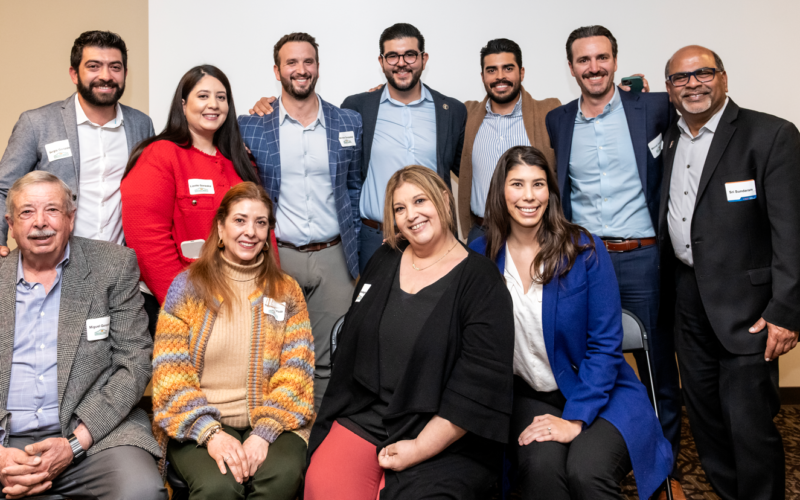 By Daniel Coats '15, '18
The third CSUF College of Business and Economics alumni social was held at Northgate Market's Fountain Valley headquarters on Jan. 31, highlighting a compelling Hispanic-owned family business story and the legacy of the three-generation immigrant Gonzalez family that founded the chain more than 40 years ago. With more than 30,000 Hispanic-owned businesses across all industries, Orange County is one of the nation's leaders in Hispanic entrepreneurship and family business.
College of Business and Economics alumni, faculty and friends learned of the struggles that the Gonzalez family and Northgate Market endured during their early stages before becoming a great success in Orange County and beyond. Today, the Northgate Market supermarket chain operates more than 41 stores across Southern California and plans to expand to other states with a goal of increasing its presence to around 100 stores in the next few years.
Finance alumnus Joshua Gonzalez '18, a third-generation board member and strategist for the supermarket chain, helped coordinate the alumni social event. Miguel Gonzalez narrated the story of his father, Don Miguel Gonzalez, who came to the United States from Mexico's Jalisco state to provide a better future for his family.
"Today, we heard from three generations of the Gonzalez family about their passion for the business, and more importantly, the joy of being in business with other family members," said Dean Sri Sundaram. "Miguel Gonzalez, the patriarch of the family, remembered fondly the time he came to the United States to establish the first Northgate Market with his father in 1980. Joshua Gonzalez, a Business Titan, along with other family members, told the story of this immigrant family that is so representative of many of our students at Cal State Fullerton."
Each Northgate Market specializes in authentic Mexican prepared foods, quality meats, fresh produce and specialty Mexican products, including delicious festive foods such as tamales and ceviche. Since 2006, Northgate Gonzalez Real Estate has sought opportunities to build and operate grocery stores and related shopping centers, thus making Northgate one of the premier Mexican American landowners in the region.
"We are passionate about serving our community and sharing the best that the Mexican culture has to offer for all to enjoy," says Joshua Gonzalez. "We are a people-first organization with a clear purpose for improving and enriching the lives of everyone our brand touches."
Today, nearly 6,000 workers are employed at the markets, with locations in Orange, Los Angeles, San Diego and Riverside counties. The Gonzalez-Reynoso Foundation is committed to supporting these workers, their families and the communities they serve.
CSUF business alumni social events such as these ensure that the success of our alumni is highlighted and that the Business Titan family stays connected, ready to support the next generation of talent.