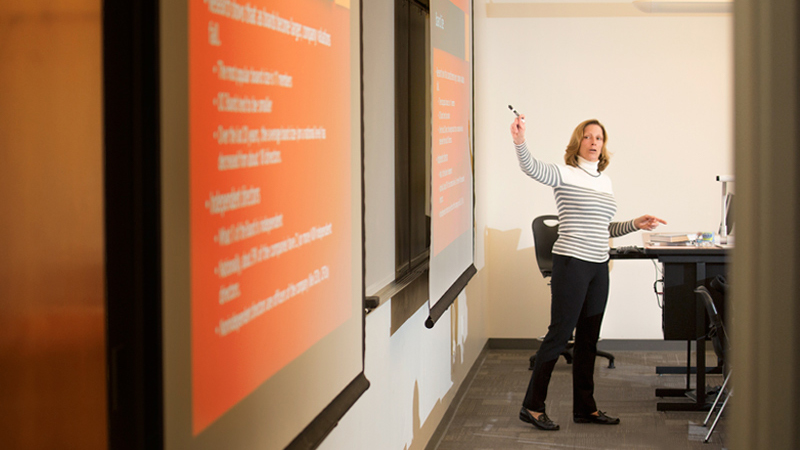 By Daniel Coats '15, '18
In 2019, Cal State Fullerton's Department of Accounting (now the School of Accountancy) made history as the first higher education entity in the United States to partner with process automation company UiPath. The partnership emphasized the AI-focused future of accounting and the Cal State Fullerton commitment to leading the way in today's tech-focused business world.
The School of Accountancy has integrated UiPath into its curriculum, including innovative applied courses, an Analytics Academy Lab, and internship and mentorship opportunities for students.
In recognition of the close cooperation, the UiPath Academic Alliance has named Accounting Lecturer April Morris '75, co-director of the Center for Corporate Reporting and Governance, one of 18 global visionary educators. She is the only educator to be selected for this award for two consecutive years.
"This is a great honor, since it represents educators around the world," says Morris. "CSUF students, armed with the knowledge of what UiPath process automation software is capable of, are at the forefront of the future. Having this technology knowledge base means student résumés rise to the top of the pile at excellent companies offering exciting career paths."
Morris says process automation will touch every business that has repetitive work – from accounting to marketing to human resources – and the School of Accountancy will stay committed to ensuring that students have the right skillsets for this future.
"Think about each time you need to open and collect information from Excel or PDF files. Is your business trying to migrate from one computer system to another, and they don't talk to each other? Process automation can provide a solution by easily extracting data and collecting it in a readable form for the new system. Are you inundated with junk emails? Process automation via a robot or 'bot' can help you by creating repeatable tasks to clean out your inbox in the manner you determine appropriate," explains Morris.
"This technology is being taught in classes in the School of Accountancy; however, it touches every aspect of business. I know from speaking with my students and alumni who have secured fantastic jobs after graduating, employers are searching for talent with a combination of accounting and technology skills. Accounting skills allow you to understand the processes and financial aspects of a company while the technology skills allow you to harness process automation to speed up and improve the overall performance of the company. What could be better?"
For more on Cal State Fullerton's School of Accountancy, read more on the school and its research and accomplishments.