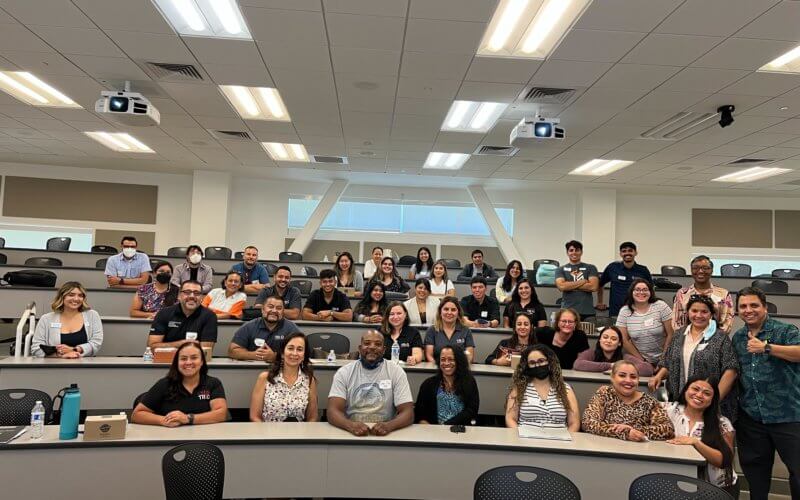 CSUF Educational Talent Search in partnerships with the Center for Educational Partnerships hosted its 13th Annual Educational Talent Search (ETS) Roundtable. This one-day event gathered ETS programs from Southern California (primarily) for a one-day roundtable to discuss and share innovative programming, create a collaborative space for program directors and site coordinators and plan for the year ahead.
Educational Talent Search Roundtable 2022
The event took place Friday, August 5 at CSUF.
20 campuses and organizations were represented.

CSUs: CSUF, CSUB, CSUDH, CSULB, CSUN, CSUSM, SDSU
UCs: UCR
Community Colleges: Moreno Valley College, Mt. San Jacinto College, Riverside Community College, West Los Angeles Colleges, Imperial Valley College, Los Angeles Southwest College
Private Colleges: University of Southern California
Non Profit/Community-Based Organizations: Telacu, Volunteers of America Los Angeles, Wahupa Educational Services, JCYC. 
ETS programs were represented from as far north as San Francisco to Imperial Valley. 
Approximately 60 guests attended
CSUF Educational Talent Search:
In 2021, Two CSUF Talent Search grants were funded again to service 1100 students annually, with over three million dollars over five years. 
The program is currently on its 16th year of serving the Anaheim Union High School District community. 
Since its inception, it has brought over 7.9 million dollars in federal grant
Served over 5,800 students
Talent Search is a federal TRIO program:
The Talent Search program identifies and assists individuals from disadvantaged backgrounds who have the potential to succeed in higher education. The program provides academic, career, and financial counseling to its participants and encourages them to graduate from high school and continue on to and complete their postsecondary education. The program publicizes the availability of financial aid and assist participant with the postsecondary application process. Talent Search also encourages persons who have not completed education programs at the secondary or postsecondary level to enter or reenter and complete postsecondary education. The goal of Talent Search is to increase the number of youth from disadvantaged backgrounds who complete high school and enroll in and complete their postsecondary education.