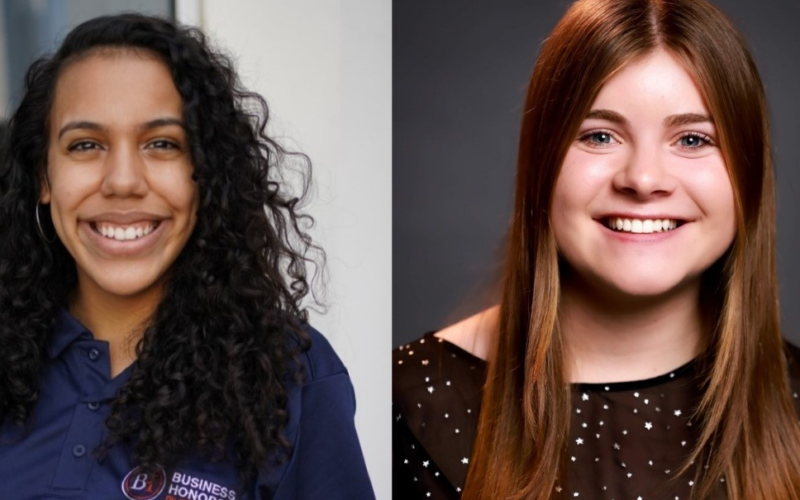 By Daniel Coats '15, '18
Tiffany Cordon '23 and Amy Risner '23, two Cal State Fullerton management juniors, are celebrating a generous scholarship award that will help finance their educational journey.
As a result of their academic achievement (applicants must have at least a 3.0 GPA), the two aspiring human resources professionals each received $2,500 scholarships from the Professionals in Human Resources Association (PIHRA) Foundation, an HR education and networking organization supporting workforce readiness through member community service in Southern California.
Both CSUF scholarship recipients are active in the university's chapter of the Society for Excellence in Human Resources (SEHR), a club that provides professional development and networking opportunities for students planning careers in human resources.
Cordon completed an HR internship at The Aerospace Corporation in El Segundo last summer and was the 2020-2021 president of the CSUF SEHR chapter. Risner is currently California coordinator for Virtual Enterprises International Inc. and recently completed an HR internship with First American Title.
"That two awardees are from Cal State Fullerton speaks to the caliber of our students, the rigor of our academic programs, and our students' commitment to leadership and service," says Shaun Pichler, associate professor of management and faculty director of CSUF SEHR.
PIHRA offers scholarships of $500 to $3,000 each year to support HR students and professionals seeking to further their higher education. Students interested in exploring this opportunity may learn more on their scholarships webpage. Or send an email to pihra.foundation.scholarships@gmail.com.
Getting Started in Your HR Future
The college offers undergraduate and graduate concentrations in human resources, taught by professors with experience in the field.
Current HR professionals may expand their knowledge with an HR Management Certificate, which may be earned in six months through CSUF Extended Education.
Learn more about the college's human resources education program by reaching out to the CSUF Department of Management at managementdept@fullerton.edu.