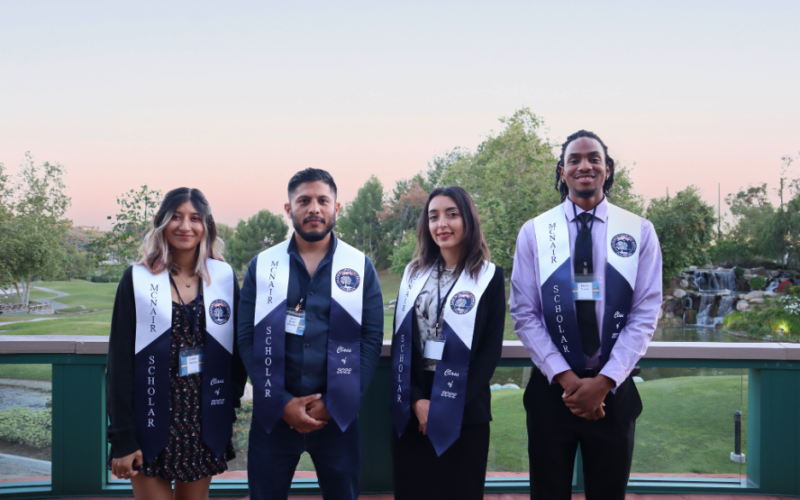 Four students from Cal State Fullerton's McNair Scholars Program are doing what they once only dreamed about: graduating this spring and beginning their Ph.D. programs and professional careers.
The Ronald E. McNair Scholars Program is a federal program funded by the U.S. Department of Education that helps prepare underrepresented, low-income, and first-generation college students for entrance into doctoral programs.
Marlo Morales, a first-generation college student and physics major, became a McNair scholar soon after he transferred to CSUF. As a McNair Scholar, Morales worked under the mentorship of Geoffrey Lovelace, professor of physics. Morales's research with Lovelace focused on numerical relativity and computational physics. Morales and fellow scholars presented their research at the McNair Scholars Research Symposium in April, during which U.S. Representative Young Kim (CA-39) congratulated the graduating seniors and awarded each scholar a Certificate of Congressional Recognition.
Research experiences like these assist the McNair Scholars in their professional and academic development. "I had a good experience at CSUF as a McNair scholar," says Morales, who is entering a doctoral program in physics this fall at Washington State University. "The program provided many resources and support when deciding whether graduate school was for me. The staff was helpful and caring about our futures and I made a few good friends along the way."
"I'm so proud of our graduating McNair Scholars for accomplishing everything they have, despite the difficulties that the COVID-19 pandemic brought on," says Patricia Literte, director of the McNair Scholars Program and associate professor of sociology. "This year's research symposium was our first in-person symposium since the pandemic. It was inspiring and moving to see all of our scholars present their research and be recognized for their achievements; achievements that are a reflection of their persistence and resilience during an extraordinarily challenging time."
Members of this year's graduating class include Noora Ghadiri, a physics major who will be attending a Ph.D. program in physics at the University of Illinois at Urbana-Champaign in the fall. Elston Lewis is a mechanical engineering major who will join Raytheon Intelligence and Space as an environmental test engineer. Celeste Salinas is a psychology major who will become a youth care worker with Crittenton Services for Children and Families, a behavioral health and child welfare organization. She will provide critical support to unaccompanied children that immigrate to the U.S.
The program was created to honor Ronald E. McNair. Dr. McNair received his Ph.D. in physics from the Massachusetts Institute of Technology (MIT). He went on to become the second African American astronaut to fly in space, but tragically died in the Challenger Shuttle explosion in 1986. The CSUF McNair Scholars Program seeks to honor and carry on his legacy by providing McNair Scholars with the opportunity to attend conferences, present research, participate in graduate school tours, receive academic counseling, engage in undergraduate research, and participate in professional development.