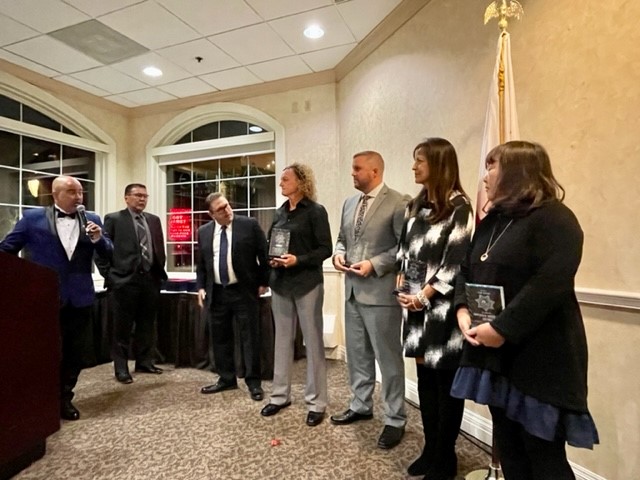 CSUF police officers and university employees were given the Award of Merit for Life Saving after the heroic efforts of our dispatcher, two police officers and two CSUF Auxiliary Services Corporation (ASC) employees who saved the life of a manager.
The award was presented by the California Community College University Police Chiefs Association (CCUPCA) on April 6 at the CCUPCA dinner in Lake Tahoe.
On Jan. 18, CSUF police officers were dispatched and responded Code-3 to a medical aid at the ASC building. Upon arrival, officers determined that the patient was unconscious and not breathing. Two ASC employees, Cindy Dowling and Ann Ehl, had started CPR prior to the officers getting there.
The officers, Autumn Hollyfield and Kyle Millard, quickly took over CPR and applied an automated external defibrillator. The officers continued CPR until the patient appeared to have a regular breathing pattern and a pulse was located.
The patient became conscious and told responders he was okay. Fullerton Fire Department and medics arrived on scene and thanked everyone involved for their efforts. The patient was then transported to Providence St. Jude Medical Center for surgery and recovery.
The two ASC employees praised the professionalism and effective response by CSUF's dispatcher and officers. The patient's family thanked everyone involved, calling them "angels."
The university has since procured AEDs and installed 100 across the campus. For more information about on-campus AED locations and training, contact safety@fullerton.edu.