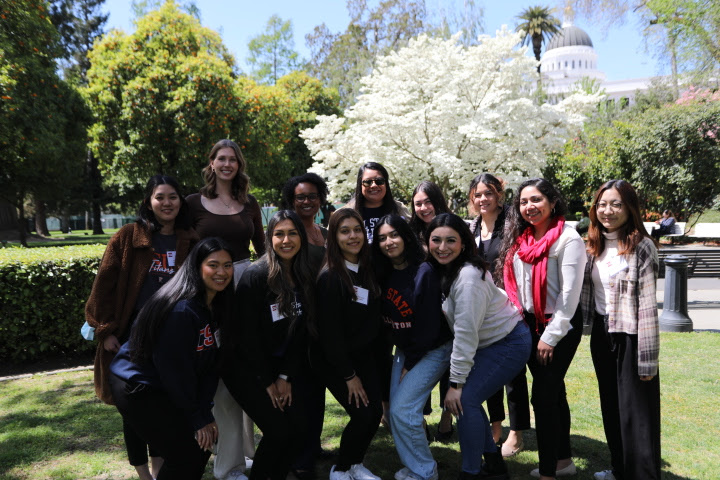 Twelve public health undergrad and graduate students recently attended the CSU-wide Health Policy Conference at the California State Capitol in Sacramento, CA on April 17-19. More than 200 students in public health or health sciences from campuses throughout the CSU attended this year's conference, the first to be held fully in-person at the Capitol since 2019. It is organized by Walter Zelman and his team at California State University, Los Angeles.
The CSUF delegation led by Portia Jackson Preston (associate professor, Department of Public Health) included five undergraduates majoring in public health (Mayerly Castillo, Jenisea Haro, Pauline Lim, Jocelyn Lopez Pulido, Isabel Salto), and seven graduate students in the masters of public health (MPH) program (Yazmin Acosta, Lynette de Los Angeles, Ivonne Huitron Rivera, Kristen Johannson, Ashley Meneses, Joanne Leslie Reyes, Hanna Yi).
During the conference, students heard from multiple legislators, legislative staff, journalists, and public health personnel working at the California Department of Public Health, and numerous policy advocates, many of whom have ties to the CSU system. Having researched the legislative process and local representatives ahead of time, the delegation was well-prepared when they noticed Assemblywoman Sharon Quirk-Silva, who represents CSUF's district, on the streets of the Capitol as she headed towards the Assembly Health Committee meeting. Quirk-Silva graciously stopped to speak with the group about her experiences, as well as her deep commitment to CSUF.
Our group felt welcome at the Capitol as they realized how deep our Titan connections run. Two CSUF alumni who serve as legisltative staff were excited to meet with our delegation and discuss their experiences. Nicole Curran works with Jim Wood (Chair of the Assembly Health Committee) while Darci Sears works with Assembly Speaker Anthony Rendon, who is a two-time Fullerton graduate.
During scheduled conference events, students heard from the mayor of Sacramento, Jim Wood (Chair of the Assembly Health Committee), Assemblywoman Wendy Carillo, and many others. All of the speakers were approachable, relatable, and welcoming, easing the barriers of entry to the policy world. A highlight of the trip was being able to sit at legislators' desks on the Assembly floor while listening to Assemblywoman Carillo share her personal journey, a deeply empowering moment for all in attendance.
Students found themselves increasingly at ease speaking with legislators as they navigated the Capitol, even stopping to have a conversation with State Senator Steve Bradford. They asked important questions of legislators and staff about their professional development, issues that affect their home communities, and how legislation can be more inclusive of public health.  They also formed new connections with each other as they shared this empowering, immersive learning experience.
A three-day trip for students offers a rare opportunity to bond with each other but often involves often rescheduling work hours or working late into the night after the conference each day to keep up with missed classes. However, they represented CSUF with utmost professionalism and pride.
By the end of this time together, there was a visible transformation in the students' confidence and vision for the future as they began to see themselves in the life journeys and career options that were shared with them. This experience was a vital investment where they will use what they have learned to advocate for their communities as public health professionals.