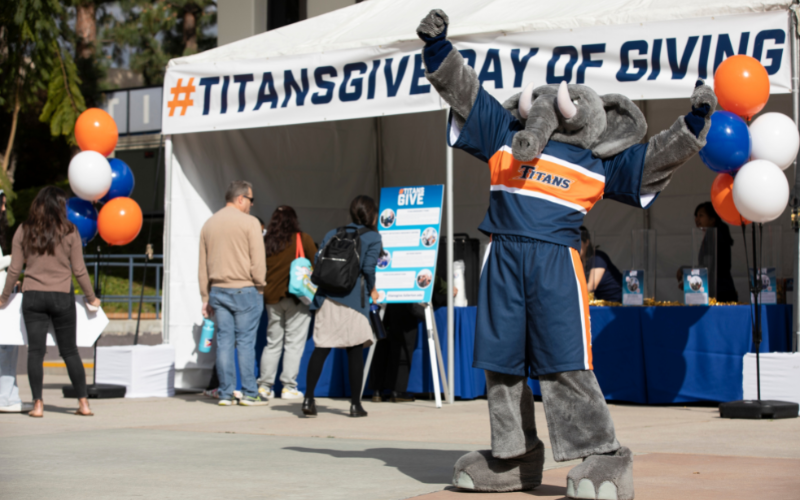 Cal State Fullerton's 4th annual #TitansGive day of giving was a resounding success, breaking records from previous years and raising a total of $527,969 from 2,239 donors.
The university saw unprecedented support from across the country, with donations coming from all 50 states. Moreover, the funds raised were allocated to 153 causes across campus, signaling overwhelming support for Cal State Fullerton's numerous programs and initiatives.
"It's always my pleasure to give something," said Dr. Austin Nation, CSUF professor and two-time alumnus. "I love being able to give back to the university that helped me get to where I am today in my career."
This annual day of giving has quickly become a beloved tradition at Cal State Fullerton, showcasing the power of collective giving in supporting students and advancing vital campus causes.
This year, the theme of #TitansGive was "Unleash Generosity. Empower Titans", reflecting the university's commitment to elevating academic opportunities and helping launch careers of our remarkable students. The 24-hour fundraising drive was bolstered by a dedicated team of campus volunteers and Champions who worked tirelessly to spread the word and encourage donations.
"I will always give back to CSUF because it's important to me to pay it forward," said Jennifer Rovira Ross '95. "I witnessed first-hand how the generosity of others helped shape my undergraduate experience and I want to make sure I give back to the community that supported my education."
Overall, the incredible success of this year's #TitansGive day of giving is a testament to the unwavering dedication and support of Cal State Fullerton's community. As the university continues to grow and evolve, it is clear that this tradition of giving will play an integral role in securing its future success.
View the full results of #TitansGive at titansgive.fullerton.edu. For questions, contact Grace Johnson at grjohnson@fullerton.edu or (657) 278-4795.