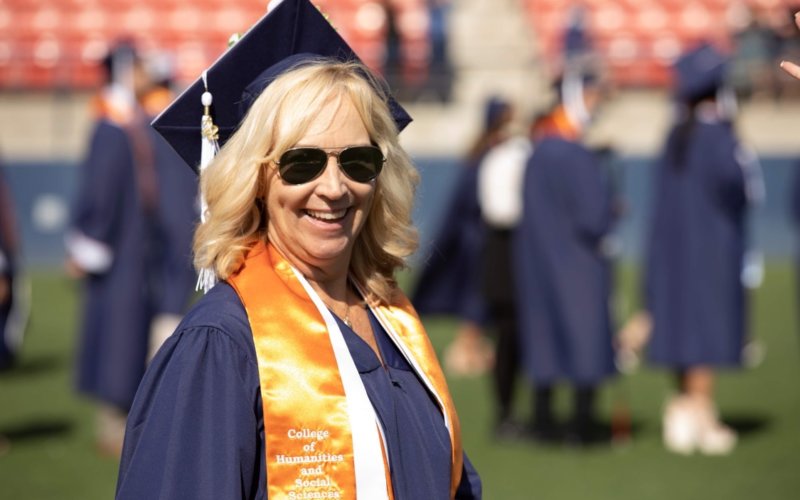 Since 2006, Terry Goodman '22 has served as a staff member at Cal State Fullerton, including nearly eight years of service at the College of Business and Economics.
This May, Goodman celebrated a milestone that speaks to the university's commitment to equipping lifelong learners to succeed. Decades into her career, Goodman walked across the stage at the College of Humanities and Social Sciences commencement ceremonies to mark her completion of the B.A. in sociology program.
Goodman's academic journey isn't done.
She's now looking ahead to beginning a master's degree in sociology at CSUF this fall, all the while continuing her service to the College of Business and Economics.
Goodman shared her story with us:
"I remember the first day I stepped foot on this beautiful campus. I was filled with excitement and so proud to be a Titan. I have always valued education and have worked in supportive roles at various levels.
"I started out in an office job in marketing for the College of the Arts and progressed to a staff role at Business Graduate Programs. Little did I know that working on this campus would be the inspiration needed to fulfill my dream of earning my degree.
"I am the daughter of immigrant parents and a first-generation college student. Both my mother and father completed school and went straight to work, as this was the culture at the time.
"Opportunities for higher education were less abundant and not an option. My parents' hard work provided me the opportunity to pursue the education they did not have the chance to obtain. I feel very strongly about pursuing opportunities that are within reach.
"For my master's degree, I have chosen to major in sociology, so that I can go deeper into the subjects that interest me. I knew when I first started my educational journey that I would thrive and grow within this field of study. When people ask, "Why sociology?" my answer is, 'because it is all around us, it is current and applicable.'
"What a wonderful area of study to be in at any given time and space. There is not a day that goes by that I do not find something I can apply sociological thought to.
"I have always been interested in social interaction within society, feminist theory, the LGBTQ community, and the sense of self and how it fits into society as we age, which makes sociology a perfect fit.
"While taking undergrad courses, I consumed knowledge of how society functions within theoretical explication. I really started to find my focus during my junior and senior years while taking electives in gender and aging. These areas are of great interest to me, and I really want to dive deeper into these topics.
"Earning my bachelor's degree after raising four children is something I never thought I would do, and yet here I am, degree earned and entering the master's program this fall.
I" believe everyone should have the opportunity to become a student and pursue the dream to better themselves and the world around them, which is a big part of why I chose to work in education and to return to school. As a nontraditional student, I truly believe it is never too late to earn your degree. I want to be an example for people, especially women, to demonstrate the benefit of continued learning and the empowerment that takes place in one's life.
"Earning my degree while working full time definitely comes with challenges. Carving out time to complete assignments, finding classes to fit my work schedule, technology glitches, system hiccups and trying not to allow the stress of due dates affect my mental well-being.
"But once I crossed the stage on the day of graduation, it was all worth it.
"Along the way, I gained a better understanding of what our students are going through. I understand their concerns because I have recently experienced them firsthand. Getting to know other students and hearing about their educational journeys was an education in itself. This is a bonus to the overall experience of getting my education at the same place where I work. I had the pleasure of receiving instruction from passionate faculty, like the faculty I have had the pleasure of working with as a staff member.
"I continue to be amazed at the education we provide to our students and the futures we are a part of. It is in large part due to the positive words of a passionate faculty member that I was encouraged to continue into the master's program. Receiving an education is the most rewarding part of my journey."
From supporting nontraditional students to educating the next generation of diverse students, the Cal State Fullerton College of Business and Economics is a leader in opening doors of opportunity for students of all ages. Read more of our articles to discover the college's commitment and activities.